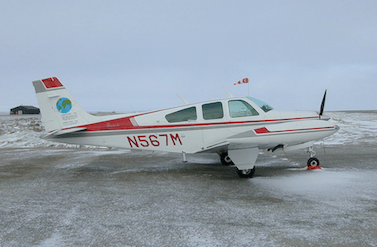 Beech 33 Bonanza
The Beech 33 Bonanza was manufactured from 1968 until 1972, serial number CD1119 through CD1299. It is a single-engine, piston aircraft configured as a cantilever low-wing aircraft with a conventional tail. Distinguishing features are: retractable landing gear, constant-speed propeller. Model 33 Debonair seats up to 3 passengers and 1 pilot.
Specifications
Exterior Dimensions
Wing span: 32 ft 10 in
Length: 26 ft 8 in
Height: 8 ft 3 in
Interior Dimensions
Cabin Height: 4 ft 2 In
Cabin Width: 3 ft 6 in
Cabin Length: 6 ft 1 in
Baggage door: 3 ft x 3 ft 1 in
Weights
Max TO weight: 3,050 lb
Empty Weight:  1,854 lbs
Maximum Payload: 1,118
Fuel capacity: 50 gal
Engine
Manufacturer: Continental Motors
Model: IO-470-K
Horsepower: 225 hp
Overhaul (HT): 1500hr TBO
Standard Avionics
Digital Nav/Coms
1-axis autopilot
GS/DME/ADF
ADS-B In/Out
Performance
Horsepower: 225.00
Gross Weight: 3,050
Top Speed: 170
Empty Weight: 1,854
Cruise Speed: 161
Fuel Capacity: 50
Stall Speed (dirty): 52
Range: 568
 
Rate of Climb: 980
Rate of Climb (One Engine):
Service Ceiling: 18,300
Ceiling (One Engine):
 
Takeoff
Landing
Ground Roll: 982
Ground Roll 643
Takeoff Roll Over 50 ft: 1,288
Landing Roll Over 50 ft: 1,298
History
The Model 33 Debonair flew for the first time in September 1959. It was basically similar to the Model 35 Bonanza, but had a conventional tail assembly in place of the "V"-type tail. The Debonair was produced in four-seat versions with a 225-hp Continental IO-470-J, six cylinder engine. It had a simplified interior and less elaborate equipment than the Model 35. In 1961, the aileron and elevator trim tabs were improved, and larger rear windows and a restyled cabin interior with bucket seats were featured. In 1966, the option of a 285hp powerplant was added.
Further Development
The Debonair name was dropped in 1967 and the subsequent aircraft, now a part of the Bonanza family, were simply designated E33, F33 and G33. During these years all model numbers ending in "A" featured the 285- hp Continental. All others retained the 225-hp engine. In 1972, the G33 was introduced with a 260-hp Continental.
Beech E33 Bonanza (1968-1969)
This is the same year Beech introduced the six-place Model 36 Bonanza. The 1968 Model 33 was a C33 with improved Bonanza trim, and the name was changed from Debonair to Bonanza. The engine was a Continental 225 HP version.  they extended the windshield, giving it a greater slope and made the longer third window standard equipment, rather than an option. There were 116 E33s produced.
Beech F33 Bonanza (1970)
The F33, last of the 225 HP Bonanza 33s, was introduced in 1970 and lasted only a year, with 20 built. The 1970 Model F33 Bonanza was actually a refined Model E33, still using the Continental IO-470-K of 225 hp. F33 had restyled third cabin window of the Model V35B, "Speed Sweep" windshield, three gear down annunciator lights, redesigned sub panels and switches, a lower glare shield and Hartwell quick-opening latches for the engine cowling.
1971 model year. Beech Aircraft offered a short- and long-fuselage option and 26 of the former were built compared with 34 of the latter.
It should be noted that in 1970 the company built five F33C aerobatic versions but none were produced for the 1971-1972 model years. In 1986, 23 F33C were built including 21 for the Mexican Air Force.
Beech G33 Bonanza (1972-1973)
The G33 was built in 1972 and 1973. It had a 260 HP Continental IO-470-N. The G33 Bonanza seats up to 4 passengers plus 1 pilot. With the bigger engine came an all-new, roomier interior and new instrument panel which gave it all the other appointments given the "real" Bonanzas. Beechcraft decided it didn't make sense to be producing two airplanes which were so similar in every way, including price. A total of 44 were built.
More than 1,250 of the Model 35-33 were built from 1960-1973. As of 2016, these sturdy and fast Beechcraft airplanes still are in demand and bring strong prices on the used aircraft market.