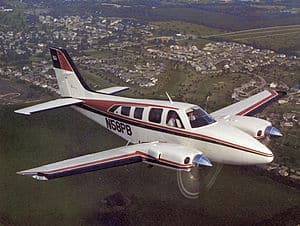 Beechcraft 58P Baron
The Beech 58P Baron was manufactured from 1976 to 1985, serial numbers TJ3 through TJ497, therefore, a total of 495 were sold.
It is a pressurized twin-engine, piston turbocharged aircraft configured as a cantilever low-wing aircraft with a conventional tail. Distinguishing features are: retractable landing gear, variable pitch propellers. Model 58P Baron seats up to 5 passengers and 1 pilot.
Specifications
Exterior Dimensions
Wing span: 37 ft 10 in
Length: 29 ft 11 in
Height: 9 ft 2 in
Interior Dimensions
Cabin length: 12 ft 7 in
Max width: 3 ft 6 in
Max height: 4 ft 2 in
Cabin volume: 45 cu.ft.
Weights
Max TO weight: 6,100 lb (1976-1978) 6,200 lbs (1978-1985)
Empty Weight:  4,026 lbs
Maximum Payload: 2,155 lbs (1976-1978) 2,220 lbs (1978-1985)
Fuel capacity: 166 gallons standard 194 gallons long range optional
Engine
Manufacturer: Continental Motors
Model: TSIO-520LB (1976-1978 sn TK1-84) / TSIO-520WB (1979-1985 sn TK85-151)
Horsepower: 310 / 325 hp
Overhaul (HT): 1400hr/1600hr TBO or 12 years
Standard Avionics
Digital Nav/Coms
3 axis autopilot (KFC200)
Color Radar, GS, DME, ADF
ADS-B In/Out
History
In 1976, the turbocharged Baron 58TC and pressurized Baron 58P were introduced. These variants were powered by turbocharged Continental TIO-520s of 310–325 hp (230–240 kW), had an increased 6100–6200 lb (about 2800 kg) gross weight, and were certified under FAR23 with a new type certificate. The Baron 58P/58TC models were capable of cruising at 200 knots (370 km/h) at 8000 ft (2400 m) and 220 knots (410 km/h) at 20000 ft (6100 m), and were typically equipped with 190 US gallon (719 L) fuel tanks.
A big change in panel/system layout on 58/58TC/58P occurred in 1984, including relocating throttle, gear, flap, propeller and mixture controls to industry-standard positions.
The 58P was discontinued in 1985.
ENGINES:
1976 – 1978 (TJ-1 through TJ-168) – Continental TSIO-520LB (310 hp):
1979 – 1985 (ITJ-169 through TJ-497) – Continental TSIO-520WB (325 hp)
FEATURES
1976 – 1983 TJ-1 through TJ-435, TJ-437 through TJ-443:
Single, throw-over control yoke
Throttles in the center of the power quadrant, props left mixtures right
Gear handle on right, flap on left
1984 – 1985 TJ-436, TJ-444 through TJ-497
Dual flight controls
Throttles at the left of the power quadrant, props center mixtures right
Gear handle on left, flap on right
Small "turbine style" engine gauges
Performance
1976 58P
Horsepower: 2 x 310 HP
Best Cruise Speed: 207 KIAS
Best Range (i): 1,104 NM
Fuel Burn @ 75%: 38.0 GPH
Stall Speed: 79 KIAS
Rate of climb: 1,424 FPM
Rate of climb (1 engine out): 205 FPM
Ceiling: 25,000 FT
Ceiling (1 engine out): 13,220 FT
Takeoff distance: 1,654 FT
Landing distance: 1,471 FT
Takeoff distance over 50ft obstacle: 2,761 FT
Landing distance over 50ft obstacle: 2,498 FT
1977-1978 58P
Horsepower: 2 x 310 HP
Best Cruise Speed: 214 KIAS
Best Range (i): 1,130 NM
Fuel Burn @ 75%: 38.0 GPH
Stall Speed: 79 KIAS
Rate of climb: 1,529 FPM
Rate of climb (1 engine out): 204 FPM
Ceiling: 25,000 FT
Ceiling (1 engine out): 14,400 FT
Takeoff distance: 1,480 FT
Landing distance: 1,471 FT
Takeoff distance over 50ft obstacle: 2,376 FT
Landing distance over 50ft obstacle: 2,498 FT
1979-1986 58P
Horsepower: 2 x 325 HP
Best Cruise Speed: 232 KIAS
Best Range (i): 1,013 NM
Fuel Burn @ 75%: 46.0 GPH
Stall Speed: 78 KIAS
Rate of climb: 1,475 FPM
Rate of climb (1 engine out): 223 FPM
Ceiling: 25,000 FT
Ceiling (1 engine out): 12,220 FT
Takeoff distance: 1,555 FT
Landing distance: 1,378 FT
Takeoff distance over 50ft obstacle: 2,643 FT
Landing distance over 50ft obstacle: 2,427 FT