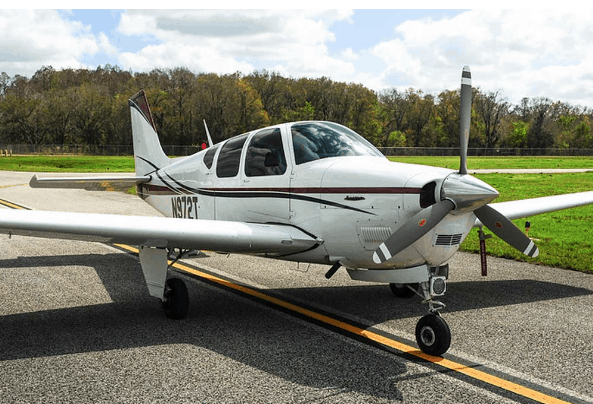 Beech 33 Debonair
The Beech 33 Debonair was manufactured from 1960 until 1967, serial number CD1 through CD1118. It is a single-engine, piston aircraft configured as a cantilever low-wing aircraft with a conventional tail. Distinguishing features are: retractable landing gear, constant-speed propeller. Model 33 Debonair seats up to 3 passengers and 1 pilot.
Specifications
Exterior Dimensions
Wing span: 32 ft 10 in
Length: 25 ft 6 in
Height: 8 ft 3 in
Interior Dimensions
Cabin Height: 4 ft 2 In
Cabin Width: 3 ft 6 in
Cabin Length: 6 ft 1 in
Baggage door: 3 ft x 3 ft 1 in
Weights
Max TO weight: 2,900 lb
Empty Weight:  1,730 lbs
Maximum Payload: 1255
Fuel capacity: 50 gal
Engine
Manufacturer: Continental Motors
Model: IO-470-J
Horsepower: 225 hp
Overhaul (HT): 1500hr TBO
Standard Avionics
Digital Nav/Coms
1-axis autopilot
GS/DME/ADF
ADS-B In/Out
Performance
Horsepower: 225.00
Gross Weight: 2,900
Top Speed: 170
Empty Weight: 1,730
Cruise Speed: 161
Fuel Capacity: 50
Stall Speed (dirty): 52
Range: 550
 
Rate of Climb: 1,010
Rate of Climb (One Engine):
Service Ceiling: 19,800
Ceiling (One Engine):
 
Takeoff
Landing
Ground Roll: 940
Ground Roll 635
Takeoff Roll Over 50 ft: 1,235
Landing Roll Over 50 ft: 1,282
History
The Model 33 Debonair flew for the first time in September 1959. It was basically similar to the Model 35 Bonanza, but had a conventional tail assembly in place of the "V"-type tail. The Debonair was produced in four-seat versions with a 225-hp Continental IO-470-J, six cylinder engine. It had a simplified interior and less elaborate equipment than the Model 35. In 1961, the aileron and elevator trim tabs were improved, and larger rear windows and a restyled cabin interior with bucket seats were featured. In 1966, the option of a 285hp powerplant was added.
The Debonair name was dropped in 1967 and the subsequent aircraft, now a part of the Bonanza family, were simply designated E33, F33 and G33. During these years all model numbers ending in "A" featured the 285- hp Continental. All others retained the 225-hp engine. In 1972, the G33 was introduced with a 260-hp Continental. Currently, only the F-33A remains in production. Since its introduction as the Beechcraft Debonair, approximately 3,100 Model 33s have been produced.
Beech 33 Debonair (1960) 
An M35 Bonanza with conventional fin and tailplane, one 225 hp Continental IO-470-J. The 33 Debonair seats up to 3 passengers plus 1 pilot. Despite aggressive pricing, the Debonair didn't take the market by storm. 233 were built.
Beech A33 Debonair (1961) 
The A33 came with extra rear side windows, improved interior trim, a hat shelf and a boost in gross weight, from 2900 to 3000 pounds – still less than the Bonanza-and the same Continental IO-470J, 225-HP engine. The A33 Debonair seats up to 3 passengers plus 1 pilot. Production amounted to 154.
Beech B33 Debonair (1962-1964)
In 1962 the B33 followed with a different variant of the Continental IO-470, 225 hp, the K. It included a contoured fin leading edge, N35 fuel tank modifications and P35 T-shaped instrument panel. The B33 Debonair seats up to 3 passengers plus 1 pilot. It remained in production until 1964 with 426 built.
Beech C33 Debonair (1965-1967)
The next major upgrade to the Debonair occurred for the 1965-1967 model years when the 35-C33 inherited the Bonanza's extended fuselage (19 inches). The optional third window was the same design as that of the N35 and P35, and the small fillet forward of the vertical stabilizer was replaced by a graceful dorsal fin.
Inside the cabin, the rear seats were mounted on adjustable tracks to match the front seats, and the rear seat backs were adjustable. Beech also offered four color combinations for exterior paint, and the Bonanza's new, more streamlined cabin assist step was standard. The control wheel was redesigned, maximum gross weight increased 50 pounds, and various improvements to the heating/ventilation systems were made. The 35-C33 was the first Debonair to approach the Bonanza in appearance and interior appointments, and customers bought 305 of the much-improved Beechcraft.
The C33 remained in production through 1967. The C33 Debonair seats up to 4 passengers plus 1 pilot. 306 were built.
Beech D33 Debonair
Only one D33 was made as an S35 modified as a military close-support prototype.