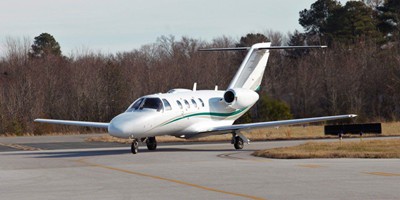 Cessna Citationjet CJ1+
Cessna Citation Jet 1+ is a turbofan-powered light corporate jet built by Cessna and developed as an improved version of the Citation CJ1 and was produced by Cessna from 2006 until 2011.  Model 525 serial number 0600 and higher are marketed as CitationJet CJ1+ and are powered by Williams FJ44-1AP turbofans. With the same airframe, it has Pro Line 21 avionics package and FADEC engine control. Model CJ1+ seats up to 6 passengers and 2 pilots.
Specifications
Exterior Dimensions (Citationjet CJ1+)
Wing span: 46 ft 9 in
Length: 42 ft 7 in
Height: 13 ft 7 in
Interior Dimensions (Citationjet CJ1+)
Cabin Height: 4 ft 8 in
Cabin Width: 4 ft 9 in
Cabin Length: 11 ft
Baggage (external): 45 cu ft
Performance
Horsepower: 1900.00
Gross Weight: 10,700 lbs
Top Speed: 389 kts
Empty Weight: 7025 lbs
Cruise Speed: 377 kts
Fuel Capacity: 3220 lbs
Stall Speed (dirty): 81
Range: 1,245 nm
 
Rate of Climb: 3290 fpm
Rate of Climb (One Engine): 906 fpm
Service Ceiling: 41,000 ft
Ceiling (One Engine):
 
Takeoff
Landing
Ground Roll: 3260 ft
Ground Roll: 2590 ft
Takeoff Roll Over 50 ft: 
Landing Roll Over 50 ft:
Engine
Manufacturer: RR/Williams
Model: FJ44-1AP
Power: 1965 lbf
Overhaul (HT): 3500 TBO
History
The CJ1+ was first communicated at the NBAA annual convention in 2004 and gains its type certificate less than a year later.
The basis for this aircraft was the Model 525.
Design
The relative obsolescence of the Honeywell SPZ-5000 avionics outfitted on the original CitationJet had become clear, so Cessna replaced it the ubiquitous Rockwell Collins Pro Line 21, effectively taking the Model 525 from an EFIS to a properly said glass cockpit. Information was displayed to pilots in two large 8 x 10 in LCD screens – one primary flight display (PFD) and one MFD (multifunctional display).
The Pro Line 21 is driven by the AHC-3000 altitude and heading reference system (AHRS).  A Multi-Function Display (MFD) with Two 8 x 10-inch (.20 x .25 m) Primary Flight Displays (PFDs) also the Collins FMS-3000 Flight Management System (FMS) and Pro Line 21 CNS radios will increase your safety. Having a fully integrated Rockwell Collins Pro Line 21 flight deck, the CJ1+ pilots will manage their aircraft from the most advanced avionics suite in the category.
Given the Model 525's ability to be flown solo, Cessna left it up to the customer to decide whether they required a second PFD to be fitted on the co-pilot/passenger seat, with a price tag of $11815, with a second air data computer being included. If the option was primarily thought out for multicrew operations, the audience it found exceeded it by some margin.
Many owners, even those only interested in single-pilot operations, ordered the 'dual' option because of this second air data computer and its associated altimeter. This redundancy was a requirement for those wanting to tap into reduced vertical separation minimums (RVSM), which bring intervals down to 1000 ft over certain airspaces in Europe and over water.
The CJ1 has been modernized by the CJ1+, which shares the same airframe but has an extra updated avionics package, and FADEC to allow the engines to be kept under control by a computer rather than mechanical controls. At 41,000 feet, the CJ1+ can travel more than 20 kts faster than the CJ1. In addition, a 100-pound gross weight increase of the CJ1+ allows it to carry more payloads over greater distances.
Having a unique natural laminar-flow wing, CJ1+ and CJ2+'s performance is enhanced. This laminar-flow wing keeps an uninterrupted flow of air across a greater area of its surface; this means an increase in airspeed when compared to earlier designs. To help you safely an anti-ice protection on the windshield, wings, engine inlets and pylons is realized. You can land on smooth surface from now one; because Citation CJ1+ has a useful component like a trailing-link landing gear which also will permits the access to a multitude of airports.
Because of the special acoustic-blanket soundproofing, the Citation CJ1+ is one of the quietest cabins in its class. It is equipped with one-piece headliner which comes complete with integrated auxiliary lighting and cabin ventilation and we will find here a cool-burning LED indirect lighting for a tranquil ambiance. The belted flushing toilet have a particular effect, it serves as the sixth seat. The cabin is provided with grey leather upholstery, grey carpet and wood grain cabinetry. The passengers will feel like at home because they have some benefits: newly styled reclining seats track, the belted lavatory also doubles as an extra passenger seat. You can use a laptop or other productivity tools because a 110-volt power supply is provided.