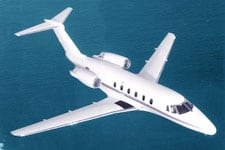 Cessna Citation VI
The Cessna Citation VI model 650 series is a midsize business jet produced by Cessna from 1991 until 1995. The Citation VI was a cheaper version of the Citation III and had a standard double-club interior which seats up to 8 passengers and 2 pilots.
Specifications
Exterior Dimensions
Wing span: 53 ft 6 in
Length: 55 ft 6 in
Height: 16 ft 10 in
Interior
Cabin height: 5.8 ft
Cabin width: 5.7 ft
Cabin Length: 18.7 ft
Cabin volume: 438 cu. ft.
Baggage volume: 61 cu.ft.
Seating: typically configured for 8 passengers 2 crew
Avionics
Dual Collins Pro Line avionics, TAWS B, RVSM, EFIS, MSP, TCAS II, APU, ADS-B
Engines
Manufacturer: Honeywell
Model: TFE731-3C-100S
Horsepower: 3650 lb thrust
Performance
Horsepower: 3650.00
Gross Weight: 22,000
Top Speed: 473
Empty Weight: 12,775
Cruise Speed:
Fuel Capacity: 7;385
Stall Speed (dirty): 97
Range: 2,345
 
Rate of Climb: 1,520
Rate of Climb (One Engine): 805
Service Ceiling: 51,000
Ceiling (One Engine):
 
Takeoff
Landing
Ground Roll:
Ground Roll
Takeoff Roll Over 50 ft: 5,150
Landing Roll Over 50 ft: 2,900
History
The Cessna Citation III (Model 650) is an American business jet with 2,350 nmi (4,350 km) of range produced by Cessna and part of the Citation Family Announced at the October 1976 NBAA convention, it made its maiden flight on May 30, 1979, received its type certification on April 30, 1982 and was delivered between 1983 and 1992. The cheaper Citation VI was produced from 1991 to 1995 and the more powerful Citation VII was offered between 1992 and 2000, 360 of all variants were delivered. An all new design, it had a 312 sq ft (29 m²) swept wing for a 22,000 lb (10 t) MTOW, a T-tail and two 3,650–4,080 lbf (16.2–18.1 kN) TFE731 turbofans. Its fuselage cross section and cockpit were kept in the later Citation X, Citation Excel and Citation Sovereign.
Design
The Citation VI is one of the updates for the Citation III; it is more economical both in acquisition cost and hourly operating cost.
The interior of the Citation VI is identical to the cabin of the Citation III. The interior design is standardized in a double-club configuration, and travel in the Citation VI is fairly quiet due to its compliance with the FAR part 36 noise standards.
One of the best features of the Citation VI is that it is fast. It was designed for optimal speed; the body utilizes lightweight composites wherever possible and smooth, bonded metal surfaces to cut down on drag. It climbs quickly to its flight level of 43,000 feet, where it can cruise at a maximum speed of .81 to .83 Mach (468 knots). Its maximum range with four passengers is 2,920 miles (2,054 nautical miles). The Citation VI has the longest range and fastest overall cruise speed of any midsized jet.
Taxiing and landings are very smooth due to the Citation VI's trailing link landing gear. Pilots report excellent control and smooth performance in stalls, easy landings, and very effective brakes. The two Honeywell TFE731-3C-100S engines are extremely reliable and allow for great flexibility in flight operations.
The Honeywell digital SPZ-8000 autopilot flight control system comes standard in Citation VIs. It includes many safety checkup systems that are uncomplicated, where checking the status of many vital flight systems is literally as easy as pressing a button. The Citation VI is certified to FAR part 25 safety standards, the same standards that commercial jets must adhere to. Unlike the digital autopilot of the Citation III, the Citation VI uses an analog version to cut cost and weight.
The resulting Citation VI is a low-priced business jet that delivers comfortable travel accommodations, economic operating costs, and good speed and range capabilities.