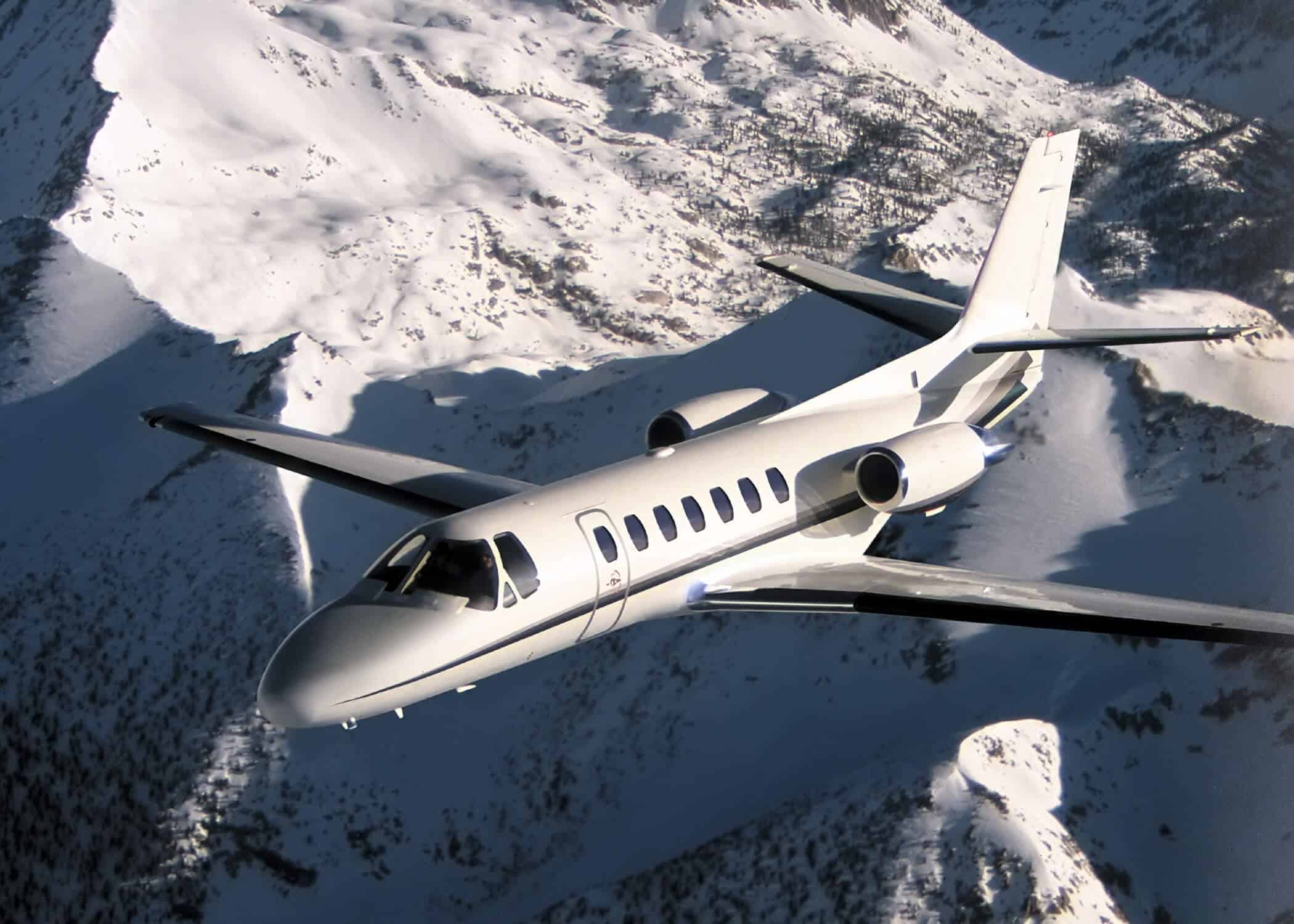 Cessna Citation V
The Cessna Citation V Model 560 series is a light twin-turbofan business jet produced by Cessna from 1989 until 1994.  Model 560 seats up to 8 passengers and 2 pilots.
Specifications
Exterior Dimensions
Wing span: 52 ft 2 in
Length: 48 ft 11 in
Height: 15 ft 0 in
Performance 
Horsepower: 2900.00
Gross Weight: 15,900
Top Speed:
Empty Weight: 8,950
Cruise Speed: 425
Fuel Capacity: 5;820
Stall Speed (dirty): 85
Range:
 
Rate of Climb:
Rate of Climb (One Engine):
Service Ceiling: 45,000
Ceiling (One Engine):
 
Takeoff
Landing
Ground Roll:
Ground Roll
Takeoff Roll Over 50 ft: 3,160
Landing Roll Over 50 ft: 2,920
Engine
Manufacturer: Pratt & Whitney
Model: JT15D-5A
Horsepower: 2900 lbf
Overhaul (HT): 3500 TBO
History
The Cessna Citation V (Model 560) is a business jet built by Cessna, stretched from the Citation II. A prototype flew in August 1987, it was certified on December 9, 1988 and delivered from April 1987, 774 were delivered until 2011. The upgraded Citation Ultra was announced in September 1993, the Citation Encore upgraded with PW535 turbofans was announced in 1998, before the improved Encore+.
Design
The Citation V is a slightly stretched Citation II/SP, allowing a standard eight seats, with more powerful Pratt & Whitney Canada JT15D5A turbofans. The Model 560 variants are the fastest and farthest flying jets with the type certificate of the original Citation 500. The passenger cabin is 17.3 ft (5.3 m) long, 4.9 by 4.8 ft (149 by 146 cm) wide and high with a dropped aisle, has seven windows on each side and accommodates a four-seat club plus three chairs and a closed, belted lavatory.
Development
A preproduction prototype flew in early 1986 and the first engineering prototype made its maiden flight in August 1987. The Citation V was announced at the NBAA convention later that year, US certification was granted on December 9, 1988 and 262 were delivered between April 1987 and mid 1994. The 1988 Citation V was followed in 1994 by the Citation Ultra with slightly more thrust, the Citation Encore in 2001 then the Citation Encore+ in 2007 through early 2010. By 2018, Citation V/Ultra were priced at $1.1–1.6 million.
Variants
Citation Ultra
The upgraded Citation V Ultra was announced in September 1993 and FAA certification was granted in June 1994. It features more powerful 13.6 kN (3045 lb) JT15D5D engines and Honeywell Primus 1000 EFIS avionics. Deliveries amounted to 279. In 1994, the Ultra was named Flying magazine's "Best Business Jet" and it was produced until 1999. Both the Citation V and Ultra hold 5814 pounds of fuel.
Citation Encore / Encore+
The Citation Ultra Encore was announced at the 1998 NBAA convention, upgraded with new PW535 engines, plus trailing link main undercarriage, more fuel capacity, updated interior and improved systems. Its maximum cruise altitude is FL 450. Deliveries amounted to 168. The Encore was certified in April 2000 with first delivery in late September 2000.
The upgraded Citation Encore+ was offered from 2007 through early 2010. Deliveries amounted to 65. It was certified by the FAA in December 2006.