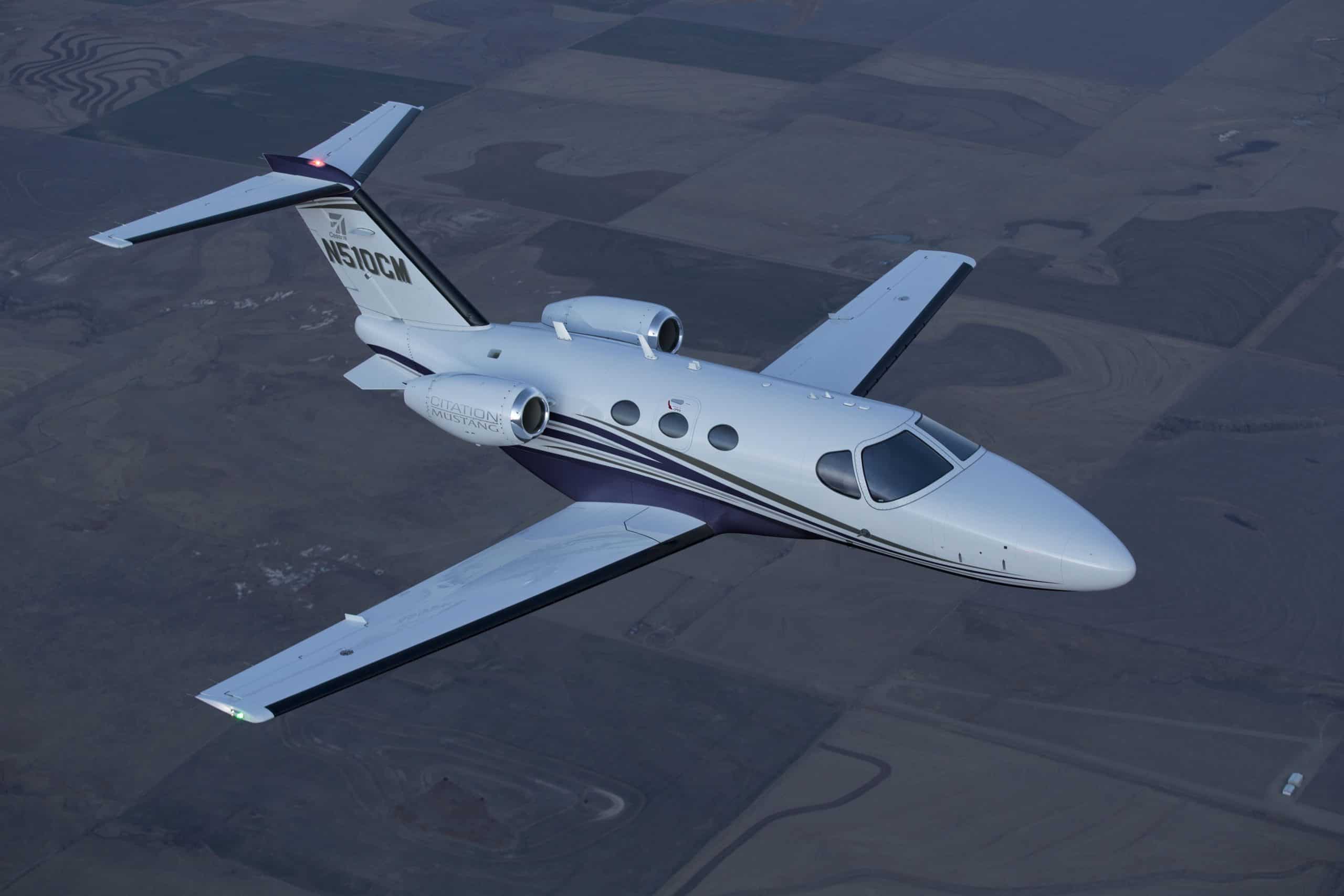 Cessna Citation Mustang
The Cessna Citation Mustang is a very light jet produced by Cessna from 2007 until 2017. Model 510 seats up to 5 passengers and 1 or 2 pilots. Like many other light jets, the Mustang is approved for single-pilot operation.
Specifications
Exterior Dimensions
Wing span: 43 ft 2 in
Length: 40 ft 7 in
Height: 13 ft 5 in
Internal Dimensions
Length: 9.8 ft
Width: 4.6 ft
Height: 4.5 ft
Cabin volume: 210 cu.ft.
Baggage weight: 620 lb
Baggage volume: 57 cu ft
Avionics
Garmin G1000 with dual 15-inch PFD's and one MFD, FADEC (Full Authority Digital Electrical Control) engine system, Color Radar, Garmin Autopilot, TIS, TAWS B, RVSM, ADS-B
Engine
Manufacturer: Pratt & Whitney
Model: 2 x PW615F turbofans
Horsepower: 1350 lbs thrust
Overhaul (HT): 3500 TBO
Performance
Horsepower: 1350.00 lbs
Gross Weight: 8,645 lbs
Top Speed:  Mach 0.63 kts
Empty Weight: 5,600 lbs
Cruise Speed: 340 ktas
Useful Load: 3,130 lbs
Stall Speed (dirty): 
Range: 1167 nm 
 
Rate of Climb: 3,010 fpm
Rate of Climb (One Engine): 
Service Ceiling: 41,000
Ceiling (One Engine): 
 
Takeoff
Landing
Ground Roll:  3,100 ft
Ground Roll: 2,380 ft
Takeoff Roll Over 50 ft:
Landing Roll Over 50 ft:
History
Launched at the 2002 NBAA convention, it first flew on 23 April 2005. It received its FAA type certification September 8, 2006, was first delivered on November 22. Production ended in 2017 after 479 aircraft were built.
Development
Launched at the 2002 NBAA convention, the $2.4 million Mustang first flew on 23 April 2005. The airplane received full type certification from the Federal Aviation Administration on September 8, 2006. Cessna received FAA certification to fly into "known icing conditions" on November 9, 2006. Cessna delivered the first production LJ on November 22, 2006, the same day the FAA awarded Cessna with the necessary certification. Dave and Dawn Goode of GOODE Ski Technologies received the first retail delivered Cessna Mustang on April 23, 2007.
In 2010, Cessna launched an enhanced edition of the aircraft called the High Sierra, which features higher quality cabin furnishings and enhanced avionics, including synthetic vision.
Cessna ended production of the design in May 2017. Production ended due to lack of customer demand for the aircraft, as a result of competition from the company's own Cessna Citation M2. The company had been selling an average of 40 Mustangs per year until the M2 was introduced in 2013 and then Mustang sales dropped to just 24 aircraft over the next three years. The M2 is a faster and larger aircraft, but can operate from similar length runways and requires the more common C/E-525 type rating, which potentially reduces training and crewing costs over the Mustang.
Design
The Mustang is a low-wing cantilever monoplane with a swept wing, T-tail and retractable tricycle gear. One main door is located in the forward left section of the aircraft, with an additional emergency exit on the center right section of the fuselage. The Mustang, in standard configuration, has four passenger seats in the aft cabin, a toilet, and seating for two in the cockpit. The airframe is primarily of aluminum alloy construction, with a three spar wing. Power is provided by two Pratt & Whitney Canada PW615F turbofans, mounted in pods on the aft fuselage. It was built at the Cessna production facility in Independence, Kansas.
The nose compartment has a clear span across the entire width of the fuselage and can easily hold several golf bags, while the aft baggage is huge. Total external baggage is 57cubic feet.
One of Cessna's greatest design achievements is the Mustang main cabin door. A single flush handle opens and closes it with almost no friction on the mechanism. The door is bigger than on other members of the Citation 500 family, and operates more smoothly than any of the others.
The cabin and cockpit cross-section are on par with other light jets. The cockpit is easier to enter because the center pedestal does not go to the floor. The cockpit is as comfortable and roomy as any light jet.
Operation
The three big flat-panel displays of the Garmin G1000 avionics system fill the panel, but the 15-inch multifunction display (MFD) in the center dominates. You can use knobs on the display units to control the avionics system, or a keyboard mounted just below and aft of the throttles. You have to go all the way up to the newest over-$10 million midsize jets to find so much avionics capability. The G1000 system includes a crew advisory system (CAS) that shows you in plain language any important alerts and system information right on the MFD.
Mustang systems are even less complicated than in other basic Citation models. There is no central hydraulic system, for example. The landing gear and brakes are operated by an electrically powered hydraulic pack just like in a Cessna 210 piston single. If that system fails, the landing gear freefalls down, and a bottle of compressed nitrogen assures it is locked in place. A nitrogen bottle also supplies emergency brake pressure. Flaps and speed brakes are electrically actuated. All fuel is in the wings, there is no need for an anti-ice additive, and there are no fuel management tasks. The only cabin pressurization task is to enter the landing field elevation in the G1000 system. The electrical buses are parallel and are all isolated from one another. If a generator is lost loads are shed automatically. If all main generator and battery power are lost, an emergency battery keeps the pilot's PFD and other essential items powered for at least another 30 minutes. The systems couldn't be more basic, or demand less intervention from the pilot.
For additional information on flying the Citation Mustang to to Flying Magazine for a great article written in 2007 by J. Mac McClellan.