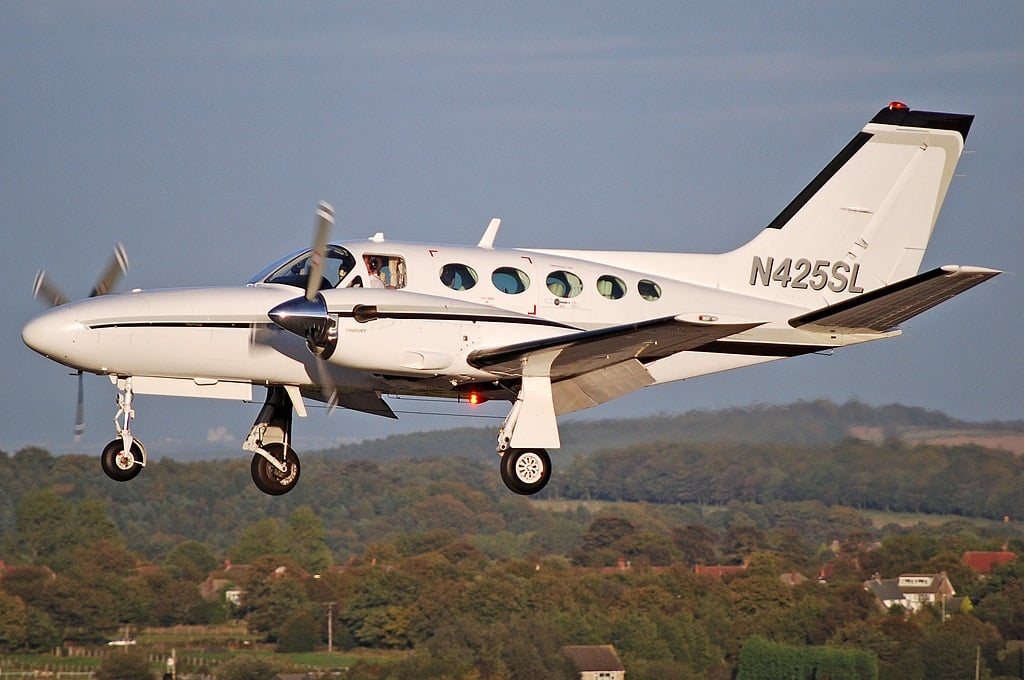 Cessna 425 Conquest I
The Cessna 425, is known as the Corsair and later as the Conquest I. It's an eight-seat American pressurized turboprop twin-engined light aircraft. Now out of production, it was built by Cessna Aircraft of Wichita, Kansas, between 1980 and 1986.
Specifications
General characteristics
Crew: two pilots
Capacity: four–six passengers
Length: 35 ft 10

+

1

?

4

 in (10.93 m)
Wingspan: 44 ft 1

+

1

?

2

 in (13.45 m)
Height: 12 ft 7

+

1

?

4

 in (3.84 m)
Wing area: 224.98 sq ft (20.901 m2)
Airfoil: NACA 23018-63 (mod) at root, NACA 23009-63 at tip
Empty weight: 4,915 lb (2,229 kg)
Max takeoff weight: 8,200 lb (3,719 kg)
Fuel capacity: 366 US gal (305 imp gal; 1,390 L) usable capacity
Powerplant: 2 × Pratt & Whitney Canada PT6A-112 turboprops, 450 shp (340 kW) each
Propellers: 3-bladed Hartzell 9910438-1 or McCauley 9910535-1 constant-speed propellers
Performance
Maximum speed: 264 kn (304 mph, 489 km/h) at 17,700 ft (5,400 m)
Cruise speed: 210 kn (240 mph, 390 km/h) at 30,000 ft (9,100 m), econ cruise
Stall speed: 79 kn (91 mph, 146 km/h) (CAS),flaps and undercarriage down, engines idling
Range: 1,646 nmi (1,894 mi, 3,048 km) at 30,000 ft (9,100 m), econ cruise, 45 min reserves
Service ceiling: 34,700 ft (10,600 m)
Rate of climb: 2,027 ft/min (10.30 m/s)
Takeoff run to 50 ft (15m): 2,431 ft (741 m)
Landing run from 50 ft (15 m): 2,145 ft (654 m)
Design
Originally, the 425 was introduced as a competitor to the Beechcraft King Air and introduced in 1980 as a derivation of the Cessna 421. In contrast it's powered by two 450 hp (336 kW) Pratt & Whitney PT6 turbo prop engines. In comparison to the King Air C90 "the result was an $875,000 pressurized twin-turboprop that could fly 15 knots to 20 knots faster than the C90, cruise 250 miles farther with four passengers aboard and burn 15-percent less fuel. It also costs $200,000 less to buy".
Surprisingly, the 425 is very easy to fly and is noted by reviewers for its spacious cabin with large windows for good visibility and comfortable seats.
The original Corsair developed into the Conquest I by customer demand for more cabin space and a higher maximum takeoff weight. Cessna worked on upgrades that allowed more cabin space and passengers. Essentially, the upgrades increase maximum takeoff weight. The Cessna 441 had previous been called the Conquest, but was renamed the Conquest II. Earlier model Corsairs can be upgraded to Conquest I standard with factory provided modification kits.
Due to economic conditions in general aviation, sales decreased in the mid-1980s and production of the 425 ended in 1986.