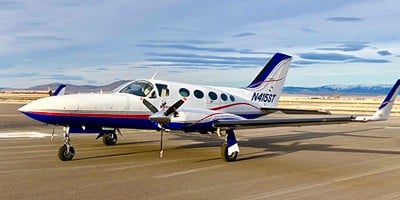 Cessna 414 / 414A Chancellor
The Cessna 414 is a low-wing, twin piston engine, pressurized-turbocharged aircraft produced by Cessna from 1970 until 1985. Distinguishing features are: retractable landing gear and three-bladed, constant speed, fully feathering propellers. Model 414 seats up to 7 passengers and 1 pilot.
Specifications
Exterior Dimensions 414
Wing span: 39 ft 11 in
Length: 33 ft 9 in
Height: 11 ft 8 in
Exterior Dimensions 414A
Wing span: 44 ft 1 in
Length: 36 ft 4 in
Height: 11 ft 5 in
Engine
Manufacturer: Continental
Model: TSIO-520-J/N/NB
Horsepower: 375 hp
Overhaul (HT): 1400/1600/1800 TBO or 12 years
Performance 414
Horsepower: 310.00
Gross Weight: 6,350
Top Speed: 239
Empty Weight: 4,039
Cruise Speed: 224
Fuel Capacity: 102
Stall Speed (dirty): 70
Range: 1,090
 
Rate of Climb: 1,580
Rate of Climb (One Engine): 240
Service Ceiling: 30,100
Ceiling (One Engine): 11,350
 
Takeoff
Landing
Ground Roll: 1,695
Ground Roll 805
Takeoff Roll Over 50 ft: 2,350
Landing Roll Over 50 ft: 1,865
Performance 414A Chancellor II
Horsepower: 310.00
Gross Weight: 6,750
Top Speed: 235
Empty Weight: 4,543
Cruise Speed: 224
Fuel Capacity: 213
Stall Speed (dirty): 72
Range: 1,099
 
Rate of Climb: 1,520
Rate of Climb (One Engine): 290
Service Ceiling: 30,800
Ceiling (One Engine): 19,850
 
Takeoff
Landing
Ground Roll: 2,185
Ground Roll 1,013
Takeoff Roll Over 50 ft: 2,595
Landing Roll Over 50 ft: 2,393
History
The pressurized 414 was developed to appeal to owners of un-pressurized twin-engined aircraft and was based on the fuselage of the Cessna 421 and used the wing design of the Cessna 401. The 414 is a low-wing cantilever monoplane with a conventional tail unit and a retractable tricycle landing gear. It is powered by two wing-mounted 310 hp Continental TSIO-520-J horizontally-opposed six cylinder engines. The prototype, registered N7170C, first flew on 1 November 1968 and production aircraft were available in a number of optional seating arrangements and avionics packages. The name Chancellor was used for models marketed from 1976. An improved variant the Cessna 414A Chancellor was introduced in 1978 with the major change being a re-designed and increased-span wing with integral fuel tanks and an extended nose to give more baggage space.
Development
Earlier 414s are easily recognizable by their tip tanks and stubbier nose. In 1976, Cessna redesigned the 400 series, beginning with its best seller, the 421. A new bonded wet wing replaced the riveted tip-tanked wing. When the changes trickled to the 414 in 1978, it was renamed the 414A Chancellor. The resulting airplane had a wingspan that was 4.5 feet longer and a nose stretched nearly 3 feet. Fuel capacity reached 206 usable gallons, and the operation of the fuel system was made far simpler with an On/Off/Crossfeed valve for each engine. Previous 414s had as many as six tanks and made for hair-pulling fuel management for the newcomer.
The basic 414 was born in 1970 with a 4.2 psi pressurization differential and ascended to become the Chancellor in 1978. The updated Chancellor abolished the original tip tanks in favor of a longer wet wing, benefitted from a lengthened fuselage, mounted an improved 5.0 psi pressurization system, and enjoyed a 400-pound heavier gross weight. The result was an airplane that was physically almost identical to the 421, but with slightly less power.
(In fact, a company in Waco, Texas, RAM Aircraft, offers a popular mod that upgrades the engines to as much as 335 hp/side for stronger climb and improved cruise.)
Pressurization differential is an impressive 5.0 psi on the later 414s, generating a comfortable 8000-foot cabin at 25,000 feet. In fact, however, the 414 is most often operated in the low flight levels, FL180 to FL220. It's most comfortable at those heights and will still turn in the magic 200 knots. Pressurization has always been the ultimate luxury, one of those systems—like air conditioning in cars—that seems almost mandatory.
Design
The eight-seat cabin measures 55 inches across, making it one of the roomiest in the class. It's also 51 inches high—not nearly tall enough for stand-up headroom, but big enough to allow easy walk-around space inside the cabin.
From a pilot's point of view, the front office is easily accessible and well laid out, with everything logically oriented in a left-right format. It's a reasonably peaceful environment, as well—one of the quietest you'll find in a piston twin. Conversations barely above a whisper are easily audible, there's little vibration transmitted through the fuselage, and the chairs articulate in all the proper directions. Additionally, the airplane takes turbulence well, with a high wing loading of nearly 30 pounds/square foot.
Capabilities
At the end of your flight, whether IFR or VFR, the Chancellor is one of the most manageable of the corporate twins. Unlike the 421's geared powerplants, the 414's engines aren't unduly sensitive to power reductions. The airplane will accept approach speeds anywhere from 100 to 120 knots, and it's as stable on a long VFR straight into Long Beach in good weather as it is to a tight ILS to minimums at Wichita in a snowstorm.
Like most other Cessna piston products, the 414 Chancellor was discontinued in the mid-'80s after some 1100 had been sold, and many of those are still active. Despite the airplane's age, it remains a popular corporate transport, reasonably economical to operate, simple to fly, fairly easy to maintain, and a popular machine with both pilots and passengers.
Variants
Cessna 414 (1970-75)
Continental's TSIO-520-J 310 hp 1400 TBO powered the original 414s. In 1973 the cabin length increased 16 inches and a fifth window was added.
Cessna 414 (1976-77)
The engines were upgraded to the Continental TSIO-520N 310 hp engine with 1400 TBO.
Cessna 414A Chancellor (1978-85)
Improved 414 with narrower vertical tail, longer span bonded wet wing without tip tanks, a lengthened nose, re-designed landing gear and powered by two 310hp TSIO-520-N (1400 TBO) engines and PSI increase, 554 built. In 1979 the engines were upgraded to the 310 hp Continental TSIO-520NB engines with 1600 TBO
Riley Rocket 414
Conversion of Cessna 414 aircraft by fitting two 400hp Lycoming IO-720 engines.