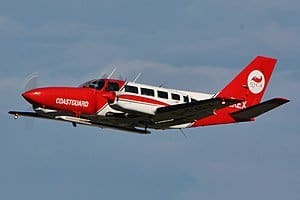 Cessna 404 Titan
The Cessna 404 is a low-wing, twin piston engine, turbocharged aircraft produced by Cessna from 1977 until 1981. Distinguishing features are: retractable landing gear and three-bladed, constant speed, fully feathering propellers. Model 404 seats up to 9 passengers and 1 pilot.
Specifications
Exterior Dimensions
Wing span: 46 ft 4 in
Length: 39 ft 6 in
Height: 13 ft 3 in
Engine
Manufacturer: Continental
Model: GTSIO-520-M
Horsepower: 375 hp
Overhaul (HT): 1600 TBO or 12 years
Performance
Horsepower: 375.00
Gross Weight: 8,400
Top Speed: 232
Empty Weight: 4,965
Cruise Speed: 217
Fuel Capacity: 348
Stall Speed (dirty): 70
Range: 553
 
Rate of Climb: 1,575
Rate of Climb (One Engine): 230
Service Ceiling: 26,000
Ceiling (One Engine): 10,100
 
Takeoff
Landing
Ground Roll: 1,788
Ground Roll 1,100
Takeoff Roll Over 50 ft: 2,367
Landing Roll Over 50 ft: 2,130
History
Model 404 was a development of the Cessna 402 with an enlarged vertical tail and other changes. The prototype first flew on 26 February 1975. It is powered by two 375 hp/280 kW turbocharged Continental Motors GTSIO-520 piston engines. Two versions were offered originally; the Titan Ambassador passenger aircraft for ten passengers, and the Titan Courier utility aircraft for passengers or cargo. By early 1982 seven different variants were available, including a pure cargo version, the Titan Freighter. The Freighter was fitted with a strengthened floor, cargo doors, and its interior walls and ceiling were made from impact-resistant polycarbonate materials to minimize damage in the event of cargo breaking free in-flight.
Design
In 1973, Cessna executives began discussing an aircraft with a higher payload than the popular 402, and thus began the development of an unpressurized piston twin that was to become the 404.
The aircraft is clearly an outgrowth of the Model 402B, but with noteworthy differences. The biggest of these is its useful load: at just under or just over 3,000 pounds (depending on type), the 404 is 30 percent greater in ton-mpg than its predecessor.
Engineers also improved the low-speed stall characteristics for the 404 and gave it a smooth bonded metal three-piece wet wing as a standard feature. "Some [aircraft] attach outboard; this aircraft is attached engine-to-engine at the center section of the wing," Caruso said. This design is structurally sound and incredibly strong.
They pirated some features from the by-then-proven Model 421, too, including the nosegear. However, engineers gave the 404 a brand-new trailing link main landing gear (only minimal rigging is required) and large four-piece semi-Fowler flaps.
The 404's flaps, landing gear and wet wing would all be used on future Cessna aircraft including Citations. This stable airplane received a vertical tail that spans 7.6 feet, and the rudder trim tab has 4:1 servo.
The Titan was fitted with two 375 hp GTSIO-520-M engines, with no intercooler or cowl flaps. Its fuselage forward of the cockpit is almost identical to the Cessna 402, and the hydraulic system is based on the 402C.
Testing and Marketing
The process from testing to certification was relatively quick. The prototype Cessna 404, N5404J, began flight testing in early 1975 and Type Certificate A25CE was issued in July of the following year. First deliveries of this business/commuter/cargo aircraft were in October of 1976.
Cessna initially offered two models of what was at the time its largest piston twin: the 10-passenger Titan Ambassador, and a cargo/passenger version called the Titan Courier.
By the early 1980s, a third model, the Titan Freighter, was also on the market. The Freighter was a reinforced cargo-only version of the 404.
With the Titan offering such a substantial payload increase over the 402, the aircraft was ideal for air cargo and air taxi markets—just as Cessna had suspected. Between October 1976 and January 1977, 17 were delivered.
Capabilities
With a ceiling of 26,000 feet and a range of more than 1,000 miles, the unpressurized 404 can fly both high and far—as long as you don't mind wearing an oxygen mask. And it can fly in icing conditions.
"This is an excellent Known Ice aircraft," said Caruso. "It can be dispatched into the same conditions as a Boing 737."
Fuel capacity is 348 gallons, with 340 usable on the two mains. There are no wing locker tanks. Maximum takeoff weight for the 404 is set at 8,400 pounds, while its maximum landing weight is 8,100 pounds.
The aircraft can carry 700 pounds more than its closest competitor, the Piper Navajo Chieftain—and quite a bit farther, too.
You'd better believe this comparison with the Chieftain was a major selling point in the Cessna marketing materials from the early 1980s.
Variants
Titan Ambassador – Basic 10-seat passenger aircraft.
Titan Ambassador II – Ambassador with factory fitted avionics.
Titan Ambassador III – Ambassador with factory fitted avionics.
Titan Courier – Convertible passenger/cargo version.
Titan Courier II – Courier with factory fitted avionics.
Titan Freighter – Cargo version.
Titan Freighter II – Freighter with factory fitted avionics.
C-28A Titan – Designation given to two aircraft purchased by the United States Navy.