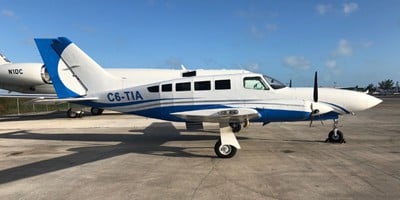 Cessna 402
The Cessna 402 is a 6 to 10 seat, low-wing, twin piston, turbocharged engine aircraft produced by Cessna from 1967 until 1985. Distinguishing features are: retractable landing gear and three-bladed, constant speed, fully feathering propellers. Model 402 seats up to 8 passengers and 1 pilot.
Specifications
Exterior Dimensions 402, 402A
Wing span: 39 ft 9 in
Length: 35 ft 8 in
Height: 11 ft 7 in
Exterior Dimensions 402B
Wing span: 39 ft 1 in
Length: 36 ft 1 in
Height: 11 ft 8 in
Exterior Dimensions 402C
Wing span: 44 ft 1 in
Length: 36 ft 4 in
Height: 11 ft 5 in
Engine
Manufacturer: Continental
Model: TSIO-520-E, (402C TSIO-520-VB 325 hp 1600 TBO)
Horsepower: 300 hp
Overhaul (HT): 1400 TBO or 12 years
Performance Cessna 402A
Horsepower: 300.00
Gross Weight: 6,300
Top Speed: 227
Empty Weight: 3,719
Cruise Speed: 209
Fuel Capacity: 102
Stall Speed (dirty): 69
Range: 833
 
Rate of Climb: 1,610
Rate of Climb (One Engine): 225
Service Ceiling: 26,180
Ceiling (One Engine): 11,320
 
Takeoff
Landing
Ground Roll: 1,695
Ground Roll 777
Takeoff Roll Over 50 ft: 2,220
Landing Roll Over 50 ft: 1,765
History
The first of Cessnas 400 series twins was also the worst: the 411, which had severe engine-out handling problems combined with unreliable geared powerplants. It racked up an astoundingly bad accident rate, and lasted only four years with fewer than 300 delivered. Prices for them are in the mid-60s, and we advise you stay away no matter what the tag says. The 402 was the follow-on model, with fixes that took care of the 411s shortcomings including new engines and a bigger rudder.
The Cessna 401 and 402 line was manufactured by Cessna from 1966 to 1985 under the name Utiliner and Businessliner. All seats are easily removable so that the aircraft can be used in an all-cargo configuration. Neither the Cessna 401 nor the 402 were pressurized, nor were they particularly fast for the installed horsepower. Instead, Cessna intended them to be inexpensive to purchase and operate.
The interior (featuring a reinforced bonded-honeycomb floor) was designed to accommodate up to ten seats, all quickly removable for conversion to cargo operations. A non-cargo version of the 402, called the 401, was offered concurrently, with six-passenger seating standard. Except for interior appointments and an optional cargo door on the 402, the two airplanes were the same.
Design
Models 401 and 402 were developed to be non-pressurized twin engine piston aircraft. Their goal was to be a workhorse, useful to cargo and small commuter airlines among other users.
The 401 and 402 were developments of the Cessna 411. One goal for the Cessna 401/402 was to improve upon the very bad single engine handling of the Cessna 411. Another goal was to avoid using the somewhat expensive and maintenance prone geared engines of the Cessna 411.
They are powered by 300 hp turbocharged Continental engines with three-bladed, constant speed, fully feathering propellers. On later models cruise power was limited to 75% to reduce cabin noise. Some aircraft have a propeller synchrophaser to reduce cabin noise and vibration.
The FAA granted certification to the Cessna 401 in October 1968 and the 402 in January 1969.The original Cessna 402 was introduced in 1967. A version without the large cargo door called the Cessna 401 was produced at the same time. In 1969, the 402's nose was stretched for added baggage space. This model was renamed the 402A. The 401 kept the original nose. In 1970, various minor changes were made. Also, optional larger (184 gallon) fuel tanks became available.
The model 402 was the clear winner, and the model 401 was dropped in 1972 with only 21 planes sold. Although both had a max take-off weight of 6300 lbs, the 402 had 1.6 inches more aft c.g. and could carry an additional passenger for a total of nine occupants.
Further Development
In 1969, the 402 got a stretched nose for added baggage space, and was redesignated the 402A; the 401, however, retained its shorter beak. The advent of the 402B the following year saw optional fuel go to 184 gallons (nearly all are so equipped). Also, various systems changes were made; for example, fuel pumps were put in the Stabila-tip tanks in response to an AD.As acceptance of the workhorse 402 increased, sales of the 401 lagged. Consequently, in 1971 Cessna resorted to the somewhat unusual tactic of lowering its price by $1,450, to $108,500. The tactic flopped, however. Only 21 airplanes were sold at the lower price, and Cessna axed the 401 the following year.
Between 1971 and 1977, many changes were made to the airframe:
1971: Padded window posts, instrument panel trim, and control yokes became standard safety features, and an engine nacelle fire extinguishing system was offered as an option.
1972: Heat-resistant silicone engine shock mounts were introduced, along with stainless steel turbocharger heat shields. Also, a simpler exhaust system was made standard; access was improved to the landing gear and flap motors; and a new landing gear system, featuring an aural annunciator coupled to the throttles and the flap preselect switch, was incorporated.
1973: The familiar Cessna portholes were replaced on the 402B with rectangular windows, for an increase of 711 square inches in window area; the cabin interior was lengthened by 16 inches; a fold-down instrument panel (for easier access) was made standard; optional fuel went to 207 gallons; an avionics master was added; and improved turbo controllers were made standard.
1975: A known icing option equipment package was offered.
1977: Polyurethane paint became standard, and an optional flushing toilet was offered.
1978: A Halon cabin fire extinguishing system was offered, to put out avionics and nose baggage compartment fires.
In 1979, the 402s received a new wing, with a five-foot greater span. The landing gear was replaced, using the simpler system from the Cessna 414. The landing gear track was also increased by four feet. The engines' output was boosted to 325 hp each and max gross weight increased to 6,850 pounds, creating a much more useful airplane. Fuel capacity was increased to 213 gallons. Even with the weight increase, single-engine performance went up and the stall speed went down by a couple of knots. After this change, the plane was named the Cessna 402C.
The restyled 402C was built until the 1985 model year. The 402C remained in production through the decline in general aviation manufacturing in the 1980s, finally succumbing to the triple threats of product liability costs, a bad economy and an oversupply of slow-selling aircraft. Cessna wisely abandoned propeller twins to concentrate on jets.
Variants
There are three variations of the Cessna 402; the original short-nose 401/402, the long-nose 402B, and the wet-wing 402C. The latter is the most sought-after, with its greater payload and simpler fuel system, but the older tip-tanked airplanes offer a lot of capability and value.
Cessna 402 (1967-68)
A 401 with either a utility (for freight) or nine-seat commuter use. Certified 20 September 1966.
Cessna 402A (1969)
A 402 with a baggage compartment in lengthened nose and an optional crew entry door. Certified 3 January 1969.
Cessna 402B Utiliner/Businessliner (1970-78)
402A with minor changes, from 1972 had increased cabin volume and five windows each side. Certified 12 November 1969.
Utiliner version has a ten-seat interior intended for commuter airline operations.
Businessliner version has a six to eight-seat interior with executive seating intended for corporate transport.
Cessna 402C Utiliner/Businessliner (1979-85)
Businessliner" and "Utililiner" packages, the latter having extra seating and plainer furnishings. These offerings were carried over into the 402C. If used for cargo hauling, a forward crew door and wingwalk were offered. For business flying, the cabin would normally have club seating plus two crew and two aft seats, with foldaway work tables and cabinetry.
The walkaround inspection reveals an imposing aircraft, with a huge vertical tail and an equally-significant proboscis. So extensive is the forward baggage area that it requires four swing-up doors to access it, and 600 pounds can be carried, less any installed avionics. A 45,000-BTU combustion heater is in the nose. Not that other baggage space is lacking; wing lockers, aft of the nacelles, can take 200 pounds each, although air conditioning normally installed behind the right engine cuts 80 pounds off that side's allowance. And a swing-open cargo door behind the air-stair entrance allows loading of bulky items, with baggage adjacent to the aft seats. Loading should be accomplished in front-to-back order.
The 402C's landing gear is hydraulically actuated, powered by pumps on both engines, rather than electrically-driven like the earlier airplanes. The maingear, carrying 6.50 x 10 tires, stows into open wells, instead of behind the sequencing doors used previously; the nosegear has a 6.00 x 6 tire. A standby blow-down bottle in the nose backs up the hydraulic system.
In a most-welcome departure from the tip-tanked 402, the wet-wing fuel system is a simple on/off/crossfeed system, normally requiring no management, holding 206 usable gallons, but seldom filled unless extreme range is required. About 900 pounds of payload can be carried with full fuel. There is a 6,515-pound zero-fuel weight to be observed, so there's no reason to depart with less than 30 gallons per side. Maximum landing weight is the same as max takeoff weight.
The electrically-driven flaps are split-type panels, retained from the earlier twin Cessnas.
The TSIO-520-VB engines are cowled in slim nacelles with screwdriver accessible drop-down doors and removable panels. Cowl flaps are installed. The engines can put out 325 hp for takeoff and single-engine operation; normal rated power is 310 hp. The three-blade McCauley props are housed in polished spinners.
The big tail stretches 12 feet into the air, with a single trim tab on the right elevator, along with trim tabs on the rudder and left aileron. A clever optional rudder gust-lock lever on the left side of the tailcone pins the rudder in neutral. If overlooked during preflight, it will disengage with application of up-elevator.