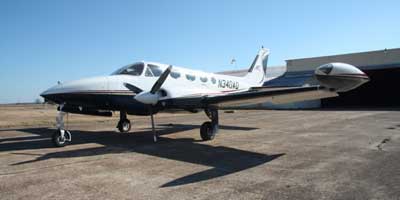 Cessna 340
The Cessna 340 is a six seat, low-wing, twin piston engine aircraft with a conventional tail produced by Cessna from 1972 until 1984. Distinguishing features are: pressurization, retractable gear and constant-speed propellers. Model 340 seats up to 5 passengers and 1 pilot.
Specifications
Exterior Dimensions
Wing span: 38 ft 1 in
Length: 34 ft 4 in
Height: 12 ft 7 in
Engine
Manufacturer: Continental
Model: TSIO-520-K/N/NB
Horsepower: 285-310 hp
Overhaul (HT): 1400 TBO or 12 years
Performance 340
Horsepower: 285.00
Gross Weight: 5,975
Top Speed: 226
Empty Weight: 3,730
Cruise Speed: 210
Fuel Capacity: 102 (163 optional)
Stall Speed (dirty): 71
Range: 1,258
 
Rate of Climb: 1,500
Rate of Climb (One Engine): 250
Service Ceiling: 26,500
Ceiling (One Engine): 12,100
 
Takeoff
Landing
Ground Roll: 1,760
Ground Roll 765
Takeoff Roll Over 50 ft: 2,430
Landing Roll Over 50 ft: 1,840
History
Cessna had a great thirty-year run with the Cessna 310 twin. And less than twenty years after the first flight of the 310, Cessna had dreams of introducing the first pressurized light twin based loosely on the 310. This would become the Cessna 340. While Beechcraft just barely beat out Cessna for bragging rights about having the first pressurized light twin with the Duke, Cessna's 340 would quickly outsell the Duke and become the world's most popular aircraft in this category.
Development
The 340 is a six-seat aircraft, with four passenger seats, an aisle and an airstair door. The tail and landing gear were based on the Cessna 310's units, while its wings were from the Cessna 414. The 340's primary selling feature was its spacious, pressurized cabin, the first in a light twin.
Work on the 340 began in 1969, and the first aircraft was delivered in 1972, behind schedule because one of the prototypes crashed during flight testing in 1970.
The early models have two turbocharged Continental TSIO-520-K engines with 285 hp each. Starting in 1976, the engines were upgraded to the more powerful Continental TSIO-520-NB engines of 310 hp. This variant is known as the 340A and it also features smaller 75.5-inch diameter propellers to reduce noise and meet ICAO Annex 16 noise requirements.
The 340 became so popular that Cessna decided to offer an unpressurized version for those who wanted the other features of the 340 but at a lower cost. This aircraft, the Cessna 335, began production in 1979 and had some slightly smaller engines. But as it turned out the main reason people liked the 340 was for its pressurization, and the 335 wasn't selling. Cessna ceased production after only one year and 64 aircraft.
Cessna kept up with the high demand for the 340 through 1984. When the last aircraft came off the line, Cessna had built 1,287 aircraft.
Variants
Cessna 340 (1972-1975)
Pressurized six-seat twin powered by two Continental TSIO-520-K engines of 285 hp each with 1400 hr TBO and Max take-off weight of 5975 lbs. Most have been converted to 310 hp. Certified October 1971. 350 built.
Cessna 340A
Pressurized six-seat twin powered by two Continental TSIO-520-N engines of 310hp each with 1400 hr TBO and max take-off weight of 5990 lbs. Certified November 1975. Known ice is available on 1977 and newer. 1979 and newer were equipped with TSIO-520-NB engines. 948 built.
Unpressurized version of the 340 with a 400 series wing. It is powered by Continental TSIO-520-EB engines of 300hp each. Certified October 1979. 65 built.
Cessna 340A Performance
Horsepower: 310.00
Gross Weight: 5,990
Top Speed: 243
Empty Weight: 4,184
Cruise Speed: 229
Fuel Capacity: 102
Stall Speed (dirty): 71
Range: 1,106
 
Rate of Climb: 1,650
Rate of Climb (One Engine): 315
Service Ceiling: 29,800
Ceiling (One Engine): 15,800
 
Takeoff
Landing
Ground Roll: 1,615
Ground Roll 770
Takeoff Roll Over 50 ft: 2,175
Landing Roll Over 50 ft: 1,850