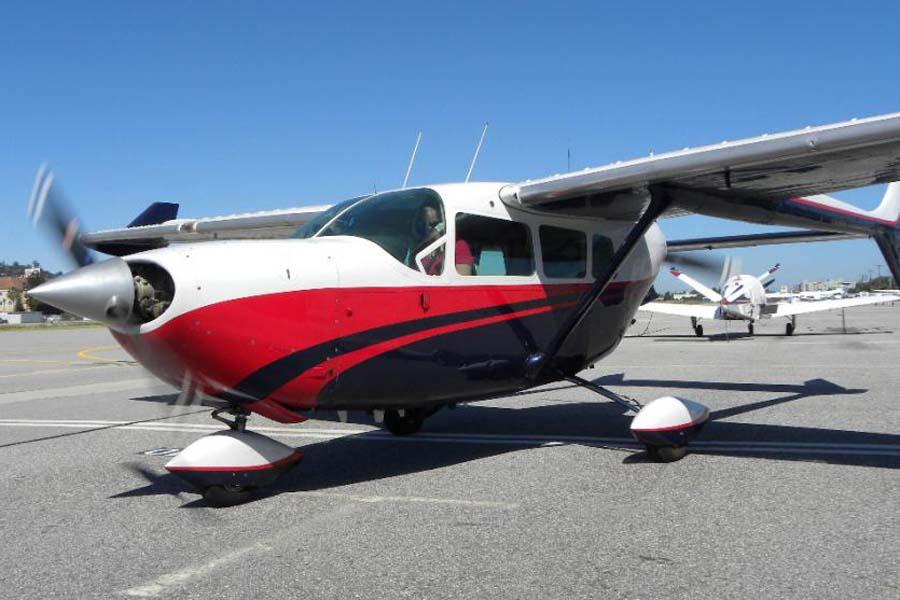 Cessna 336
The Cessna 336 is a six seat, high-wing, twin piston engine aircraft built in a push-pull configuration with twin boom tail structure produced by Cessna in 1964. Distinguishing features are: fixed landing gear and constant-speed propellers. Model 336 seats up to 5 passengers and 1 pilot.
Specifications
Exterior Dimensions
Wing span: 36 ft 9 in
Length: 28 ft 2 in
Height: 9 ft 8 in
Engine
Manufacturer: Continental
Model: IO-360-A
Horsepower: 210 hp
Overhaul (HT): 1500 TBO or 12 years
Performance
Horsepower: 210.00
Gross Weight: 3,900
Top Speed: 159
Empty Weight: 2,320
Cruise Speed: 150
Fuel Capacity: 93
Stall Speed (dirty): 52
Range: 880
 
Rate of Climb: 1,300
Rate of Climb (One Engine): F370
Service Ceiling: 19,000
Ceiling (One Engine): F8,200
 
Takeoff
Landing
Ground Roll: 790
Ground Roll 575
Takeoff Roll Over 50 ft: 1,145
Landing Roll Over 50 ft: 1,395
History
The Cessna Skymaster is an American twin-engine civil utility aircraft built in a push-pull configuration. Its engines are mounted in the nose and rear of its pod-style fuselage. Twin booms extend aft of the wings to the vertical stabilizers, with the rear engine between them. The horizontal stabilizer is aft of the pusher propeller, mounted between and connecting the two booms. The combined tractor and pusher engines produce centerline thrust and a unique sound.
The first Skymasters, the model designation 336, were a novel concept in that one engine was in front and other in the rear. This was an effort by Cessna to eliminate the asymmetric thrust problems that more conventional twins suffered in the event of an engine loss. These new airplanes were so unique that the FAA eventually created a new multi-engine rating for "centerline" thrust aircraft, a concept that the Cessna Skymaster originated.
The Model 336 Skymaster, had fixed landing gear and initially flew on February 28, 1961. It went into production in May 1963 with 195 being produced through mid-1964.