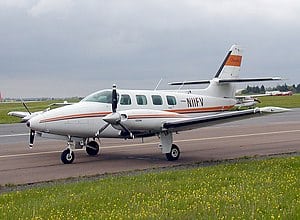 Cessna 303 or T303 Crusader
The Cessna 303 Clipper or T303 Crusader was manufactured from 1982 to 1984, serial numbers 1 through 315, therefore, producing 297 aircraft.
The Cessna 303 or T303 Crusader is a light twin-engine, piston turbocharged aircraft configured as a cantilever low-wing aircraft with a crescent tail. Distinguishing features are: retractable landing gear, constant-speed propellers. The 303 seats up to 5 passengers and 1 pilot.
Specifications
Exterior Dimensions
Wing span: 39 ft 1 in
Length: 30 ft 5 in
Height: 13 ft 4 in
Weights
Max TO weight: 5,105 lb
Empty Weight:  3,305 lbs
Useful Load: 1,845 lbs
Fuel capacity: 153 gallons (76.5 in each wing)
Engine
Manufacturer: Continental
Model: L/TSIO-520-AE
Horsepower: 250 hp
Overhaul (HT): 2000/2200 TBO or 12 years
Propellers: 3-bladed McCauley 3AF32C506/82NEB-8 and 3AF32C507/L82NEB-8 counter rotating constant-speed propellers, 6 ft 10 in (2.08 m) diameter
Standard Avionics
Dual digital nav/coms
GS, DME, ADF
ADS-B
Performance
Horsepower: 250.00 (2)
Gross Weight: 5150 lbs
Top Speed: 216 kts
Empty Weight: 3305 lbs
Cruise Speed: 196 kts
Fuel Capacity: 153 gals
Stall Speed (dirty): 62 kts
Range: 1020 nm
 
Rate of Climb: 1480 fpm
Rate of Climb (One Engine): 240 fpm
Service Ceiling: 25,000 ft
Ceiling (One Engine): 13,000 ft
 
Takeoff
Landing
Ground Roll: 
Ground Roll 
Takeoff Roll Over 50 ft: 1,750
Landing Roll Over 50 ft: 1,450
History
Cessna saw great success with their Model 310. For decades it was produced as a trainer and personal or business aircraft. Beech and Piper began to dominate the light twin trainer market, so Cessna had to come up with something new. The only 'new' Cessnas at the time were heavier, pressurized commuter aircraft.
Cessna's replacement for the 310 was another low-wing four-seat, low wing aircraft powered by two four-cylinder Lycoming 160 hp O320 piston engines. The Cessna 303 Clipper was first flown on February 14, 1978 and would have competed with the Piper Seminole, Gulfstream American GA-7 Cougar, and Beechcraft Duchess. The first flights weren't very successful due to Cessna's new NASA-designed airfoil wing which seemed to have performance and stability issues. Since market demand for four-place light twins had declined, only one 303 Clipper was built.
Further Development
Cessna redesigned the aircraft as a six-seat twin with larger, turbocharged engines for more payload to meet the rising market demand. A turbocharged Continental TSIO-520-AE 250 hp six-piston engine was added to each wing which kept the NASA-airfoil design. The engines featured counterrotating propellers, eliminating all critical engine limitations for single engine operation. They also renamed the aircraft the Crusader, out of legal concern, since Pan Am Airlines held the trademark on the name "Clipper" in reference to their fleet aircraft.
Cessna spared no expense in redesigning the Crusader. The airframe underwent extensive wind tunnel testing for the next year and a half. Control surfaces and fairings were modified and the horizontal tail was moved halfway up the vertical stabilizer to address prop wash. This 'Crescent Tail' would become the identifying feature of the 303. The first T303 Crusader flew on October 17, 1979 with the first deliveries being made in October, 1981.
Cessna only produced 297 aircraft by 1984 before the General Aviation market declined and production ceased that year.
Design
The Crusader was well designed and easy to fly. Some pilots complained that a lot of back pressure was required on the stick to get the nose off the runway on the initial takeoff run. After takeoff, however, the pressure is released so quickly pilots must push the nose back down to maintain takeoff attitude. This is most likely due to the aft location of the main gear which is required to keep the aircraft from tipping onto its tail.
Cabin access is much like a turboprop with an airstair door instead of overwing access. The cabin is roomy with a club seating arrangement, stowable executive table and cabin divider between cockpit and passengers.
The cockpit is spacious with lots of shoulder room and excellent visibility through the large two piece windshield. The instrument panel is huge with ample room for avionic upgrades.
The storage space almost exceeds the aircraft's useful load with nose, tail and wing locker storage compartments. Ultimately, the Crusader is underpowered and unable to accommodate a full load of passengers, cargo and fuel all at the same time. With full fuel the aircraft is only capable of carrying 820 lbs of passengers and fuel.
Cessna had plans for engine upgrades, but decided to cease production prior to making changes. The 303 was still an exceptional aircraft, however, owners say parts can be hard to find due to the short production run.