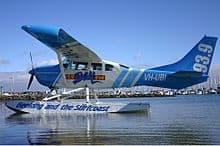 Cessna 206H Stationair
The Cessna 206H is a single-engine aircraft configured as a cantilever high-wing aircraft with a conventional tail. It features fixed, tricycle gear and has a constant-speed propeller. The Model 206H seats up to 5 passengers and 1 pilot.
The six-seat Model 206H was introduced in 1998 and was built until 2013, serial numbers 8006 through 8353+.
Specifications
Exterior Dimensions
Wing span: 36 ft 0 in
Length: 28 ft 4 in
Height: 9 ft 4 in
Weights
Gross Weight: 3,600 lbs
Empty Weight: 2,179 lbs
Maximum Payload: 1,417  lbs
Fuel capacity: 88 gal
Engine
Manufacturer: Lycoming
Model: IO-540-AC1A5
Horsepower: 300 HP
Overhaul (HT): 2000 Hrs
Years before overhaul: 12
Performance Specifications
Horsepower: 300.00
Gross Weight: 3,600
Top Speed: 149
Empty Weight: 2,179
Cruise Speed: 139
Fuel Capacity: 88
Stall Speed (dirty): 54
Range: 594
 
Rate of Climb: 988
Rate of Climb (One Engine):
Service Ceiling: 15,700
Ceiling (One Engine):
 
Takeoff
Landing
Ground Roll: 910
Ground Roll 735
Takeoff Roll Over 50 ft: 1,860
Landing Roll Over 50 ft: 1,395
History
After a production hiatus of twelve years, Cessna started manufacturing a new version of the venerable 206 in 1998, with the introduction of the newly certified 206H. The "H" model is generally similar to the previous U206 configuration, with a pilot entry door and a rear double clamshell door for access to the middle and back seats. The "H" is marketed under the name "Stationair".
Production
The newest Cessna's, the Skyhawk, Skylane and Stationair all sported: dual vacuum pumps for increased IFR safety; improved panel and cabin lighting including lighted instruments and gauges, more accurate fuel gauges with flow metering and low-fuel warning lights to improve pilot awareness; an annunciator panel to centralize all warnings. The annunciator panel highlights low fuel, low voltace, oil pressure and vacuum-system suction. An alternate static source is also standard.
Other comfort and performance enhancements added are: inertia-reel shoulder harness, energy absorbing seats, padded glareshields, individual intercom jacks, multiple fresh-air vents, stronger door latches, and stronger seat rails.
Earlier models came equipped with Bendix/King avionics and beginning in 2004 the Garmin G1000 avionics package was standard. The new Cessnas came with better insulation for sound and thicker windows coupled with the slower engine speeds of the Lycoming. This assured Cessna of the quietest cabins of any piston plane.
The model 206H is the ultimate utility / bush plane, but the interior is designed to be flexible with cargo and passengers. It features wide utility doors, seats that are easily removed, and a large luggage compartment with easy access. Cessna even offers a baggage pod that adds considerable volume, therefore, providing flexibility for passengers and baggage.
In summary, the model 206H can be configured for carrying large loads of passengers or being outfitted with floats or oversize wheels for remote strips. It is the ultimate machine in comfort and capabilities.
Variants
Cessna 206H
Six seats, powered by a Lycoming IO-540-AC1A5 of 300 hp (224 kW), with a gross weight of 3,600 lb (1,633 kg) landplane and certified on 26 November 1997.
Cessna T206H
Six seats, powered by a turbocharged Lycoming TIO-540-AJ1A of 310 hp (231 kW), with a gross weight of 3,600 lb (1,633 kg) landplane and certified on 1 October 1998.