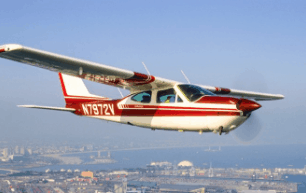 Cessna 177RG Cardinal
Single engine piston aircraft with retractable gear built from 1971 through 1978. Serial Numbers 1 through 1366. The Cessna 177RG Cardinal seats up to 3 passengers and 1 pilot.
Specifications
Exterior Dimensions
Wing span: 35ft 6in
Length: 27ft 3in
Height: 8ft 7in
Weights
Max TO weight 2800lbs.
Empty Weight: 1,765 LBS
Fuel capacity: 61 GAL
Engine
Manufacturer: Lycoming Motor
Model: IO-360-A1B6/D
Horsepower: 200 HP
Overhaul (HT): 2000hr TBO
Years before overhaul: 12
Performance specifications (1972-78)
Horsepower: 200.00
Gross Weight: 2,800
Top Speed: 157
Empty Weight: 1,765
Cruise Speed: 149
Fuel Capacity: 61
Stall Speed (dirty): 50
Range: 500
 
Rate of Climb: 925
Rate of Climb (One Engine):
Service Ceiling: 17,100
Ceiling (One Engine):
 
Takeoff
Landing
Ground Roll: 890
Ground Roll 730
Takeoff Roll Over 50 ft: 1,585
Landing Roll Over 50 ft: 1,350
History
There are a few airplanes that are nothing less than beautiful in flight. Never mind the paint job; any airplane can benefit from an artistically designed paint scheme. Instead, silhouette the airplane against a near-sunset sky, and you're treated to a work of art.
In general aviation ranks, the V-tail Bonanza qualifies as an outstanding aesthetic design and is one of the few airplanes that look good from the rear. The venerable Cub may be another winner. Then, there's the remarkable Wing Derringer twin, the slick Meyers 200, the muscular Beech Staggerwing biplane, the speed demon Aerostar, and the Cessna Cardinal RG.
That's pretty august company for the little Cardinal RG. From its very inception, the Cessna model 177RG was a conscious attempt to create something unseen up to that time – a sporty Cessna, or, if you will, a Corvette to the company's Chevy-sedan Skyhawk and Buick-solid Skylane.
The basic Cardinal was designed in 1967 to be a futuristic, innovative airplane—built low to the ground, swept, slick, and faired to the wind. Indeed, Cessna was so impressed with its handiwork, they labeled the model 177 Cardinal the "Airplane of the '70s" when it was introduced in the late '60s. The 177's immediate follow-on, the Cardinal RG, was an even more striking design, possessed of racehorse lines and an indefinable appeal that transcended considerations of performance, utility, and economy.
Creating a new retractable to compete in the crowded 200 hp, high-performance class was a risky venture. There were already a number of airplanes with four seats, wheels that went to bed, and 200 hp, all produced by well-established manufacturers. Beech had the Sierra, Piper offered the very popular Arrow, Rockwell Commander was about to enter the fray with the Commander 112, and Mooney, the long-time sales and performance leader, had the Executive, Chaparral, and Ranger.
You might notice that all the airplanes mentioned above are low-wings. On the surface, a high-wing retractable poses some interesting engineering challenges—most importantly, where to hide the wheels. You can't very well tuck them up into the wings, unless you utilize thick, draggy airfoils, long, complex struts, and a truly stout (read "heavy") retraction system. Long legs just beg to be side-loaded in crosswinds, are bound to demand more maintenance, may not allow much prop clearance, add to empty weight, and could compromise fuel tank location and quantity. But, what if you were to retract the gear into the airplane's belly instead?
Cessna, long a proponent of high-wing single design, demonstrated a long time ago that such tricks are possible. The 1959 Cessna 210 was the Wichita manufacturer's first retractable single that folded its feet awkwardly (but effectively) down, back, and up into the bottom/aft fuselage.
Later Development
Eleven years later when it came time to hide the wheels on the swept Cardinal, Cessna adapted the 210's basic electro-hydraulic gear system to the Cardinal—sans the troublesome main gear doors. Later, Cessna was to discard the Centurion's pesky gear doors and their complex sequencing mechanism altogether.
By sweeping up the wheels and adding a mere 20 hp, Cessna claimed an increased cruise of 24 knots, from 120 to a theoretical 144 knots. Hmmm. This made the Cardinal RG second only to the Mooneys in cruise velocity. Perhaps more importantly, however, the Cardinal RG expanded on a basic design concept Cessna hoped would become their pre-eminent, single-engine airplane, supplanting even the Skyhawk.
Turbo Model
In addition to offering the initial stiff-legged version and the basic retractable model, Cessna had also hoped to introduce a turbocharged 177 and a higher horsepower variation (240 hp). However, the company abandoned the idea of additional Cardinal models in 1978 in favor of a pair of retractable 182s—the Skylane RG and Turbo Skylane RG. Cessna built an average of 170 Cardinal RGs during the type's comparatively short eight-year production run. By today's standards, 170 airplanes a year of any given model would be a roaring success—not so in the early '70s.
The Cardinal RG incorporated a number of features not seen on previous Cessna models. The airplane was built low to the ground, with doors that opened a full 90 degrees. This was great for entry/egress, but not so wonderful when strong winds were blowing and could potentially warp the doors. Cardinals also employed an all-flying stabilator for pitch control, another mixed blessing that offered greater pitch sensitivity—perhaps a little too much response for some pilots. Early Cardinals were prone to porpoise on landing, so Cessna toned down pitch response with slots in the stabilator.
Performance
Performance was typically good for a 200 hp retractable. That is, once you got the wheels stored in the aft fuselage recesses, a process that could take as long as 15-20 seconds on some airplanes. Standard climb was 800-900 fpm from sea level and cruise registered 142-143 knots at 7500 feet. With 60 gallons aboard and a burn of 10.5 gph, the Cardinal RG could endure for four hours plus IFR reserves, worth 550 nm between pit stops.
Whatever your perspective on the success of the model, we're left today with a group of airplanes that can represent excellent used buys. The 177RG is certainly among the most efficient of light, production retractables, and nearly every pilot would agree the shape is among the most recognizable in the sky.
(by Bill Cox for the Cessna Owner Organization)