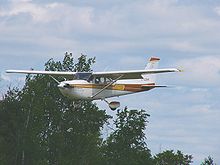 Cessna R172K Hawk XP
The Cessna R172K Hawk XP is a single engine, piston aircraft with fixed gear. The C172XP is a high wing airplane made by the Cessna Aircraft Company between the years 1977 until 1981 and seats up to 3 passengers and 1 pilot.
Specifications
Exterior Dimensions
Wing span: 33ft 10 in
Length: 27 ft 2 in
Height: from 8 ft 10 in
Weights
Max TO weight: 2550 LBS
Empty Weight: 1,572 LBS
Maximum Load: 804
Fuel capacity: 52 GAL
Engine
Manufacturer: Continental
Model: IO-360-K
Horsepower: 210 HP Derated to 195 HP
Overhaul (HT): 1500hr TBO
Years before overhaul: 12
Performance Specifications Cessna 172XP
Horsepower: 195.00
Gross Weight: 2,550
Top Speed: 132
Empty Weight: 1,572
Cruise Speed: 130
Fuel Capacity: 52
Stall Speed (dirty): 47
Range: 570
 
Rate of Climb: 870
Rate of Climb (One Engine):
Service Ceiling: 17,000
Ceiling (One Engine):
 
Takeoff
Landing
Ground Roll: 800 (1977 – 850ft)
Ground Roll 635
Takeoff Roll Over 50 ft: 1,360
Landing Roll Over 50 ft: 1,345
History
Cessna R172K Hawk XP (1977-1981) Serial Numbers R2000 through R3454
The Reims Rocket led to Cessna producing the R172K Hawk XP, a model available from 1977 to 1981 from both Wichita and Reims. This configuration featured a fuel-injected, Continental IO-360K (later IO-360KB) derated to 195 hp (145 kW) with a two-bladed, constant-speed propeller. The Hawk XP was capable of a 131-knot (243 km/h) cruise speed.
Owners claimed that the increased performance of the "XP" didn't compensate for its increased purchase price and the higher operating costs associated with the larger engine. The aircraft was well accepted for use on floats, however, as the standard 172 is not a strong floatplane, even with only two people on board, while the XP's extra power improves water takeoff performance dramatically.
While numbered and marketed as 172s, the R172J and R172K models are actually certified on the Cessna 175 type certificate.
(Courtesy Cessna Owner Organization – article by Bill Cox)
The XP wasn't necessarily a new idea. Reims in France had been building the 180-hp Reims Rocket for years. Still, by US standards, the Hawk XP was something else. During the XP's first two years on the market, Cessna sold a little over 1000 units, but such stellar sales were at least partially a function of pipeline filling, stocking up dealer inventories. After that, it was pretty much all downhill.
From the firewall forward, the Hawk XP substituted an injected, six-cylinder, Continental IO-360K in place of the standard, carbureted, four-cylinder O-320H Lycoming. Basically, the larger engine was a de-rated version of the mill used on Cessna's own model 337 Skymaster push-pull twin. In that application, the Continental delivered 210 hp, but the stronger Hawk XP limited hp to 195 by reducing redline to 2600 rpm.
With help from the Skyhawk's standard high-lift wing, upward mobility improved from 770 fpm on the standard airplane to just under 900 fpm on the hot rod version. During my flights in a brilliantly renovated XP with from one to three people aboard, I saw a regular 1000 fpm on the VSI, so the 172XP is one of those airplanes apparently capable of better things at lighter weights.
Because of the larger engine's more voracious appetite for avgas, the later XPs could be purchased with optional 66 gallon tanks. Top the big tanks, however, and payload dropped to about 550 pounds, three folks worth. Shut off the gas pump at 49 gallons, however, and you were left with a 650-pound allowance, still not a lot, but closer to the four folk ideal and at least 80 pounds better than the standard Hawk.

Inevitably, there were some XP operators who couldn't care less about such long legs. The airplane's better-than-average short field capability made it a semi-popular machine for the boonies. In places such as Alaska where the mission was most often short range and often to an abbreviated strip, the Hawk served as something of a poor man's 206, though like the Stationair, the XP's nosewheel limited it to fairly smooth runways.

On a cool day with a savvy pilot at the controls, the XP could be operated from unobstructed, 1300 to 1400-foot dirt strips. The airplane I flew did consistently better than book on both takeoff and landing distances, but even the manual claims an 800-foot takeoff run and 620 feet for landing, shorter than just about any other nosewheel aircraft in the class.

Part of the reason for the Hawk XP's success in the outback was its large flaps. Any pilot who's flown any Skyhawk knows that the flaps are about as effective as those of any airplane in the sky. Lowering full spoilers during approach dropped stall speed from 53 to 46 knots, so that using even 55 knots approach speed into a short strip wasn't out of line.

The Hawk XP program lasted only until 1981 before falling on its sword. Some 1450 units were built before the airplane's spate of engine problems caused it to be discontinued. The 180-hp Skyhawk, known as the Cutlass, assumed the mantle of most powerful Skyhawk until Cessna shut down all piston production in 1986.