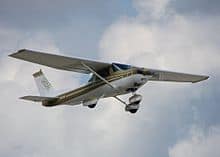 Cessna 152
The Cessna 152 is a single-engine, piston aircraft with fixed gear. The 152 is a high-wing airplane produced by Cessna Aircraft between the years 1978 and 1985, Serial Numbers 79406 through 86033. It seats up to 1 passenger and 1 pilot.
Specifications
Exterior Dimensions
Wing span: 32 ft 9 in
Length: 24 ft 1 in
Height: 8 ft 6 in
Weights
Max TO weight 1670 LBS
Empty Weight: 1,141 LBS
Maximum Load: 529
Fuel capacity: 26 GAL
Engine
Manufacturer: Lycoming Motor
Model: O-235-l2C
Horsepower: 110 HP
Overhaul (HT): 2400hr TBO
Years before overhaul: 12
Performance specifications on Model 152
Horsepower: 110.00
Gross Weight: 1,670
Top Speed: 110
Empty Weight: 1,141
Cruise Speed: 107
Fuel Capacity: 26
Stall Speed (dirty): 43
Range: 315
 
Rate of Climb: 715
Rate of Climb (One Engine):
Service Ceiling: 14,700
Ceiling (One Engine):
 
Takeoff
Landing
Ground Roll: 725
Ground Roll 475
Takeoff Roll Over 50 ft: 1,340
Landing Roll Over 50 ft: 1,200
History
The Cessna 152 is an American two-seat, fixed-tricycle-gear, general aviation airplane, used primarily for flight training and personal use. It was based on the earlier Cessna 150, including a number of minor design changes and a slightly more powerful engine running on 100LL aviation gasoline.
The Cessna 152 has been out of production for more than thirty years, but many are still in flying condition and are still in regular use for flight training.
Development
First delivered in 1977 as the 1978 model year, the 152 was a modernization of the proven Cessna 150 design. The Cessna 152 was intended to compete with the new Beechcraft Skipper and Piper Tomahawk, both of which were introduced the same year. Additional design goals were to improve useful load through a gross weight increase to 1,670 lb (760 kg), decrease internal and external noise levels and run better on the then newly introduced 100LL fuel.
As with the 150, the great majority of 152s were built at the Cessna factory in Wichita, Kansas. A number of aircraft were also built by Reims Aviation of France and given the designation F152/FA152.
Production of the Cessna 152 was ended in 1985 when Cessna ended production of all of their light aircraft; by that time, a total of 7,584 examples of the 152, including A152 and FA152 Aerobat aerobatic variants, had been built worldwide.
In 2007 Cessna announced that it would build a light-sport successor, designated the Model 162 Skycatcher, although production ended in 2013.
Design
Powerplant
All Cessna 152s were manufactured with a Lycoming O-235 engine which has been in production since 1942. The Lycoming provided not only an increase in engine power over the Cessna 150, but also was more compatible with the newer 100LL low-lead fuel.
Cessna 152s produced between 1977 and 1982 were equipped with Lycoming O-235-L2C engines producing 110 hp (82 kW) at 2,550 rpm. This engine still suffered some lead-fouling problems in service. In 1983 it was succeeded by the 108 hp (81 kW) O-235-N2C which featured a different piston design and a redesigned combustion chamber to reduce this problem. The N2C engine was used until 152 production ended in 1985.
Airframe
The airframe is mainly of metal construction. being primarily of 2024-T3 aluminum alloy with riveted skin. Components such as wingtips and fairings are made from glass-reinforced plastic. The fuselage is a semi-monocoque with vertical bulkheads and frames joined by longerons running the length of the fuselage. The wings are of a strut-braced design and have a 1 degree dihedral angle. The tapered (outboard) portion of each wing has one degree of washout (the chord of the tip section has one degree lower angle of attack than the chord at the end of the constant-width section). This allows greater aileron effectiveness during a stall.
The 1978 model has a one piece cowling nose bowl that requires removing the propeller to remove it. The 1979 model introduced a split-nose cowling nose bowl that can be removed without removing the propeller.
Flying controls
Dual controls are available as optional equipment on the Cessna 152 and almost all 152s have this option installed.
The Cessna 152 is equipped with differential ailerons that move through 20 degrees upwards and 15 degrees downwards. It has single-slotted flaps which are electrically operated and deploy to a maximum of 30 degrees. The rudder can move 23 degrees to either side and is fitted with a ground-adjustable trim tab. The elevators move up through 25 degrees and down through 18 degrees. An adjustable trim tab is installed on the right elevator and is controlled by a small wheel in the center of the control console. The trim tab moves 10 degrees up and 20 degrees down relative to the elevator chordline.
Landing gear
The Cessna 152 is equipped with fixed tricycle landing gear. The main gear has tubular steel legs surrounded by a full-length fairing with a step for access to the cabin. The main gear has a 7 ft 7 in (2.31 m) wheelbase.
The nosewheel is connected to the engine mount and has an oleo strut to dampen and absorb normal operating loads. The nosewheel is steerable through eight degrees either side of neutral and can castor under differential braking up to 30 degrees. It is connected to the rudder pedals through a spring linkage.
The braking system consists of single disc brake assemblies fitted to the main gear and operated by a hydraulic system. Brakes are operated by pushing on the top portion of the rudder pedals. It is possible to use differential braking when taxiing and this allows very tight turns to be made.
The 152 is also fitted with a parking brake system. It is applied by depressing both toe brakes and then pulling the "Park Brake" lever to the pilot's left. The toe brakes are then released but pressure is maintained in the system thereby leaving both brakes engaged.
The standard tires used are 600 X 6 on the main gear and 500 X 5 on the nosewheel.
Variants
Cessna 152
Two-seat light touring aircraft, fitted with a fixed tricycle landing gear, powered by a 110 hp (82 kW) Lycoming O-235-L2C piston engine, 6628 built. Available with a number of avionic options, aside from the standard Model 152 there was a 152 II with an enhanced package of standard avionics and trim features. The 152 II with Nav Pac included more standard avionics for IFR use. The 152T was a standard option package for use by flying schools, the "T" indicating "trainer" and not a sub-model. Type approved in 1977 and produced as 1978 to 1985 model years.
Cessna A152 Aerobat (1978-1985) Serial Numbers A0735 through A1049
Two-seat aerobatic-capable aircraft, 315 built. Certified for +6/-3 Gs and had standard four-point harnesses, skylights and jettisonable doors, along with a checkerboard paint scheme and removable seat cushions to allow parachutes to be worn by the crew. Type approved in 1977 and produced as 1978 to 1985 model years. The following aerobatic maneuvers are approved: chandelles, steep turns, barrel rolls, snap rolls, loops, vertical reversements, lazy eights, spins, aileron rolls, Immelmann turns, Cuban eights and stalls (except whip stalls).
F152
Reims-built Model 152, 552 built.
FA152 Aerobat
Reims-built Model A152, 89 built.
View Cessna 152 Performance Specifications