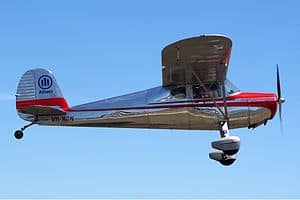 Cessna 140
The Cessna 140 is a single-engine, piston aircraft with a tailwheel. The 140 is a high-wing airplane produced by Cessna Aircraft between the years 1946 and 1951, Serial Numbers 8000 through 15724. It seats up to 1 passenger and 1 pilot.
Specifications
Exterior Dimensions
Wing span: 32 ft 10 in
Length: 21 ft
Height: 6 ft 4 in
Weights
Max TO weight 1500 LBS
Empty Weight:  850 LBS
Maximum Load: 650
Fuel capacity: 21 GAL
Engine
Manufacturer: Continental Motor
Model: C-85/90
Horsepower: 85 HP
Overhaul (HT): 1800hr TBO
Years before overhaul: 12
Performance specifications on Model 140A
Horsepower: 90.00
Gross Weight: 1,500
Top Speed: 103
Empty Weight: 850
Cruise Speed: 90
Fuel Capacity: 21
Stall Speed (dirty): 46
Range: 315
 
Rate of Climb: 640
Rate of Climb (One Engine):
Service Ceiling: 15,600
Ceiling (One Engine):
 
Takeoff
Landing
Ground Roll: 650
Ground Roll 460
Takeoff Roll Over 50 ft: 1,850
Landing Roll Over 50 ft: 1,530
VIEW PERFORMANCE SPECIFICATIONS FOR MODEL 140
History
The Cessna 120, 140, and 140A, are single-engine, two-seat, conventional landing gear (tailwheel), light general aviation aircraft that were first produced in 1946, immediately following the end of World War II. Production ended in 1951, and was succeeded in 1959 by the Cessna 150, a similar two-seat trainer which introduced tricycle gear. Between 1945 and 1952, Cessna built just 5,432 examples of the Model 140/140A and 2,172 Model 120s.
Development
Cessna 120 (1946-1949) Serial Numbers 8000 through 15075
The Cessna 120 was an economy version of the 140 produced at the same time. It had the same engine as the 140, but lacked wing flaps. The rear-cabin "D" side windows and electrical system (radios, lights, battery and starter) were optional.[2][3][4] A 120 outfitted with every factory option would be nearly equivalent to a 140, but the International Cessna 120/140 Association believes that no 120s were originally built this way. Despite this, many decades' worth of owner-added options have rendered many 120s almost indistinguishable from a 140 aside from the absence of wing flaps.[5] The 120 was dropped from production upon introduction of the 140A in 1949.[5]
Cessna 140 (1946-1949) Serial Numbers 8000 through 15075
The Cessna 140 was originally equipped with a Continental C-85-12 or C-85-12F horizontally opposed, air-cooled, four-cylinder piston engine of 85 hp (63 kW). The Continental C-90-12F or C-90-14F of 90 hp (67 kW) was optional, as was the 108 hp (81 kW) Lycoming O-235-C1 engine, an aftermarket installation authorized in the type certificate. This model had a metal fuselage and fabric wings with metal control surfaces. The larger Cessna 170 was a four-seat 140 with a more powerful engine.
View Cessna 140 Performance Specifications
Cessna 140A (1949-1951) Serial Numbers 15200 through 15724
In 1949, Cessna introduced the 140A, a new variant with aluminum-covered wings and single wing struts instead of the fabric wing covering, dual "V" struts, and jury struts fitted on earlier models. Standard engines were the Continental C-90-12F or C-90-14F of 90 hp (67 kW), with the 85 hp (63 kW) Continental C-85-12, C-85-12F, or C-85-14F engines optional. The spring-steel gear had been swept 3 in (8 cm) forward on 120 and 140 models in late 1947 so wheel extenders were no longer necessary to counter nose-over tendencies during heavy application of brakes; all 140A models had the improved gear legs. Despite these improvements, sales of the 140 lineup faltered, and the 140A comprised only seven percent of overall 120/140 production.
View Cessna 140A Performance Specifications
Modifications
Common modifications to the Cessna 120 and 140 include:
"Metalized" wings, where the fabric is replaced with light-gauge sheet aluminum, eliminating the need to periodically replace the wing fabric.
The installation of landing gear extenders to reduce the tendency of the aircraft to nose over on application of heavy braking. These were factory-optional equipment.
Installation of rear-cabin "D" side windows on 120s that were not originally so equipped.
Installation of electrical systems on 120s that were not originally so equipped, allowing owners to install an electric starter, more sophisticated avionics and/or lights for night flying.
Installation of a more powerful engine. A popular conversion today is to replace the original C-85 or C-90 with a 100 hp (75 kW) Continental O-200. A kit is available to install a Lycoming O-320 but this conversion is less prevalent due to a roughly 100 lb (45 kg) weight penalty and a sharp increase in fuel consumption.