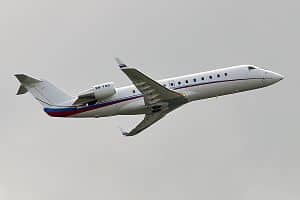 Bombardier Challenger 850
The Bombardier Challenger 850 is a twin-engine, fanjet aircraft with a retractable gear. It was produced by Bombardier beginning in 2006 through 2017, Serial Numbers 8046 through 8113. Seating capacity up to 50 passengers with 2 pilots and 1 crew in commuter configuration. Business seating configurations seat up to 16 passengers, 2 pilots and 1 crew comfortably.
Specifications
Exterior Dimensions
Wing span: 69 ft 7 in
Wing Area: 520.4 sq ft
Length: 87 ft 10 in
Height: 20 ft 5 in
Interior Dimensions
Cabin Height: 6 ft 1 in
Cabin Width: 8 ft 2 in
Cabin Length: 48 ft 4 in
Cabin Volume: 1,990 cu ft
Weights
Max TO weight 52,999 LBS
Empty Weight:  34,039 LBS
Maximum Payload: 9,383 LBS
Fuel capacity: 18,274 LBS
Engine (x2)
Manufacturer: General Electric
Model: CF34-3B1
Horsepower: 8,730 LBS
Overhaul (HT): Engine Program
Avionics
Rockwell Collins Pro Line 4 six-screen EFIS
Two-Screen EICAS
Dual FMS 4200
Dual GPS
Dual IRS
Dual DME/ Dual ADF
Enhanced Ground Proximity Warning System (EGPWS)
Traffic Collision Avoidance System (TCAS II)
Performance specifications on Bombardier Challenger 850
Thrust: 9220.00 x 2
Gross Weight: 48,200 lbs
Max Speed: 566 kts
Empty Weight: 27,150 lbs
High Speed Cruise: 528 kts Typical Cruise: 509 kts
Fuel Capacity: 20,000 lbs
Stall Speed (dirty):
Range: 3,235 nmi
 
Rate of Climb: 
Rate of Climb (One Engine):
Service Ceiling: 41,000 ft
Ceiling (One Engine): 
 
Takeoff
Landing
Ground Roll: 6,305 ft
Ground Roll 2,910 ft
Takeoff Roll Over 50 ft:
Landing Roll Over 50 ft:
History
Bombardier began the Canadair Regional Jet program in 1989 and delivered the first CRJ in 1992. They stretched the Challenger 600 fuselage by more than 19 feet and built a larger wing and required more powerful engines. Deliveries of the 44-50 seat CRJ models 100/200/440 totaled 1021. The models are no longer in production.
The company later delivered 733 of the 700/900/1000 stretch series aircraft which seat 70-90 in airline configuration. Later versions of these models were called the Challenger 870 which seats 42-44and Challenger 890 which seats 52.
Before 2006, Bombardier built the CRJ100/200 in executive configurations and named the model the Challenger 800. They manufactured more than 30 of these.
In 2006 Bombardier updated the Challenger 800 and named it the Bombardier Challenger 850. It  was produced from 2006 to 2012 and delivered until 2017. This aircraft is no longer for sale. It is capable of accommodating 12–16 passengers. The Challenger 850 jet has a transcontinental range and a high-speed cruise of Mach 0.80.
Bombarier delivered over 60 Challenger 850s between 2006 and 2017. The later models sold for almost $32 million new but can now be purchased for $5.5 to $11 million.
The cabin is almost equal to the cabin in the more pricey Global 6000. The Challenger 850 cabin includes a 3 tier cabin with forward and aft lavs, a large forward galley, a pass-through baggage compartment, and spacious center lounge and entertainment center or aft stateroom.
The Challenger has a 2985 nm range with 4 passengers and crew with a service ceiling of 41,000 ft, however, altitudes above 38,000 are rarely used due to poor engine performance.
The engines are General Electric CF34-3B1 turbofans with 8729 lbs of thrust each. They are economical to maintain and built to sustain 12 takeoff and landing cycles a day.
Fully loaded the aircraft weighs 53,000 lbs which requires lots of runway, especially under hot conditions. Fully loaded at sea level the aircraft requires 6300 ft and can increase to 11,000 at airports with moderate elevations and temperatures. This limits the aircraft's operating to commercial airports with longer runways when mixed with commercial traffic can increase travel times.
The 850 came equipped with the all-glass Rockwell Collins Pro Line 4 digital avionics package, dual digital comm/nav radios, dual Litton INS and FMS, TCAS, GPWS and WXR-840 color weather radar. The system includes an all-digital highly integrated EFIS, dual FMSs and a two-screen EICAS (with full systems synoptics).