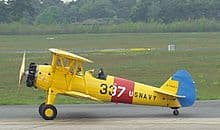 Boeing Stearman (1927-1948)
Stearman Aircraft Corporation was an aircraft manufacturer in Wichita, Kansas. Although the company designed a range of other aircraft, it is most known for producing the Model 75, which is commonly known simply as the "Stearman" or "Boeing Stearman".
History
Lloyd Stearman established the Stearman Aircraft Corporation 27 September 1927. It was there that he built the Stearman C2 and Stearman C3, and designed other biplanes for mail and cargo delivery, observation and training. Following World War II, many Stearman PT-13 primary trainers were converted to agricultural aircraft; by 1948 more than 4,345 Stearman aircraft were used in agricultural flying.
The factory was then established in Wichita, Kansas with financing of Walter Innes where the new model Stearman C3 and Stearman 4 Speedmail were constructed. In 1929, Stearman Aircraft merged with Boeing Airplane Co., Boeing Aircraft of Canada, Varney Airlines, National Air Transport, Pacific Air Transport, Boeing Air Transport, Hamilton Standard Propeller, Sikorsky, Pratt & Whitney, Chance Vought, Northrop and United Airports of Connecticut to become United Aircraft and Transportation Corp, owned by William Boeing.
Further Development
In September 1934, antitrust legislation forced United to separate its airline and aircraft manufacturing operations. At this time, Boeing, which had been part of United Aircraft and Transport Corporation, became a separate business once again, and Stearman was made a subsidiary of it. Stearman officially ceased to operate as a brand then, but about the same time the Stearman plant created its most successful and enduring product, the Model 75 "Kaydet".
The United States and several Allied nations used the "Kaydet" as a standard primary trainer from the late 1930s to the end of World War II. Even though the U.S. Army Air Corps needed a new biplane trainer in the mid-1930's, it moved slowly to acquire one because of the service-wide lack of funding for new airplane purchases. In 1936, following the Navy's lead the previous year, the Army tentatively bought 26 airframes from Boeing (the Model 75), which the Army named the PT-13. With war on the horizon, this trickle of acquisition soon turned into a torrent; 3,519 were delivered in 1940 alone.
The Kaydet, a two-seater biplane, became an unexpected success during World War II. Despite its almost obsolete design, its simple, rugged construction made it ideal as a trainer for novice pilots for the U.S. Army Air Corps (PT-13/-17) and Navy (NS/N2S).
After the War
Kaydets are a two-seat biplane of mixed construction. The wings are of wood with fabric covering, while the fuselage has a tough, welded steel framework, also fabric covered. Either a Lycoming R-680 (PT-13) or Continental R-670 (PT-17) engine powered most models. An engine shortage in 1940-1941 led to the installation of Jacobs R-755 engines on some 150 airframes, and these were designated as the PT-18. Between 1936 and 1944, Boeing built 8,584 Kaydets, in all versions, plus the equivalent of 2,000 more in spares.
Kaydets were widely used airplanes. In addition to sales to the U.S. Navy and the Army Air Corps, the trainers were sold to Canada, China, the Philippines, Venezuela, Argentina and Brazil for both military and civilian uses. Many were still in service in the early 1990s.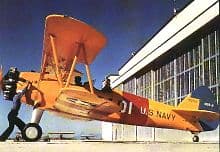 After the conflict was over, thousands of surplus aircraft were sold on the civilian market. In the immediate postwar years they became popular as crop dusters, sports planes, and for aerobatic and wing walking use in air shows.
Design and development
The Kaydet was a conventional biplane of rugged construction with a large, fixed tailwheel undercarriage, and accommodation for the student and instructor in open cockpits in tandem. The radial engine was usually uncowled, although some Stearman operators choose to cowl the engine, most notably the Red Baron Stearman Squadron.
Operational history
Post-war usage
After World War II, thousands of surplus PT-17s were auctioned off to civilians and former military pilots. Many were modified for cropdusting use, with a hopper for pesticide or fertilizer fitted in place of the front cockpit. Additional equipment included pumps, spray bars, and nozzles mounted below the lower wings. A popular approved modification to increase the maximum takeoff weight and climb performance involved fitting a larger Pratt & Whitney R-985 Wasp Junior engine and a constant-speed propeller.
In popular culture
An iconic movie image is a Stearman cropduster chasing Cary Grant across a field in North by Northwest (the airplane that chased Grant was actually a Naval Aircraft Factory N3N Canary; the plane that hits the truck is a Stearman). Christopher Reeve and Scott Wilson are shown flying 1936 variants in the 1985 movie The Aviator.
In 2005, Boeing sold the civil portion of the former Stearman operations to Onex, forming Spirit AeroSystems, although they have retained the military operations.
Aircraft
Search for Boeing Stearman for sale now!