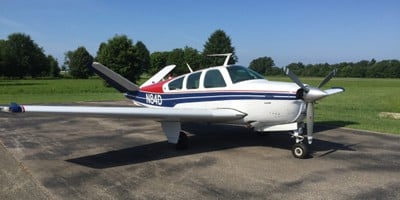 Beech V35A Bonanza
The Beech Bonanza D35 was manufactured from 1968 to 1969, serial numbers D8599 through D9068, therefore, total of 426 Model V35A were built.
It is a single-engine, piston aircraft configured as a cantilever low-wing aircraft with a V-tail. Distinguishing features are: retractable landing gear,  variable pitch propeller. Model V35A Bonanza seats up to 5 passengers and 1 pilot.
Specifications
Exterior Dimensions
Wing span: 33 ft 6 in
Length: 26 ft 5 in
Height: 7 ft 7 in
Weights
Max TO weight: 3,400 lb
Empty Weight:  1,960 lbs
Maximum Payload: 1,442
Fuel capacity: 50 U.S. gallons (44 usable) optional 80 gallons (74 usable)
Engine
Manufacturer: Continental Motors
Model: IO-520B
Horsepower: 285 hp
Overhaul (HT): 1700hr TBO or 12 years
Standard Avionics
Digital Nav/Coms
2-axis autopilot
GS, DME, ADF
ADS-B In/Out
Performance
Horsepower: 285.00
Gross Weight: 3,400
Top Speed: 183
Empty Weight: 1,960
Cruise Speed: 177
Fuel Capacity: 44
Stall Speed (dirty): 55
Range: 536
 
Rate of Climb: 1,136
Rate of Climb (One Engine):
Service Ceiling: 17,500
Ceiling (One Engine):
 
Takeoff
Landing
Ground Roll: 965
Ground Roll 647
Takeoff Roll Over 50 ft: 1,320
Landing Roll Over 50 ft: 1,177
History
The Model V35A with the Continental IO-520B 285 hp featured the new "Speed-Sweep" windshield with increased area. The leading edge of the windshield was mounted six inches farther forward than previous Bonanzas and possessed 12 degrees more slope angle.
All Model 35 Bonanzas manufactured in 1968 and after were reclassified with the prefix "V" to separate those airplanes from the Model 33 "Debonair," which was renamed "Bonanza."
View AOPA's Beechcraft Bonanza and Debonair Safety Highlight pamphlet here.
Distinguishing Features and Equipment
A bigger, swept windshield was added that allowed more space behind the instrument panel for maintenance.
Longer rear windows as in a Beech Baron
Stinger tail cone
Ventilation scoop between stabilators
Extended aft baggage area with options for two 'family' 5th and 6th seats
Large baggage door option
Optional long range fuel and tip tanks
Dual yoke option