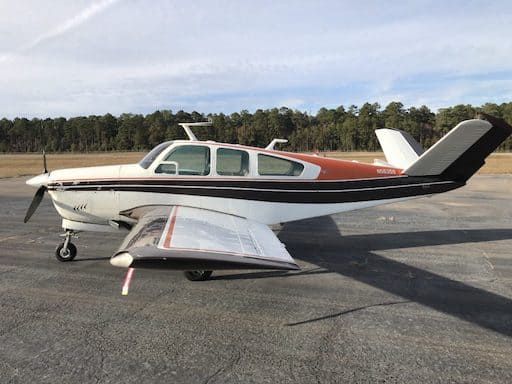 Beech V35 Bonanza
The Beech Bonanza V35 was manufactured from 1966 to 1967, serial numbers D7977 through D8598, therefore, 543 Model V35 Bonanzas were produced.
It is a single-engine, piston aircraft configured as a cantilever low-wing aircraft with a V-tail. Distinguishing features are: retractable landing gear,  variable pitch propeller. Model V35 Bonanza seats up to 5 passengers and 1 pilot.
Specifications
Exterior Dimensions
Wing span: 33 ft 6 in
Length: 26 ft 5 in
Height: 7 ft 7 in
Weights
Max TO weight: 3,400 lb
Empty Weight:  1,915 lbs
Maximum Payload: 1,459
Fuel capacity: 50 U.S. gallons (44 usable) optional 80 gallons (74 usable)
Engine
Manufacturer: Continental Motors
Model: IO-520B
Horsepower: 285 hp
Overhaul (HT): 1700hr TBO or 12 years
Standard Avionics
Digital Nav/Coms
2-axis autopilot
GS, DME, ADF
ADS-B In/Out
Performance
Horsepower: 285.00
Gross Weight: 3,300
Top Speed: 184
Empty Weight: 1,915
Cruise Speed: 177
Fuel Capacity: 50
Stall Speed (dirty): 55
Range: 543
 
Rate of Climb: 1,136
Rate of Climb (One Engine):
Service Ceiling: 17,500
Ceiling (One Engine):
 
Takeoff
Landing
Ground Roll: 965
Ground Roll 647
Takeoff Roll Over 50 ft: 1,320
Landing Roll Over 50 ft: 1,177
History
Beech V35 Bonanza (1966-1967) Serial Numbers D-7977 through D-8598
Basically an S35 with higher takeoff weight, single-piece windshield. Beech introduced the Model V35 Bonanza in 1966, powered with the 285 hp Continental IO-520-B that gave a maximum speed of at sea level. Gross weight was 3400. There were few changes from the Model S35 Bonanza, the most salient being a one-piece windshield. Price was $32,500. 
Distinguishing Features and Equipment
A one-piece windshield (with no center strip) was made standard and improved visibility considerably in the V35. A ventilation inlet scoop between stabilators improved cabin ventilation