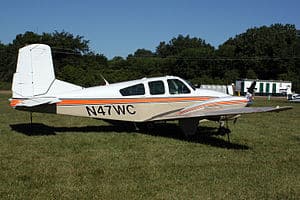 Beech Travel Air
The Beech Travel Air is a twin-engine, piston aircraft with a retractable gear. The Travel Air BE95A is a low-wing airplane produced by Beechcraft between the years 1958 and 1968, Serial Numbers TD2 through TD721. It seats up to 4 passengers and 1 pilot.
Specifications
Exterior Dimensions
Wing span: 37 ft 10 in
Length: 25 ft 4 in
Height: 9 ft 6 in
Weights
Max TO weight 4,200 LBS
Empty Weight:  2,650 LBS
Fuel capacity: 80 GAL
Engine
Manufacturer: Continental Motor
Model: C-85/90
Horsepower: 85 HP
Overhaul (HT): 1800hr TBO
Years before overhaul: 12
Performance specifications on Beech Travel Air E95
Horsepower: 180.00
Gross Weight: 4,200
Top Speed: 183
Empty Weight: 2,650
Cruise Speed: 174
Fuel Capacity: 80
Stall Speed (dirty): 61
Range: 661
 
Rate of Climb: 1,250
Rate of Climb (One Engine): 205
Service Ceiling: 18,100
Ceiling (One Engine): 4,400
 
Takeoff
Landing
Ground Roll: 1,000
Ground Roll 980
Takeoff Roll Over 50 ft: 1,280
Landing Roll Over 50 ft: 1,590
VIEW PERFORMANCE SPECS ON TRAVEL AIR 95/B95
VIEW PERFORMANCE SPECS ON TRAVEL AIR B95A-D95A
HISTORY
The Beechcraft Travel Air was a twin-engine development of the Beechcraft Bonanza. It was designed to fill the gap between the single engine Model 35 Bonanza and the much larger Model 50 Twin Bonanza, and ultimately served as the basis for its replacement, the Baron.
Design and development
Designed as a competitor to the Cessna 310 and the Piper Apache, the Travel Air (developed as the Badger) took many design features from previous Beechcraft airplanes. It took its basic design from the Model 35 Bonanza, fitted with the vertical stabilizer from the T-34 Mentor, and two four-cylinder engines. Its wing spar was borrowed from the large Model 50 Twin Bonanza, along with thicker gauge aluminum on the leading edge; landing gear systems had been taken from the United States Navy Mentor, which was a stronger structure built for training pilots for later aircraft carrier landings. Power came from, in the 1958 model year, two Lycoming O-360-A1A at 180 horsepower at 2700rpm each. With 75% power, the Travel Air was capable of 200mph at 7,500ft.
Although developed and initially marketed as the Badger, a 1956 letter from the United States Air Force notified Beechcraft that the name had been previously chosen as a reporting name for the Soviet Tupolev Tu-16 bomber; therefore, Beechcraft elected to reuse the Travel Air name, which came from the predecessor company to Beechcraft, the Travel Air Manufacturing Company. Beechcraft set in initial pricing of the Travel Air at $49,500; $10,450 below Cessna's 310 price, yet still $13,510 higher than Piper's Apache pricing.
Variants
During its ten-year model run, between 1958 and 1968, the Travel Air saw four distinct variants emerge. All use the ICAO aircraft type designator BE95.
Beech Travel Air Model 95 (1958-1959) Serial Numbers TD2 through TD302
The initial model was built for the 1958 and 1959 model years; the 1959 model had a fifth 'jumpseat' added. A total production of the 95 for 1958 and 1959 were 173 and 128, respectively.
Beech Travel Air Model B95 (1960) B95A Serial Numbers TD303- 452 (1961-1962) Serial Numbers TD453-533
Changes in the B95 version included a 19-inch (480 mm) cabin stretch to increase rear cabin area and the horizontal stabilizer and elevators were enlarged for better pitch control. A curved vertical stabilizer dorsal fairing is the most noticeable change. It also included a fifth seat, wider chord flaps, and an increased gross weight of 100 pounds. The 1961 Model B95A featured fuel injected Lycoming IO-360-B1A engines. A total 150 B95's were built in 1960, and 81 B95A's were built between 1961 and 1962 (serial numbers TD-453 through TD-533).[10] The 1960 model was priced at $51,500 and the 1961–62 model was priced at $49,500.
Beech Travel Air Model D95A (1963-1967) Serial Numbers TD534 through TD707
In 1963 the Travel Air featured a larger rear window that is common with the Model A55/B55 Barons. The nose cone was lengthened for improved baggage space. Interior features such as the instrument panel, and heaters were redesigned. A total of 174 D95's between 1963 and 1967.
Beech Travel Air Model E95 (1968) Serial Numbers TD708 through TD721
The E95 featured a one piece, 'speed-slope' windshield and a more pointed spinner design. The interior design was fully re-done. A total of 14 Model E95's were built in 1968; with pricing of $53,500.[13] The production drop off was due to the more costly but faster and powerful Model 55 Baron (developed from the Model 95, and initially designated Model 95-55).
Search for Beech Travel Air for sale now!