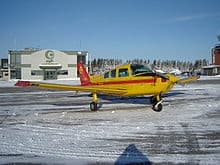 Beech Sundowner
The Beech Sundowner is a single-engine, piston aircraft with fixed landing gear. The Sundowner B23/C23 is a low-wing airplane produced by Beechcraft between the years 1968 and 1983, Serial Numbers M1095 through M2392. It seats up to 3 passengers and 1 pilot.
Specifications
Exterior Dimensions
Wing span: 32 ft 9 in
Length: 25 ft 9 in
Height: 8 ft 3 in
Weights
Max TO weight 2,450 LBS
Empty Weight: 1,494 LBS
Maximum Payload: 756 LBS
Fuel capacity: 52 GAL (1970-76) 57 GAL (1977-83)
Engine
Manufacturer: Lycoming
Model: O-360-A4J/A4K
Horsepower: 180 HP
Overhaul (HT): 2000hr TBO
Years before overhaul: 12
Performance specifications on Beech Sundowner C23
Horsepower: 180.00
Gross Weight: 2,450
Top Speed: 128
Empty Weight: 1,494
Cruise Speed: 116
Fuel Capacity: 57
Stall Speed (dirty): 51
Range: 565
 
Rate of Climb: 792
Rate of Climb (One Engine):
Service Ceiling: 12,600
Ceiling (One Engine):
 
Takeoff
Landing
Ground Roll: 1,130
Ground Roll 703
Takeoff Roll Over 50 ft: 1,955
Landing Roll Over 50 ft: 1,484
History
The Beech Musketeer is a family of single-engined, low-wing, light aircraft that was produced by Beechcraft. The line includes the Model 19 Musketeer Sport, the Model 23 Musketeer, Custom and Sundowner, the Model 23-24 Musketeer Super III the retractable gear Model 24-R Sierra and the military CT-134 Musketeer.
Development
Beech 23 Musketeer and Custom
The first of the line was the Model 23. It was introduced under the "Musketeer" name as a 1963 model at an initial price of $13,300 and was powered by a Lycoming O-320-D2B engine of 160 bhp (120 kW). The next year this engine was replaced by the Continental IO-346-A engine of 165 bhp (123 kW). This engine was not a success and was in turn replaced by the Lycoming O-360-A4J engine of 180 bhp (130 kW) starting with the B23 Musketeer Custom of 1968. In 1970 the C23 version was introduced also under the name "Musketeer Custom". In 1972 the C23 was renamed the "Sundowner". When properly equipped, the B23 and C23 are approved for limited aerobatics.
A total of 2,331 Beechcraft 23s of all variants were manufactured by the time production was completed 20 years later in 1983.
A further change in marketing policy in 1971 was to mark the disappearance of the name Musketeer, and simultaneously production of the Musketeer Super was discontinued. The three remaining aircraft became known instead as the Sundowner C23 (formerly Custom), Sport B19 (Sport) and Sierra A24R (Super R). The designations were changed again in 1974 to indicate engine horsepower, the three types becoming respectively Sundowner 180, Sport 150 and Sierra 200. Well over 4,400 Musketeers of all types had been built when production was suspended in 1984.
Beech CT-134 Musketeer
The Canadian Forces purchased twenty-four 1971 model B23 Musketeers, with the first CT-134 arriving at CFB Portage la Prairie on March 23, 1971. The initial batch of CT-134s was replaced in late 1981 with twenty-four 1982 model Beechcraft C23 Sundowners, which were designated by the CF as CT-134A Musketeer II.
Design
The main difference between the Musketeer line and other similar light aircraft is the Musketeer's landing gear. While the competitive Cessna 172s use spring-steel main gear, the Piper PA-28 Cherokees use oleos and the Grumman American AA-5s use fiberglass-sprung main gear, the Musketeer family use a trailing idler link gear system with a compressed rubber puck suspension system. This gives the aircraft quite different landing characteristics compared to the competition; light touchdowns are often accompanied by the idler links skipping and producing a landing that is less-graceful than anticipated. Nevertheless, with practice, smooth landings are easy to accomplish.
As a result of this type of landing gear design, Beechcraft did not design or offer wheel fairings for the fixed gear models. Several aftermarket manufacturers have designed and tested wheel fairings for Musketeers.
Variants
Beech B23 (Beech Musketeer / Sundowner 23 B) (1968-1969) Serial Numbers M-1095 through M-1284
Four-seat light cabin aircraft, fixed tricycle landing gear, powered by a Lycoming 180 hp O-360-A4J/A4K (2000 TBO) piston engine, gross weight of 2,450 lb, first certified December 13, 1967 and in the aerobatic category November 22, 1968.
Beech C23 (Beech Musketeer / Sundowner 23 C) (1970-1983) Serial Numbers M1285 through M2392
Four-seat light cabin aircraft, fixed tricycle landing gear, powered by a 180 hp Lycoming O-360-A4J/A4K (2000 TBO) piston engine, gross weight of 2,450 lb, first certified February 13, 1970 including in the aerobatic category.
C23 Sundowner
Single engine piston aircraft with fixed landing gear. The C23 Sundowner seats up to 3 passengers plus 1 pilot.
Performance specifications
Horsepower: 1 x 180 HP
Best Cruise Speed: 116 KIAS
Best Range (i): 565 NM
Fuel Burn @ 75%: 9.5 GPH
Stall Speed: 51 KIAS
Rate of climb: 792 FPM
Ceiling: 12,600 FT
Takeoff distance: 1,130 FT
Landing distance: 703 FT
Takeoff distance over 50ft obstacle: 1,955 FT
Landing distance over 50ft obstacle: 1,484 FT
Weights
Gross Weight: 2,450 LBS
Empty Weight: 1,494 LBS
Maximum Payload: 756 LBS
Fuel capacity: 52 GAL (1970-76) 57 GAL (1977-83)