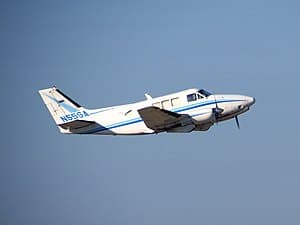 Beech Queen Air
The Beech Queen Air (Models 65/70/80/88) is a twin-engine, piston aircraft with a retractable gear. The Beech Queen Air is a low-wing airplane produced by Beechcraft between the years 1960 and 1977. It seats up to 7 passengers and 1 pilot.
Specifications Queen Air B80
Exterior Dimensions
Wing span: 50 ft 3 in
Length: 35 ft 2 in
Height: 14 ft 6 in
Weights
Max TO weight 8,800 LBS
Empty Weight:  5,277 LBS
Fuel capacity: 200 GAL
Engine
Manufacturer: Lycoming
Model: IGSO-540-A1A/D
Horsepower: 380 HP
Overhaul (HT): 1200hr TBO
Years before overhaul: 12
Performance specifications on Beech Queen Air B80
Horsepower: 380.00
Gross Weight: 8,800
Top Speed: 216
Empty Weight: 5,277
Cruise Speed: 196
Fuel Capacity: 200
Stall Speed (dirty): 70
Range: 656
 
Rate of Climb: 1,275
Rate of Climb (One Engine): 210
Service Ceiling: 26,800
Ceiling (One Engine): 11,800
 
Takeoff
Landing
Ground Roll: 2,007
Ground Roll 1,620
Takeoff Roll Over 50 ft: 2,556
Landing Roll Over 50 ft: 2,572
VIEW PERFORMANCE SPECS ON BEECH QUEEN AIR 65
VIEW PERFORMANCE SPECS ON BEECH QUEEN AIR A65
VIEW PERFORMANCE SPECS ON BEECH QUEEN AIR 70
VIEW PERFORMANCE SPECS ON BEECH QUEEN AIR 80 A/B
VIEW PERFORMANCE SPECS ON BEECH QUEEN AIR 88
History
The Beechcraft Queen Air is a twin-engined light aircraft produced by Beechcraft in several versions from 1960 to 1978. Based upon the Twin Bonanza, with which it shared key components such as wings, engines, and tail surfaces, but featuring a larger fuselage, it served as the basis for the highly successful King Air series of turboprop aircraft. It is often used as a private aircraft, a utility, or a small commuter airliner. Production ran for 17 years.
Design and Development
The company's Twin Bonanza was reaching the limits of development so Beechcraft decided to develop a design with a larger fuselage and new tail which it designated the Beech 65. Early in development the United States Army which had been a customer of the Twin Bonanza (which it called the L-23 Seminole), ordered 68 aircraft under the designation L-23F. The prototype Beech 65 first flew on August 28, 1958.
The Queen Air is a twin-engined nine-seat low-wing cantilever cabin monoplane with a retractable landing gear with a nose wheel. It was initially powered by two 340 hp (250 kW) Lycoming IGSO-480 six-cylinder, horizontally opposed piston engine.
The Model 65 received a Federal Aviation Authority type certificate on February 4, 1959 and the first deliveries were made soon after. On February 8, 1960 a Queen Air achieved a new height record of 34,862 feet.
The basic Model 65 was in production until 1967 when the improved Model A65 with a swept rather than vertical tail was introduced. Production continued with further variants introducing pressurization and turboprop engines.
Variants
Beech Queen Air 65 (1960-1966) Serial Numbers L-1, 2, 6, LF-7, 8, LC-1 through LC-237
This is the Queen Air powered by two Lycoming IGSO-480s producing 340 hp (250 kW) with a 1400-hour TBO. It had a gross weight of 7,700 lb (3,500 kg) with useful loads around 2,000 lb (910 kg). It is easily recognized by its straight unswept tail. Usually referred to as a "straight 65". Produced from 1960 to 1966.
Beech Queen Air A65 (1967-1970) Serial Numbers LC-238 through LC-335
First produced in 1967 the A65 is very similar to the straight 65. The major change was the addition of a swept tail giving the aircraft a much more modern appearance. Available fuel was also increased to 264 gal with the extended wing. The Lyc. IGSO480 engines produced 340 HP @ 3400 rpm with 48 inches of manifold pressure. The gross weight was also increased to 8200 lbs (A65-8200). A few models were produced with a cargo door, next to the airstair door with provided a 48-inch opening. Production ended in 1971. This aircraft was used in Canada by Perimeter Airlines from 1968 to 1998. 1968 SNs 273-306 are 8200s. 1969 SNs 307-324 are 8200s.
Beech Queen Air 70 (1969-1971) Serial Numbers LB-1 through LB-35
Introduced in 1968. This aircraft is similar to the A65 in that it is powered by the 340 hp (250 kW) Lycoming IGSO-480, however it has the longer wing of the 80 series. This allows the 70 to have a greater lifting ability than the 65 but a lower fuel burn than the 80. It is, essentially, an A65 with the B80 wing. Its gross weight is 8,200 lb (3,700 kg) and useful loads can be as high as 2,400 lb (1,100 kg). Production ended in 1971.
Beech Queen Air 80 (1962-1963) Serial Numbers LD1-33, 35-45, 47-150
First flying on June 22, 1961 and certified on February 20, 1962, the Queen Air 80 was the first of the Queen Airs to have the more modern swept tail. It was powered by a larger Lycoming IGSO-540 which produced 380 hp (280 kW). Gross weight on the 80 is 8,000 lb (3,600 kg).
Beech Queen Air A80 (1964-1966) Serial Numbers LD34, 46, 151-269
The Queen Air A80 was introduced in 1964, and had a new wing, wingspan increasing from 45 feet 10 1?2 inches (13.98 m) to 50 feet 3 inches (15.32 m). Other major changes to the A80 included a redesign of the aircraft nose, and a 500-pound increase in takeoff weight to 8,500 lb (3,900 kg) gross weight with some 8800's
Beech Queen Air B80 (1966-1977) Serial Numbers LD270 through LD511
Introduced in 1966 the B80 was to be the final production model. The B80 was by far the longest produced Queen Air with production lasting some 12 years. Its major improvement was the increased gross weight to a 8,800 lb (4,000 kg). This gave the B80 a useful load of well over 3,000 lb (1,400 kg). Production ended in 1977.
Beech Queen Air 88 (1965-1969) Serial Numbers LP1 through LP47
Introduced in 1965 the model 88 is a pressurized version of the Queen Air. This aircraft featured round cabin windows that make the 88 look quite similar to a 90 series King Air. It also shares the engines and long wing of the B80. Sales were slack due to its higher sales price and lower useful load as compared to the B80. Only 47 examples were ever produced of which two were converted to King Air standard and the model 88 aircraft was removed from production in 1969. The first two models of the King Air's official designation were BE65-90 and BE65-A90 owing to its Queen Air heritage.
Beech Queen Air 65 Excalibur 
This is a modification performed in the aftermarket by supplemental type certificates (STCs) to the BE65. It resolves the biggest issue of the Queen Air design, the engines. This is accomplished by replacing the rather cantankerous (if operated incorrectly) six-cylinder Lycoming IGSO-480s and Lycoming IGSO-540s, with the far more robust eight-cylinder Lycoming IO-720. This presents the major advantage of not having a gearbox or superchargers to cause maintenance and reliability problems. However the loss of the supercharger does limit the cruising altitude to below fifteen thousand feet. The other advantages gained are the overall increase in power to 400 hp (300 kW) per engine as well as a gross weight increase in most models. The gross weights are increased to 8,000 lb (3,600 kg) in all the short-wing aircraft (65, A65, 80), 8,200 lb (3,700 kg) in the 70, and 8800 in the other long-wing aircraft (A80, B80, 88). The US Army National Guard installed this modification on some of their aircraft. The Excalibur Queen Air can be recognized by the noticeably smaller engine cowlings and lower-set engines. This STC was originally designed and produced by Ed Swearingen who was well known for his work on the Twin Bonanza, Queen Air, and later Swearingen aircraft (Merlin and Metro). The ownership of this STC has changed hands many times over the years. The current owner is Bemidji Aviation which operates a fleet of Excalibur Queen Airs as well as other aircraft in the charter and freight role in the upper mid-west of the United States.
Production number details
This list provides a detailed account of production by Beechcraft of individual variants. Production numbers per year can be found in the Hawker Beechcraft serialization list.
65, A65 = 339
70 = 37
80, A80, B80 = 509
88 = 45
Total = 930