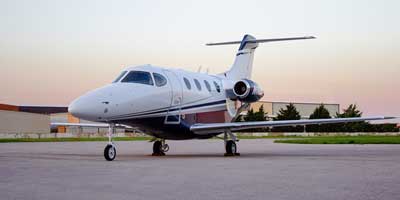 Beech Premier
The Beech Premier I Model 390 is a twin-engine, fanjet aircraft with a retractable gear. The Beech Premier is a low-wing airplane produced by Beechcraft between the years 2001 and 2012, Serial Numbers RB4 through RB295. It seats up to 7 passengers and 1 pilot.
Specifications
Exterior Dimensions
Wing span: 44 ft 7 in
Length: 46 ft
Height: 15 ft 5 in
Weights
Max TO weight 12,500 LBS
Empty Weight:  7,996 LBS
Maximum Payload: 1,570 LBS
Fuel capacity: 547 GAL
Engine
Manufacturer: Rolls Royce/Williams
Model: FJ44-2A
Horsepower: 2300 LBS
Overhaul (HT): 3500hr TBO
Performance specifications on Beech Premier IA
Horsepower: 2300.00
Gross Weight: 12,500
Top Speed: 
Empty Weight: 7,996
Cruise Speed: 451
Fuel Capacity: 547
Stall Speed (dirty): 92
Range: 1,430
 
Rate of Climb: 4,000
Rate of Climb (One Engine): 1,100
Service Ceiling: 41,000
Ceiling (One Engine): 28,000
 
Takeoff
Landing
Ground Roll: 3,792
Ground Roll 2,997
Takeoff Roll Over 50 ft:
Landing Roll Over 50 ft:
History
The Beechcraft Premier (Model 390) is a light business jet aircraft manufactured by the Beechcraft division of Hawker Beechcraft. The aircraft was designed to compete with the Cessna CitationJet series of aircraft.
Development
Design of the Beech Premier I began early in 1994 under the designation PD-374 (PD for Preliminary Design), and development was authorized to continue early the following year. The aircraft was officially launched at the annual National Business Aviation Association Convention in September 1995 and construction of the first prototype commenced late in 1996. In the mid-1990s, the light jet was to be priced at $5 million.
The Beech Premier I prototype was rolled out on 19 August 1998 and its first flight was on 22 December 1998; four prototypes were used in the flight test program. Its FAA Type Certificate was issued on 23 March 2001. After development delays, the aircraft entered service in 2001 but with poor runway performance, erratic lift dump and brakes, a noisy cabin and substandard cockpit. It was upgraded as the Premier IA in 2006 for $7 million with better brakes, avionics and cabin, and 163 were built in five years. It was certified on 22 September 2005.
Design
The Beech Premier I is constructed with a high-strength composite, carbon fiber/epoxy honeycomb structure fuselage. The Premier I and IA can be certified as light aircraft for operation by a single pilot. The powerplants are Williams International FJ44-2A engines.
Its cabin is nearly as wide as a Citation Excel with 3 in (76 mm) less headroom, and seating is 11.2 ft (3.4 m) long, similar to a CJ2, with a four-seat club plus two aft chairs and an enclosed, 2.3 ft (0.70 m) long aft lavatory. BOWs are usually around 8,400 lb (3,800 kg), leaving 570 lb (260 kg) for the payload at full tanks. The Premier 1A has a Mach 0.8 MMo, 451 kn (835 km/h) cruise at FL310 and a 817 lb (371 kg)/h fuel burn at 424 kn (785 km/h) and midweight. It can fly four passengers over 1,105 or 1,365 nmi (2,046 or 2,528 km) with two passengers and can take off within 3,792 ft (1,156 m) at ISA temperatures and sea-level.
Line maintenance comes at 200 h intervals, A checks at 600 h and B checks at 1,200 h, plus calendar inspections, approximating $300 per hour. Engine maintenance is budgeted for $300 per h for both, with 2,500 h hot section inspections and 5,000 h TBOs. Competition used include the CJ2 and the Nextant 400XT, both have tighter cabins but better airfield performance, the CJ2 can fly four passengers over 1,500 nmi (2,800 km) but is 30–40 kn (56–74 km/h) slower and around $1 million more expensive, while the 400XT can fly 1,800 nmi (3,300 km) for the same value but are usually high-time jets.
On 19 May 2008, Hawker Beechcraft announced the launch of the Premier II. Developed from the Premier IA, the new aircraft would feature higher cruise speeds, a 20% longer range with four passengers, and increased payload. The aircraft would continue to feature composite materials for the fuselage, and have more powerful engines and new winglets to achieve performance improvements over the previous model. First flight was scheduled for April 2009, with FAA certification planned for the first half of 2010. Hawker Beechcraft claimed to have received orders for several dozen Premier IIs.
On 31 August 2009, the company indicated that it was slowing development of the Premier II, moving its first delivery date into late 2012 or early 2013 due to the poor market for business aircraft. Company Chairman and CEO Bill Boisture stated:
"While we remain fully committed to certifying and fielding the class-leading Premier II as designed, we must be prudent in our evaluation of the current and forecasted global economic environment. Based on these conditions, we have made the decision to extend the entry-into-service date to better align with anticipated rebound of the business jet market."
In October 2010, Hawker Beechcraft announced that the Premier II had rebranded and upgraded as the Hawker 200.
In December 2011 the company announced that it was slowing down development of the Hawker 200 jet due to the uncertain state of the economy. CEO Bill Boisture indicated the program was not canceled, saying that the aircraft program is "well positioned to continue…when the time is right."
After the bankruptcy of Hawker Beechcraft, the production of business jets ceased in 2013.
Variants
Beech Premier I (2001-2005) Serial Numbers RB-4 through RB-134
A swept wing allows Premiers to hustle along at 450 KTAS or Mach 0.78 while consuming 1,000 pounds per hour. Long-range cruise is best at its FL410 ceiling, where it'll make 375 KTAS/Mach 0.68 drops fuel burn to 700 pounds per hour. Despite the swept wing, sea level runway performance is good. Avionics are Rockwell Collins Pro Line 21, and the design is a big reason that the Premier is certified for single-pilot operations.
There is no thrust reverse, so Raytheon designed a lift-dump system that activates spoilers on the top of the wing to kill lift, thereby drastically improving brake effectiveness. Early serial number Premiers had an automatic lift-dump system triggered by a weight-on-wheels switch. Raytheon later changed it to a manual system that pilots deploy on touchdown. The manual system was retrofitted to all earlier airframes. (courtesy AOPA)
Beech Premier IA (2006-2012) Serial Numbers RB-102, RB-135-RB-295
For the 2006 model year, Raytheon introduced the Premier IA, which brought several improvements in avionics, cabin, and brakes. IA models also introduced Collins' Integrated Flight Information System, which brought JeppView, XM WX display capabilities, synthetic vision, an expanded database, and WAAS capability. The modernization package is retrofittable to all Premiers, effectively bringing them up to date with the IA in the avionics department. Interiors also are improved in the IA. (courtesy AOPA)
Beech Premier II (2010)
New engines and wingtips, range increase achieved with no extra fuel. Rebranded as the Hawker 200 in October 2010, but did not enter production.