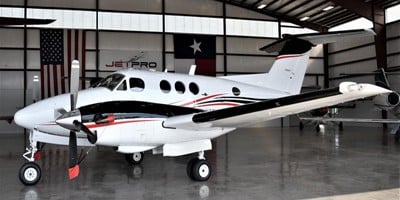 Beech King Air F90
The Beech King Air F90 is a twin-engine, turboprop aircraft with a retractable gear. The F90 King Air is a pressurized aircraft produced by Beechcraft between the years 1979 and 1983, serial numbers LA2 through LA204. It seats up to 9 passengers and 1 pilot.
Specifications
Exterior Dimensions
Wing span: 45 ft 11 in
Length: 39 ft 10 in
Height: 15 ft 2 in
Interior Dimensions
Cabin Height: 4 ft 8 In
Cabin Width: 4 ft 8 In
Cabin Length: 12 ft 8 In
Cabin Volume: 210 cu ft
Door Height: 4 ft 3 In
Door Width: 2 ft 3 In
Internal Baggage: 54 cu ft
Weights
Max TO weight 10,950 lbs
Empty Weight:  6,549 lbs
Fuel capacity: 470 gal / 3,149 lbs
Engine
Manufacturer: Pratt & Whitney
Model: PT6-135
Horsepower: 750 hp
Overhaul (HT): 3600hr TBO
Years before overhaul: none
Standard Avionics
Collins Proline Avionics
Terrain Awareness System B
ADS-B
Performance specifications on Beech F90 King Air
Horsepower: 750.00
Gross Weight: 10,950 lbs
Max Cruise Speed: 267 kias
Empty Weight: 5,996 lbs
Cruise Speed: 251 kias
Fuel Capacity: 470 gal / 3,149 lbs
Stall Speed (dirty): 77 kias
Range: 1,235 nm
 
Rate of Climb: 2,380 fpm
Rate of Climb (One Engine): 600 fpm
Service Ceiling: 29,802 ft
Ceiling (One Engine): 14,419 ft
 
Takeoff
Landing
Ground Roll: 2,090 ft
Ground Roll 1,194 ft
Takeoff Roll Over 50 ft: 2,856 ft
Landing Roll Over 50 ft: 2,275 ft
History
A total of 184 B90 models were produced before the Model C90 was introduced in 1971, with wingspan increased over earlier models by 4 ft 11 in (1.50 m) to 50 ft 3 in (15.32 m), Maximum Take-Off Weight (MTOW) increased by 350 lb (160 kg) to 9,650 lb (4,378 kg), and PT6A-20A engines. The broadly similar Model E90 was introduced the following year, with PT6A-28 engines; the two were produced in parallel.
Further refinement of the 90 series resulted in the Model F90 and follow-on Model F90-1. The F-models featured the T-tail of the Model 200 King Air mated to the fuselage and wings of the E90, with PT6A-135 engines of 750 shp (560 kW) driving four-bladed propellers.The F90 prototype flew on January 16, 1978 and 203 production versions followed between 1979 and 1983, when the F90 was superseded by the F90-1. The F90 prototype was re-engined with Garrett AiResearch TPE-331 engines to test the feasibility of a Model G90, but this model was not put into production.
Deliveries of the F90 began in mid-1979 and continued through 1983, when the F90-1 was introduced. The F90-1 features PT6A-135A engines, which provide improved performance compared to the PT6A-135 that powers the F90. While both powerplants are flat-rated to 750 shaft horsepower, the -135A offers 885 shaft horsepower at max takeoff power, compared to 850 shaft horsepower for the -135. The F90-1 also has redesigned low-drag cowlings. A Collins avionics package, including the APS-80 autopilot, was standard equipment.
Seattle's Raisbeck Engineering offers a number of popular performance products for the F90, including the Raisbeck/Hartzell quiet turbofan propeller system, dual aft-body strakes, high-flotation gear doors (for F90s equipped with high-flotation landing gear), and nacelle wing lockers.
Blackhawk Modifications provides a bolt-on engine upgrade for the F90 that involves replacing the aircraft's original PT6A-135 powerplants with factory-new PT6A-135As. Benefits include increased true airspeed, rate of climb, and single-engine service ceiling—along with decreased time and fuel to climb, lower operating costs, and increased resale value.