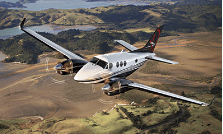 Beech King Air C90GTx
The Beech King Air C90GTx is a pressurized, twin-engine turboprop business aircraft configured as a cantilever low-wing aircraft with a conventional tail and factory Winglets. It has hydraulic, retractable landing gear and four-blade Hartzell constant speed, auto feathering with reverse, swept propellors. The Model C90GTx has been in production by Beechcraft since 2010 from serial numbers LJ1977 and up.
The King Air C90GTx is found in a variety of passenger configurations seating up to 7 passengers and 1 pilot. A typical executive configuration being a four-place club, a seat across from the airstair door, and a belted lavatory seat. The aft cabin/lavatory has a small baggage storage area.
Specifications
Exterior Dimensions
Wing span: 53 ft 8 in
Wing Area: 295 sq ft
Length: 35 ft 6 in
Height: 14 ft 3 in
Interior Dimensions
Cabin Height: 4 ft 9 In
Cabin Width: 4 ft 6 In
Cabin Length: 12 ft 7 In
Cabin Volume: 227 cu ft
Internal Baggage: up 350 lbs and 48.3 cu ft
Weights
Max TO weight: 10,485 lb
Basic Operating Weight:  7,265 lbs
Maximum Payload: 2,113
Useable Fuel volume: 384 gal / 2,573 lbs
Engine
Manufacturer: Pratt & Whitney
Model: PT6A-135A
Horsepower: 750 hp derated to 550 hp
Overhaul (HT): 3600hr TBO
Standard Avionics
Rockwell Collins Proline 21 'glass cockpit' and Collins Proline Fusion in years 2016 and up
Terrain Awareness System B
Autopilot and Radar
ADS-B
Performance specifications on Beech C90GT and C90GTi
Horsepower: 550.00
Gross Weight: 10,100 lb
Max Cruise Speed: 272 ktas
Empty Weight: 7,265 lb
Cruise Speed: 272 ktas
Fuel Capacity: 384 gal
Stall Speed (dirty): 75 kcas
Range: 1,260 nm
 
Rate of Climb: 1,900 fpm
Rate of Climb (One Engine):
Service Ceiling: 30,000 ft
Ceiling (One Engine): 
 
Takeoff
Landing
Ground Roll: 1,510 ft
Ground Roll 1,052 ft
Takeoff Roll Over 50 ft: 1,984 ft
Landing Roll Over 50 ft: 2,100 ft
History
The King Air C90GTx is a further evolution of the C90GTi. Two options became standard with the C90GTx. These were the BLR Winglets and a gross weight increase to 10,485 pounds MGTOW for better full-fuel payload flexibility. With the incorporation of the BLR Winglets, this was the first time since 1984 that the basic airframe of the C90A changed in an obvious fashion.
The King Air C90GTx has great range and payload due to its features like composite winglets, swept-blade propellers and dual aft strakes. The interior features Beech's famous square-oval design which provides more headroom and shoulder space for every passenger. The cabin is equipped with 26 tuned vibration absorbers to keep the area quiet and comfortable.
In 2016 the C90GTx avionics suite was upgraded to the Rockwell Collins Pro Line Fusion. This system offers simplified single-pilot operation to reduce pilot fatigue and reduce operating economics. Pro Line Fusion includes intuitive touchscreen flight planning, high resolutions Synthetic Vision system (SVS), a Flight Management System and NextGen GPS capabilities. The SVS provides more situational awareness, and touch-interactive graphical maps provide high-resolution terrain, weather overlays, obstacles and geopolitical boundaries.