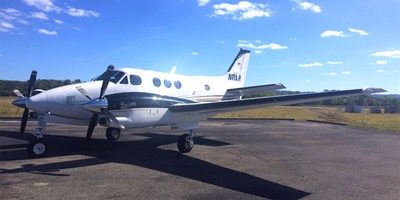 Beech King Air C90GT and C90GTi
The Beech King Air C90GT and C90GTi are a pressurized, twin-engine turboprop business aircraft configured as a cantilever low-wing aircraft with a conventional tail. It has hydraulic, retractable landing gear and four-blade propellors. The Model C90GT was produced by Beechcraft between the years 2006 and 2007, and the King Air C90GTi was produced from 2008 until 2010.
The King Air C90GT and C90GTi are found in a variety of passenger configurations seating up to 5 passengers and 1 pilot. A typical executive configuration being a four-place club, a seat across from the airstair door, and a belted lavatory seat. The aft cabin/lavatory has a small baggage storage area.
Specifications
Exterior Dimensions
Wing span: 50 ft 3 in
Length: 35 ft 6 in
Height: 14 ft 3 in
Interior Dimensions
Cabin Height: 4 ft 8 In
Cabin Width: 4 ft 5 In
Cabin Length: 12 ft 5 In
Cabin Volume: 270.1 cu ft
Internal Baggage: up to 7.7 bags and 54 cu ft
Weights
Max TO weight: 10,100 lb
Empty Weight:  7,150 lbs
Maximum Payload: 1,934
Fuel capacity: 384 gal
Engine
Manufacturer: Pratt & Whitney
Model: PT6A-135A
Horsepower: 750 hp derated to 550 hp
Overhaul (HT): 3600hr TBO
Standard Avionics
Collins Proline Avionics with two tube EFIS-84 and APS-65 Autopilot (C90GTi has the Rockwell Collins Proline 21 'glass cockpit')
Terrain Awareness System B
Autopilot and Radar
ADS-B
Performance specifications on Beech King Air C90GT and C90GTi
Horsepower: 550.00
Gross Weight: 10,100 lb
Top Speed: 275
Empty Weight: 7,150
Cruise Speed: 272
Fuel Capacity: 384
Stall Speed (dirty): 78
Range: 1,100
 
Rate of Climb: 1,953
Rate of Climb (One Engine): 474
Service Ceiling: 30,000
Ceiling (One Engine): 19,170
 
Takeoff
Landing
Ground Roll: 2,392
Ground Roll 2,355
Takeoff Roll Over 50 ft: 3,372
Landing Roll Over 50 ft: 3,060
History
By the time Beechcraft introduced the C90GT at Oshkosh AirVenture in 2005, the King Air C90A/B aircraft represented a 20-year long production run with very few changes. The King Air C90GT was introduced in 2006 as a direct response to the success of the Blackhawk engine conversion.
The new C90GT was the same as the C90B except it was equipped with the 750 SHP PT6A-135A engines derated down to 550 SHP takeoff power. The new engines increased cruising speeds at altitude by 24 knots to 272 KTAS. Approach-flaps takeoffs were introduced to the C90GTs for the first time, to compensate for the effects of reduced 1900 RPM of the -135A engines on takeoff.
This engine change increased performance due to lower operating temperatures, improving both cruise speed and climb rate. With a 275 kt (509 km/h, 316 mph) cruise speed, the C90GT was highly competitive with the new generation of Very Light Jets over short to medium distances, while providing a larger and more luxurious cabin. With deliveries beginning in early 2006, 97 C90GTs were delivered over a two year period.
On May 21, 2007, during the 7th Annual European Business Aviation Convention & Exhibition in Geneva, Beechcraft announced the Model C90GTi updated version of the C90GT, featuring the Rockwell Collins Proline 21 avionics package previously only offered for the B200 and B300 King Airs. The adoption of the Collins Proline 21 'glass cockpit' was the first major change to the avionics of the C90B/C90GT since 1992.
Deliveries commenced in 2008 and 125 C90GTis were added to the fleet, before being superseded by the new C90GTx in 2010.
Search for Beech King Air C90GT for sale now!