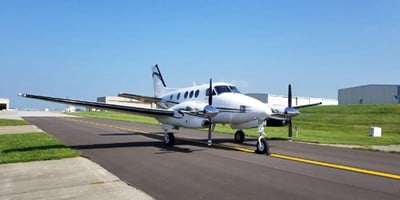 Beech King Air C90
The Model C90 was introduced in 1971, with wingspan increased over earlier models by 4 ft 11 in (1.50 m) to 50 ft 3 in (15.32 m), Maximum Take-Off Weight (MTOW) increased by 350 lb (160 kg) to 9,650 lb (4,378 kg), and PT6A-20A engines.
The Model C90-1 entered production in 1982 after 507 C90s had been built, and featured PT6A-21 engines and improvements to the pressurization system. 54 were built. The C90-1 was soon followed by the Model C90A, which featured the redesigned engine cowlings of the F90-1. The C90A received an increase in MTOW in 1987, being certified to 10,100 lb (4,580 kg). The C90A model was in production until 1992, by which time 235 had been built, all but 74 with the increased MTOW.
Only two C90As were built in 1992, the Model C90B followed that year with airframe improvements, four-bladed propellers, and propeller synchrophasing, all in an effort to reduce cabin noise. This model also had PT6A-21s; the first production C90B was fitted with the 10,000th PT6 engine delivered to Beechcraft. In 1994 a cheaper version was introduced as the C90SE (Special Edition), with three-bladed propellers, standardized interior and mechanical instruments instead of the Electronic Flight Instrument System (EFIS) fitted to the C90B.A total of 456 C90Bs and C90SEs were delivered by the time production of these models ended in late 2005.
In July 2005, during the Oshkosh Airshow, Beechcraft introduced the C90GT. The C90GT was fitted with 750 shp (560 kW) PT6A-135As, flat rated to the same 550 shp (410 kW) as the earlier King Airs. This engine change increased performance due to lower operating temperatures, improving both cruise speed and climb rate. With a 275 kt (509 km/h, 316 mph) cruise speed, the C90GT was highly competitive with the new generation of Very Light Jets over short to medium distances, while providing a larger and more luxurious cabin. C90GT deliveries commenced at the beginning of 2006. On May 21, 2007, during the 7th Annual European Business Aviation Convention & Exhibition in Geneva, Beechcraft announced the Model C90GTi updated version of the C90GT, featuring the Rockwell Collins Proline 21 avionics package previously only offered for the B200 and B300 King Airs. Deliveries commenced in 2008 after 97 C90GTs were delivered to customers over the previous two years.
Military King Air versions
Japan
The Japan Maritime Self-Defense Force (JMSDF) has operated a total of 40 C90 and C90A King Airs, with deliveries beginning in 1973. These have been given various designations by the JMSDF and consist of 34 TC-90 trainers, five LC-90 transports and a single UC-90 which is configured for photographic aerial survey. The TC-90s and the UC-90 are operated by the 202nd Naval Air Training Squadron (JMSDF) based at Tokushima Air Base, while the LC-90s are attached to various Lockheed P-3 Kokutai (Squadrons) and Air Transport Squadron 61 as liaison aircraft. In late 2005 the JMSDF marked 500,000 accident-free flying hours of the TC-90 trainer fleet. Philippine maintenance staff will also be trained.
The JMSDF made plans to lease at least five TC-90 aircraft to the Philippines to conduct maritime patrols. Two aircraft were transferred free of charge in March 2017. From November 2016 to November 2017 six Philippine Navy pilots were be trained to fly the aircraft at Tokushima Airport. Maintenance staff are also being trained. There are plans to transfer three more aircraft.
United States
The U.S. military has used King Air 90s in various roles, primarily VIP and liaison transport, with designations including the VC-6A, the T-44 Pegasus, and the U-21 Ute. The U-21 Ute used by the US Army was the most common version.
Modification and upgrade programs
A number of aftermarket modifications and upgrades are available for 90 and 100 Series King Airs.[29] An engine upgrade involves earlier-build 90 Series aircraft being re-engined with the PT6A-135A engines of the C90GT.[30][31] A more radical re-engining program involves the replacement of the PT6s in C90 and E90 King Airs with TPE-331s.
Among the numerous airframe modifications available: a cargo conversion for the 90 model, the CargoLiner, which replaces the rear door with a large pallet accessible cargo door, a heavy duty floor structure and cabin cargo liner, also a crew hatch for cockpit access for the crew in the 90, 100, and 200; a Wing Front Spar Reinforcement Kit for both 90 and 100 Series aircraft,; a modification for the entire King Air line that entails reworking and extending the nose to house a baggage compartment as well as the avionics normally found in the noses of King Air aircraft. Modifications available for the King Air 100 include a belly cargo pod similar to those fitted to the Beech 99 and the Model 1300 version of the King Air 200 series.
Model C90
Based on the B90 but using the Model 100 cabin environment and pressurisation system, 550shp PT6A-21 engines, 507 built.
Model C90-1
Improved C90 with an E90 tailplane and improved power output, increased maximum cabin pressure differential, 54 built in 1982 and 1983.
Model C90A
Improved C90-1 improved landing gear retraction, improved electrical system and using F90-1 pressurization and heating system, 235 built between 1984 and 1992. Two Pratt & Whitney PT6A-21 reverse-flow, free-turbine turboprop engines; 550 shp each.
C90B and C90SE
Marketing names for updated versions of C90A produced between 1992 and 2005, 456 built B-model has Maximum Take-off Weight of 10 100 lb (4585 kg), quieter Hartzell four-blade, constant-speed, full-reversing 90-in diameter propellers and dynamic (passively resonating) vibration absorber (DVA) system.
Model C90GT
Version with PT6A-135A engines, 750 shp flat rated to 550 shp, for better climb and cruise performance, 97 built.Model C90GTi
Variant of C90GT with "glass cockpit" Collins Proline 21 avionics suite; at least 90 built.
Model C90GTx
Marketing name for version of C90GTi introduced in 2010 with winglets added as factory-standard, Maximum Take-off Weight increased to 10 485 lb (4756 kg) for better full-fuel payload flexibility.