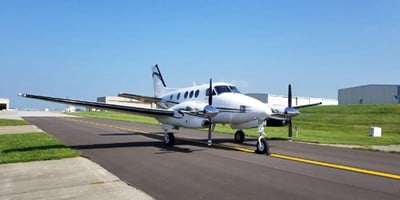 Beech King Air C90-1
The Beech King Air C90-1 is a pressurized, twin-engine turboprop business aircraft configured as a cantilever low-wing aircraft with a conventional tail. It has retractable landing gear and three-blade propellors. The Model C90-1 was produced by Beechcraft between the years 1982 and 1983 during which time 54 aircraft were manufactured, serial numbers LJ986, 996, 1011 through LJ1062.
The King Air C90-1 is found in a variety of passenger configurations seating up to 5 passengers and 1 pilot. A typical executive configuration being a four-place club, a seat across from the airstair door, and a belted lavatory seat. The aft cabin/lavatory has a small baggage storage area.
Specifications
Exterior Dimensions
Wing span: 50 ft 3 in
Length: 35 ft 6 in
Height: 14 ft 3 in
Interior Dimensions
Cabin Height: 4 ft 8 In
Cabin Width: 4 ft 5 In
Cabin Length: 12 ft 7 In
Cabin Volume: 270.1 cu ft
Internal Baggage: up to 7.7 bags and 54 cu ft
Weights
Max TO weight 9,650 lbs
Empty Weight:  5,765 lbs
Fuel capacity: 384 gal
Engine
Manufacturer: Pratt & Whitney
Model: PT6A-21
Horsepower: 550 hp
Overhaul (HT): 3600hr TBO
Standard Avionics
Dual Comms and Navs
Terrain Awareness System B
Autopilot and Radar
ADS-B
Performance specifications on Beech C90-1
Horsepower: 550.00
Gross Weight: 9,650
Top Speed: 273
Empty Weight: 5,765
Cruise Speed: 237
Fuel Capacity: 384
Stall Speed (dirty): 76
Range: 1,120
 
Rate of Climb: 1,955
Rate of Climb (One Engine): 539
Service Ceiling: 28,100
Ceiling (One Engine): 15,050
 
Takeoff
Landing
Ground Roll: 1,629
Ground Roll 737
Takeoff Roll Over 50 ft: 2,261
Landing Roll Over 50 ft: 1,672
History
Model C90-1 entered production in 1982 after 507 C90s had been built. It was the same as the C90 except it incorporated a stronger horizontal stabilizer similar to the E90. It included improvements to the pressurization system which was increased to 5.0 psid providing a cabin altitude of 6,000 ft at 20,000 ft and 12,000 ft cabin altitude at 30,000.
Up to 350 lbs of baggage or remote avionics equipment could be placed in the nose compartment with another 350 lbs of baggage in the aft cabin section.
The C90-1 had the same PT6A-21 engines as the earlier C90 models, but bumped up the engine ITT from 635° to 680°, increasing cruise speeds by more than 15 knots to 237 KTAS. It featured a stronger King Air 200 type air-stair cabin door and double-pane side windows were added to accommodate an increased cabin pressure differential of 5.0 PSID.