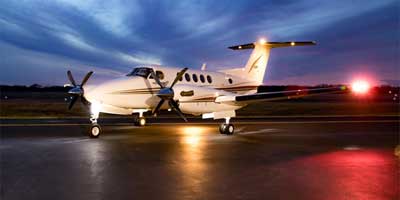 Beech King Air B200
The Beech King Air B200 is a pressurized, twin-engine turboprop business aircraft configured as a cantilever low-wing aircraft with a T-tail. It has hydraulic, retractable landing gear and constant speed, auto feathering with reversible propellors. The Model B200 was produced by Beechcraft from 1981 through 2012, from serial numbers BB734 through BB2019+.
The B200 King Air is found in a variety of passenger configurations seating up to 14 passengers and 1 pilot.
Specifications
Exterior Dimensions
Wing span: 54 ft 6 in
Length: 43 ft 9 in
Height: 15 ft
Interior Dimensions
Cabin Height: 4 ft 8 In
Cabin Width: 4 ft 8 In
Cabin Length: 16 ft 8 In
Cabin Volume: 303 cu ft
Internal Baggage: 54 cu ft
Weights
Max TO weight: 12,500 lb
Basic Operating Weight:  8,820 lbs
Maximum Payload: 2,180
Useable Fuel volume: 544 gal
Engine
Manufacturer: Pratt & Whitney
Model: PT6A-46
Horsepower: 850 hp
Overhaul (HT): 3600hr TBO
Standard Avionics
Dual Collins Proline avionics. Proline 21 on 2004 & up
Terrain Awareness System B
Autopilot and Radar
ADS-B
Performance specifications on Beech B200
Horsepower: 850.00
Gross Weight: 12,500
Top Speed: 294
Empty Weight: 7,538
Cruise Speed: 279
Fuel Capacity: 544
Stall Speed (dirty): 75
Range: 1,972
 
Rate of Climb: 2,450
Rate of Climb (One Engine): 740
Service Ceiling: 35,000
Ceiling (One Engine): 21,735
 
Takeoff
Landing
Ground Roll: 1,942
Ground Roll 1,760
Takeoff Roll Over 50 ft: 3,345
Landing Roll Over 50 ft: 2,845
Search for Beech King Air B200 for sale now!
History
The Beechcraft Super King Air family is part of a line of twin-turboprop aircraft produced by Beechcraft. The Model 200 and Model 300 series were originally marketed as the "Super King Air" family; the "Super" designation was dropped in 1996. They form the King Air line together with the King Air Model 90 and 100 series. The Beechcraft 1900 regional airliner was derived from the Model B200 King Air.
The Super King Air family has been in continuous production since 1974, the longest production run of any civilian turboprop aircraft in its class. It outlasted all of its previous competitors; the only other pressurized multi engine turboprop utility aircraft now in production is the Piaggio P.180 Avanti.
Development
Super King Air B200
This updated and improved version was the Model B200, which entered production in 1981. It was fitted with PT6A-42 engines, still rated at 850 shp (630 kW), but with improvements that resulted in greater aircraft performance. Other changes included increased maximum pressurization (to 6.5 psi differential) and changes to the cockpit layout.
The Model 200C gave way to the Model B200C the same year, with the first Model B200T and Model B200CT being modified from a B200 and B200C respectively, the following year. Commencing in 1984 the B200, B200C and their derivatives were fitted with a revised landing gear retraction mechanism, actuated by hydraulic rams powered by an electric pump installed in the LH wing. This replaced the earlier electro-mechanical retraction system of gearboxes, driveshafts and chains and sprockets that was a throwback to the Twin Bonanza. At the same time the propellers fitted were changed from 3-bladed Hartzells to 3-bladed McCauleys. Forty-seven B200Cs built that year were delivered to the U.S. military, with dozens more of a similar standard ordered in subsequent years, but not given official civil model designations.
Commuter
A total of 14 B200s were produced in 1989 and 1990 in a 13-seat high density configuration with a belly cargo pod; these were marketed by Beechcraft as a commuter airliner under the designation Model 1300. Customers for this version included Mesa Airlines. The propeller installation changed again in 1992, when Beechcraft started offering the option of having 4-bladed Hartzell or McCauley propellers, or 3-bladed Hartzell propellers; the 3-bladed McCauley propellers were no longer available.
EFIS/Glass Cockpit
From October 1995 Beechcraft offered an updated B200 with Electronic Flight Instrument System (EFIS) avionics, this was marketed as the "B200SE Super King Air" (for Special Edition). The following year the "Super" name was dropped from all marketing and advertising. In October 2003, Beechcraft announced another avionics upgrade for the B200, the Rockwell Collins Pro Line 21 suite.
King Air B200GT
On May 21, 2007, during the 7th Annual European Business Aviation Convention & Exhibition in Geneva, Hawker Beechcraft (as the company was now known) introduced the Model B200GT updated version of the B200. The B200GT is fitted with a new model of PT6 engine developed specifically for it by Pratt & Whitney Canada; while still rated at 850 shp (630 kW) the new PT6A-52 develops maximum power to an even higher altitude than the ?42 it replaces, thus further improving aircraft performance. The B200GT and B200CGT with large cargo door were certified by the Federal Aviation Administration (FAA) on November 16, 2007 and by the end of 2009, 97 B200GTs had been delivered.Hawker Beechcraft has elected to use new constructor's number prefixes for the B200GT and B200CGT; B200GTs are being built with the prefix "BY" and B200CGTs with the prefix "BZ".
In 2014 Beechcraft announced the availability of an option (available at manufacture and for existing aircraft) to increase the MTOW of the B200GT from 12,500 pounds (5,700 kg) to 13,420 pounds (6,090 kg), marketed as the King Air 250EP (for Extra Payload). The upgrade puts the 250EP into the same weight class as the King Air 350, necessitating various system changes to meet certification requirements and a special rating for pilots.
Variations
Model B200
Current baseline production model; updated version of Model 200. 1,157 built as of the end of 2009 including those converted to Model B200Ts. 12 aircraft delivered as Model 1300s. Later models fitted with Pro Line 21 avionics
Model B200C
A B200 with cargo door, available to order; 112 built as of the end of 2009, of which 47 were built for the United States Air Force as C-12Fs. Later models fitted with Pro Line 21 avionics. A total of 65 other aircraft, similar in specification to the B200C, were built for the U.S. military.
Model B200T
A B200 similar to Model 200T; aircraft converted from Model B200s and re-serialled. 23 delivered.
Model B200CT
A B200C with wingtip fuel tanks; all aircraft converted from B200Cs and re-serialled. Eight delivered, to the Marina de Guerra del Perú and Israeli Air Force. Another two similar aircraft built for the Israeli Air Force are without an official designation.
Model B200 (marketed as King Air 250)
Includes new Hartzell composite scimitar propellers and third-party winglets and Ram Air Recovery System; can operate from shorter runways than the B200GT.
Model B200GT
Updated version of B200; current civil production model. A total of 97 are built as of the end of 2009.
Model B200CGT
Updated version of B200C; at least one built in 2016. Operated by Can-West Corporate Air Charters as of 2019.
Specifications
BEECHCRAFT KING AIR B200GT (2008-2011)
Twin engine turboprop aircraft with retractable landing gear. The KING AIR B200GT seats up to 10 passengers plus 1 pilot.
Performance specifications
Horsepower: 2 x 850 HP
Best Cruise Speed: 308 KIAS
Best Range (i): 1,592 NM
Fuel Burn: 98.5 GPH
Stall Speed: 75 KIAS
Rate of climb: 2,200 FPM
Rate of climb (1 engine out): 740 FPM
Ceiling: 35,000 FT
Ceiling (1 engine out): 24,200 FT
Takeoff distance: 2,100 FT
Landing distance: 2,845 FT
Takeoff distance over 50ft obstacle: 2,111 FT
Landing distance over 50ft obstacle: 3,388 FT
Weights
Gross Weight: 12,500 LBS
Empty Weight: 11,000 LBS
Maximum Payload: 2,240 LBS
Fuel capacity: 538.99 GAL