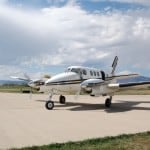 Beech King Air 90
The Beech King Air 90 Model is a pressurized, twin-engine turboprop business aircraft configured as a cantilever low-wing aircraft with a conventional tail. It has retractable landing gear and constant speed propellors. The 90 King Air was produced by Beechcraft between 1964 and 1966, serial numbers LJ1 through LJ113
The King Air 90 is found in a variety of passenger configurations seating up to 9 passengers and 1 pilot.
Specifications
Exterior Dimensions
Wing span: 45 ft 10 in
Length: 35 ft 6 in
Height: 14 ft 8 in
Interior Dimensions
Cabin Height: 4 ft 9 In
Cabin Width: 4 ft 6 In
Cabin Length: 12 ft 4 In
Cabin Volume: 227 cu ft
Internal Baggage: 48.3 cu ft
Weights
Max TO weight: 9,000 lb
Basic Operating Weight:  5,680 lbs
Maximum Payload: 1,800
Useable Fuel volume: 384 gal / 2,573 lbs
Engine
Manufacturer: Pratt & Whitney
Model: PT6A-6
Horsepower: 500 hp
Overhaul (HT): 3600hr TBO
Standard Avionics
Dual Avionics
Autopilot and Radar
ADS-B
Performance specifications on Beech B90
Horsepower: 500.00
Gross Weight: 9,000
Top Speed: 243
Empty Weight: 5,680
Cruise Speed: 235
Fuel Capacity: 384
Stall Speed (dirty): 75
Range: 1,270
 
Rate of Climb: 2,000
Rate of Climb (One Engine): 525
Service Ceiling: 28,400
Ceiling (One Engine): 17,700
 
Takeoff
Landing
Ground Roll: 1,350
Ground Roll 1,250
Takeoff Roll Over 50 ft: 1,755
Landing Roll Over 50 ft: 1,870
History
The Model 90 King Air was conceived as the Model 120 in 1961. In May 1963, Beechcraft began test flights of the proof-of-concept Model 87, a modified Queen Air with Pratt & Whitney Canada PT6A-6 engines. After 10 months of test flying the "proof-of-concept" King Air 87, the Model 87 was delivered to the United States Army as the NU-8F. The first production aircraft was delivered on October 8, and by the end of the month, 152 aircraft had been ordered; by year's end, seven had been built.
On July 14, Beech announced a new type, and a month later began accepting orders for the "King Air", with deliveries to commence in Autumn 1964. On January 24, 1964, the first definitive prototype, by now designated Model 65-90 and also fitted with PT6A-6 engines, flew for the first time. The first production 65-90 was delivered in October of the same year. The PT6A-6 did not have a reverse-pitch prop. Over time, both the engine and the powerplant grew.
Variations
King Air 87
"Proof-of-concept" test aircraft based on the Model A80 with PT6A-6 turboprops; one built.
King Air 65-90
Based on the Model 88 with two PT6A-6 turboprops and a 9000lb Take Off Gross Weight (TOGW); 112 built.