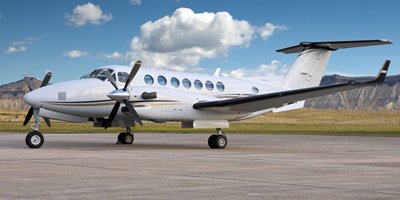 Beech King Air 350
The Beech King Air 350 is a pressurized, twin-engine turboprop business aircraft configured as a cantilever low-wing aircraft with a T-Tail. It has hydraulic, retractable landing gear and 4 blade, constant-speed, auto feathering, reversible propellers. The 350 King Air was produced by Beechcraft between the years 1990 and 2009, Serial numbers FL1 through FL683.
The King Air 350 is found in a variety of passenger configurations seating up to 8 passengers and 2 pilots.
Specifications
Exterior Dimensions
Wing span: 57 ft 11 in
Length: 46 ft 8 in
Height: 14 ft 4 in
Interior Dimensions
Cabin Height: 4 ft 9 In
Cabin Width: 4 ft 6 In
Cabin Length: 19 ft 2 In
Main Passenger door: 4 ft 3 in x 26 in
Cabin Volume: 355 cu ft
Internal Baggage: 71 cu ft
Weights
Max TO weight: 10,100 lb
Empty Weight:  7,150 lbs
Maximum Payload: 1,934
Fuel capacity: 384 gal
Engine
Manufacturer: Pratt & Whitney
Model: PT6A-60A
Horsepower: 1050 hp
Overhaul (HT): 3600hr TBO
Standard Avionics
Dual Collins Proline Avionics with two tube EFIS-84 and APS-65 Autopilot (2004 and up  has the Rockwell Collins Proline 21 'glass cockpit')
Terrain Awareness System B
Autopilot and Radar
ADS-B
Performance specifications on Beech King Air 350
Horsepower: 1050.00
Gross Weight: 14,000
Top Speed: 314
Empty Weight: 9,051
Cruise Speed: 303
Fuel Capacity: 539
Stall Speed (dirty):
Range: 1,900 nm (ER model 2,700 nm)
 
Rate of Climb: 2,979
Rate of Climb (One Engine): 912
Service Ceiling: 35,000
Ceiling (One Engine): 24,150
 
Takeoff
Landing
Ground Roll:
Ground Roll 1,272
Takeoff Roll Over 50 ft:
Landing Roll Over 50 ft: 2,508
History
King Air B300
By 1988, work had began on the replacement of the King Air 300. Beechcraft took the 300 and stretched the fuselage by nearly three feet with two extra cabin windows on each side, MTWO increased to 15,000 lb (6,750 kg), and winglets added to the wingtips to create the Model B300, introduced in 1990 and initially marketed as the Super King Air 350. LIke the 200/ B200, a version with a large cargo door was developed: the Model B300C, marketed as the "Super King Air 350C" with first deliveries of this model taking place in 1900. A big update occurred in 1998 with the UltraQuiet active noise canceling system, made by Elliott Aviation, was added as standard equipment on all B300s. Another big update occurred in October 2003, when it was announced that all future B300 and B300C King Airs would come equipped with the Rockwell Collins Pro Line 21 avionics suite.
King Air 350ER
A King Air 350ER version of the B300 was presented at the Paris Air Show on June 13th, 2005. This was an equivalent to the earlier Model 200T and B200T of the 200 series. MTWO was increased to 16,500 lb (7,430 kg), a belly pod for surveillance equipment, the landing gear of the Beechcraft 1900 to handle increased weight and add ground clearance, and extra fuel capacity in the engine nacelles to increase it's range.
King Air 350CER
The King Air 350CER combines the upgrades of the 350C and 350ER, giving the King Air the ER upgrades mentioned above, as well as a cargo door.
King Air 350i
The next big update would occur October 2008, with the release of the King Air 350i. The focus was on the passenger cabin with Beechcraft claiming that noise level and overall comfort was now competitive with that of light jets. Cabin upgrades included controllers on passenger seats for dimming LED lights, darkening windows, controlling an iPod dock and a high-definition monitor. Other perks included Universal Serial Bus (USB) ports, AC electrical receptacles and fold out tables for each passenger in the eight seats fitted. (courtesy King Air Nation)
The Beechcraft King Air 350i surpasses its predecessor's high-caliber performance with more payload capability and range, a quieter interior with standard Wi-Fi, and Pro Line Fusion™ avionics with full touch-screen simplicity. The King Air is the world's most popular business turboprop aircraft – a title never simply granted, but earned again and again with continuous enhancement over five decades. The King Air 350i. True to its legacy of innovation.
Equipped with Rockwell Collins Pro Line Fusion avionics suite featuring standard synthetic vision and enhanced situational awareness, there is no need to search through FMS menus. It's where the power of simplicity meets cutting-edge performance, durability and reliability. Enjoy direct access to critical information such as waypoints, routing, weather and all flight planning tools. Pro Line Fusion allows for heads-up flying rather than searching through menus and pages of flight data.
The performance specs for each of the King Air 350 variants are nearly identical, except for the ER models' increased range of more than 800 nautical miles. The maximum range of the King Air 350 is around 1,800 nautical miles, while the ER model's maximum range was increased to nearly 2,700 nautical miles.