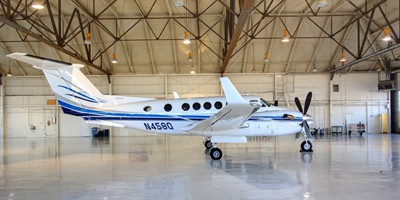 Beech King Air 300
The Beech King Air 300 is a pressurized, twin-engine turboprop business aircraft configured as a cantilever low-wing aircraft with a T-Tail and aft ventral fin. It has hydraulic, retractable landing gear and 4 blade, constant-speed, auto feathering, reversible propellers. The 300 King Air was produced by Beechcraft between the years 1984 and 1994, Serial numbers FA1 through FA247.
The Super King Air 300 can be configured in a variety of seating arrangements, but is commonly configured for eight passengers and 1 pilot in a combination of a club and individual or divan seating. The lavatory is located aft of the main seating, and a large baggage compartment occupies the aft cabin.
Specifications
Exterior Dimensions
Wing span: 54 ft 6 in
Length: 43 ft 10 in
Height: 14 ft 4 in
Interior Dimensions
Cabin Height: 4 ft 8 In
Cabin Width: 4 ft 6 in
Cabin Length: 16 ft 8 in
Main Passenger door: 4 ft 3 in x 26 in
Cabin Volume: 355 cu ft
Internal Baggage: 55 cu ft
Weights
Max TO weight: 14,000 lb
Empty Weight:  8,488 lbs
Maximum Payload: 2,663
Fuel capacity: 538 gal
Engine
Manufacturer: Pratt & Whitney
Model: PT6A-60A
Horsepower: 1050 hp
Overhaul (HT): 3600hr TBO
Standard Avionics
Dual Collins Proline Avionics 
Terrain Awareness System B
APS65 Autopilot and Sperry 300 Radar
ADS-B
Performance specifications on Beech King Air 300
Horsepower: 1050.00
Gross Weight: 14,000
Top Speed: 316
Empty Weight: 8,838
Cruise Speed: 300
Fuel Capacity: 539
Stall Speed (dirty):
Range: 1,761
 
Rate of Climb: 2,844
Rate of Climb (One Engine): 867
Service Ceiling: 35,000
Ceiling (One Engine): 22,878
 
Takeoff
Landing
Ground Roll: 3,300 ft
Ground Roll: 3,156 ft
Takeoff Roll Over 50 ft: 3,600 ft
Landing Roll Over 50 ft: 4,133 ft
Search for Beech King Air 300 for sale now!
History
The Beechcraft Super King Air family is part of a line of twin-turboprop aircraft produced by Beechcraft. The Model 200 and Model 300 series were originally marketed as the "Super King Air" family; the "Super" designation was dropped in 1996. They form the King Air line together with the King Air Model 90 and 100 series.
With the King Air 200 series proving so popular, Beechcraft began working on a successor: the Model 300, initially marketed as the "Super King Air 300". The B200 airframe was "cleaned up" and even more powerful engines (PT6A-60A), were installed into the redesigned cowlings with MTOW being increased to 14,000 lb (6,300 kg). A modified Model 200 was used to develop the updated systems to be used on the new model and flew October 6th, 1981. First flight of the prototype Model 300 took place on September 3rd, 1983 with deliveries beginning the following year.
Variations
King Air 300
Two versions, the standard Model 300 with increased MTOW of 14,000 lb (6,300 kg) and the Model 300LW with MTOW limited to 12,500 lb (5,700 kg) to meet the aviation regulatory requirements of various countries; 247 built including 35 Model 300LW and including two Model 300s modified and another 17 built specifically for the FAA for use in navaid calibration. The 300LW has a lower certified Take-Off Gross Weight of 12,500 lb for the European market related to tax.
King Air 300LW
The 300LW model was developed as a "Light Weight" version in this long running and successful line of corporate and utility transports. The max take-off weight was reduced to 12,500 lbs for the 300LW, intended to minimize the effects of weight based airways user fees, particularly in Europe.