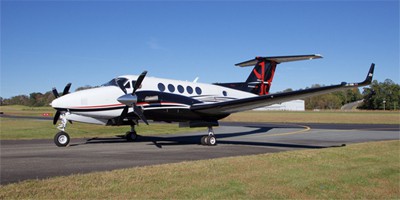 Beech King Air 250
The Beech King Air 250 is a pressurized, twin-engine turboprop business aircraft configured as a cantilever low-wing aircraft with a T-Tail and aft ventral fin. It has hydraulic, retractable landing gear and 4 blade, composite, constant-speed, auto feathering, reversible Hartzell propellers. This model has been produced by Beechcraft since 2011 through current, Serial numbers BY117 through BY344+. Beginning with serial numbers BY131 and up, Winglets are standard equipment.
The King Air 250 can be configured in a variety of seating arrangements, but is commonly configured for eight passengers and 1 pilot in a combination of a club and individual or divan seating. The lavatory is located aft of the main seating, and a large baggage compartment occupies the aft cabin.
Specifications
Exterior Dimensions
Wing span: 57 ft 11 in
Wing Area: 310 sq ft
Length: 43 ft 10 in
Height: 14 ft 10 in
Interior Dimensions
Cabin Height: 4 ft 9 In
Cabin Width: 4 ft 6 in
Cabin Length: 16 ft 8 in
Main Passenger door: 4 ft 3 in x 26 in
Cabin Volume: 355 cu ft
Internal Baggage: 55 cu ft / 550 lb
Weights
Max TO weight: 12,500 lb
Empty Weight:  8,830 lbs
Maximum Payload: 3,760
Fuel capacity: 544 gal
Engine
Manufacturer: Pratt & Whitney
Model: PT6A-52
Horsepower: 850 hp
Overhaul (HT): 3600hr TBO
Standard Avionics
Integrated Collins Proline 21 including EIS, ADS and dual AHRS Avionics (2016 and up Proline Fusion)
Terrain Awareness System B
ADS-B
Performance specifications on Beech King Air 250
Horsepower: 1050.00
Gross Weight: 12,500
Top Speed: 316 ktas
Empty Weight: 8,830
Cruise Speed: 300 ktas
Fuel Capacity: 544
Stall Speed (dirty): 80 kcas
Range: 1,720 nm
 
Rate of Climb: 2,437 fpm
Rate of Climb (One Engine): 867
Service Ceiling: 35,000 ft
Ceiling (One Engine): 22,878
 
Takeoff
Landing
Ground Roll: 1,715 ft
Ground Roll: 1,750 ft
Takeoff Roll Over 50 ft: 2,111 ft
Landing Roll Over 50 ft: 2,845 ft
History
The Beechcraft Super King Air family is part of a line of twin-turboprop aircraft produced by Beechcraft. The Model 200 and Model 300 series were originally marketed as the "Super King Air" family; the "Super" designation was dropped in 1996. They form the King Air line together with the King Air Model 90 and 100 series.
Beechcraft currently offers the 250 (design. B200GT) and the larger 350i (B300) models. The 350ER (B300CER) is available to government, military and commercial customers for special mission operations such as aerial survey, air ambulance, flight inspection and surveillance. The Beechcraft 1900 regional airliner was derived from the Model B200 King Air.
The Super King Air family has been in continuous production since 1974, the longest production run of any civilian turboprop aircraft in its class. It outlasted all of its previous competitors; the only other pressurized multi engine turboprop utility aircraft now in production is the Piaggio P.180 Avanti.
New Beechcraft King Air 250s now come equipped with cutting-edge touchscreen avionics technology, greater passenger comfort and enhanced payload options to deliver more people to more places in unprecedented comfort. The Pro Line Fusion™ flight deck brings the first full touchscreen flight display system to the world's most trusted avionics architecture. The enhanced payload option provides increased mission flexibility.
The legendary comfort of the King Air's square-oval interior offers generous head and shoulder room, unmatched by conventional cabin cross sections. The King Air 250 interior is furnished with finely crafted seats that are able to laterally track, swivel and recline.
2016 and up are equipped with Rockwell Collins Pro Line Fusion avionics suite featuring standard synthetic vision and enhanced situational awareness, there is no need to search through FMS menus. It's where the power of simplicity meets cutting-edge performance, durability and reliability.