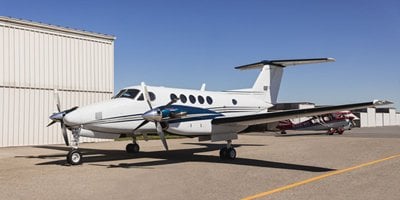 Beech King Air 200
The Beech King Air 200 is a pressurized, twin-engine turboprop business aircraft configured as a cantilever low-wing aircraft with a T-Tail and aft ventral fin. It has hydraulic, retractable landing gear and 4 blade, constant-speed, auto feathering, reversible propellers. The 200 King Air was produced by Beechcraft between the years 1974 and 1981, Serial numbers BB2 through BB748-792, 794-797, 799-822, 824-828, 830-853, 872, 873, 892, 893, 912..
The King Air 200 can be configured in a variety of seating arrangements, but is commonly configured for eight passengers and 1 pilot in a combination of a club and individual or divan seating. The lavatory is located aft of the main seating, and a large baggage compartment occupies the aft cabin.
Specifications
Exterior Dimensions
Wing span: 54 ft 6 in
Length: 43 ft 10 in
Height: 14 ft 4 in
Interior Dimensions
Cabin Height: 4 ft 8 In
Cabin Width: 4 ft 6 in
Cabin Length: 16 ft 8 in
Main Passenger door: 4 ft 3 in x 26 in ( 4 ft 4 in x 4 ft 4 in in Cargo)
Cabin Volume: 355 cu ft
Internal Baggage: 55 cu ft
Weights
Max TO weight: 12,500 lb
Empty Weight:  8,550 lbs
Maximum Payload: 1,850
Fuel capacity: 538 gal
Engine
Manufacturer: Pratt & Whitney
Model: PT6A-41
Horsepower: 850 hp
Overhaul (HT): 3600hr TBO
Standard Avionics
Dual Collins Proline Avionics 
Terrain Awareness System B
APS65 Autopilot and Sperry 300 Radar
ADS-B
Performance specifications on Beech King Air 200
Horsepower: 850.00
Gross Weight: 12,500
Top Speed: 290
Empty Weight: 7,538
Cruise Speed: 272
Fuel Capacity: 544
Stall Speed (dirty): 75
Range: 1,870
 
Rate of Climb: 2,450
Rate of Climb (One Engine): 740
Service Ceiling: 32,880 ('79 prior 31,000)
Ceiling (One Engine): 19,150
 
Takeoff
Landing
Ground Roll: 1,942
Ground Roll 1,760
Takeoff Roll Over 50 ft: 3,345
Landing Roll Over 50 ft: 2,845
History
The Beechcraft Super King Air family is part of a line of twin-turboprop aircraft produced by Beechcraft. The Model 200 and Model 300 series were originally marketed as the "Super King Air" family; the "Super" designation was dropped in 1996. They form the King Air line together with the King Air Model 90 and 100 series.
Beechcraft currently offers the 250 (design. B200GT) and the larger 350i (B300) models. The 350ER (B300CER) is available to government, military and commercial customers for special mission operations such as aerial survey, air ambulance, flight inspection and surveillance. The Beechcraft 1900 regional airliner was derived from the Model B200 King Air.
The Super King Air family has been in continuous production since 1974, the longest production run of any civilian turboprop aircraft in its class. It outlasted all of its previous competitors; the only other pressurized multi engine turboprop utility aircraft now in production is the Piaggio P.180 Avanti.
Development
Super King Air 200
The Model 200 was originally conceived as the Model 101 in 1969, and was a development of the Model 100 King Air. The Model 200 had essentially the same fuselage as the Model 100, with changes to the rear fuselage to accommodate a new T-tail (in place of the 100's conventional tail with all-moving trimmable horizontal stabilizer) and structural changes to allow higher maximum pressurization. Apart from the T-tail, other changes included Pratt & Whitney Canada PT6A-41 engines rated at 850 shp (630 kW) instead of the 680 shp (510 kW) engines of the Model A100 then in production, and a wing of increased span and extra fuel capacity. Overall, the 200 was 3 ft 10 in (1.17 m) longer than the A100, with wingspan 4 ft 3 in (1.29 m) greater, containing 60 US gallons (230 L) more fuel. Maximum Take-Off Weight (MTOW) was increased by 1,000 lb (450 kg). After protracted development including extensive wind tunnel testing of the design (especially of the T-tail which was tunnel-tested for 375 hours), the first prototype flew for the first time on October 27, 1972; a second prototype took to the air on December 15 the same year. Three production aircraft were also built in 1972 and delivered to the U.S. Army; these three were designated Model A100-1s by Beechcraft and were given the military designation RU-21J; the first of some 400 T-tail King Airs to be ordered by the U.S. armed forces. The 200 received civil certification in December 1973 and the first civil delivery took place in February 1974.
In 1976, Beechcraft developed the Model 200T, a version configured for aerial surveying or reconnaissance. The prototype was created by modifying a Model 200 aircraft, constructor's number (c/no.) BB-186; the modifications included changes to the belly aft of the wing to allow photography with a vertical camera, provision for a surveillance radar in a pod under the fuselage, dome-shaped windows on the sides of the rear fuselage to allow observation directly below the aircraft by occupants, and a 50-US-gallon (190 L) usable capacity fuel tank on each wingtip to increase the aircraft's range. Customers could specify any combination of these modifications when ordering a 200T; all 200Ts were Model 200s modified at the factory and given new constructor's numbers.
In 1979, the service ceiling was increased.
The next model to appear was the Model 200C in 1979; this version had a large cargo door on the LH side of the rear fuselage with an airstair door similar to the Model 200's door built into it. The door opening was 4 ft 4 in (1.33 m) high and 4 ft 4 in (1.33 m) wide, allowing a large range of items to be loaded into the cabin. The Model 200C found favour with many operators who fitted them out internally as Air Ambulances. The 200C was built from scratch rather than as a modification of the Model 200. The Model A200C military version was developed concurrently. In 1981, a Model 200C (c/no. BL-24) was modified as the Model 200CT, fitted with the same wingtip fuel tanks as installed on Model 200Ts; there was only one 200CT, but it led to other aircraft after an updated version of the Model 200 entered production.
Model 200 military variants
A100-1
BB3-5 200's changed to A100-1s for U.S. Army.
PD 290
Beechcraft considered a jet-powered version in the mid-1970s. The first prototype King Air 200 was re-engined with Pratt & Whitney Canada JT15D turbofans in overwing nacelles. Given the designation PD 290 (for Preliminary Design), the aircraft was flown in this configuration for the first time on March 12, 1975. Beech did not pursue production, and the last flight was made on September 30, 1977.