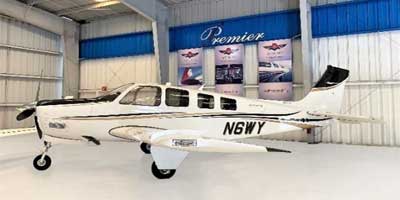 Beech G36 Bonanza
The Beech G36 Bonanza began production in 2005 starting with serial number E3630, 3636 and is a single-engine, piston aircraft. It's configured as a cantilever low-wing aircraft with a conventional tail featuring retractable landing gear and a constant-speed propeller. The spacious Beech interior seats four to five passengers and 1 pilot.
Specifications
Exterior Dimensions
Wing span: 33 ft 6 in
Length: 27 ft 6 in
Height: 8 ft 7 in
Interior Dimensions
Cabin Height: 4 ft 2 In
Cabin Width: 3 ft 6 in
Cabin Length: 12 ft 7 in
Baggage capacity: 70 lbs / 10 cu. ft.
Weights
Max TO weight: 3,650 lb
Empty Weight:  2,590 lbs
Maximum Payload: 1,073
Fuel capacity: 74 gal / 629 lbs
Engine
Manufacturer: Continental Motors
Model: IO-550B
Horsepower: 300 hp
Overhaul (HT): 1900hr TBO
Standard Avionics
Garmin G1000 avionics in 2006 and up
3 axis Autopilot
Color Radar and XM Weather
ADS-B In/Out
Performance
Horsepower: 300.00 hp
Gross Weight: 3,650 lbs
Top Speed: 205 kias
Empty Weight: 2,590 lbs
Cruise Speed: 184 kias
Fuel Capacity: 74 gal
Stall Speed (dirty): 59 kcas
Range: 920 nm
 
Rate of Climb: 1,230 fpm
Rate of Climb (One Engine):
Service Ceiling: 18,500 ft
Ceiling (One Engine):
 
Takeoff
Landing
Ground Roll: 962 ft
Ground Roll 920 ft
Takeoff Roll Over 50 ft: 1,913 ft
Landing Roll Over 50 ft: 1,450 ft
History
Beech's G36 Bonanza is the aspiration of any pilot who desires unmatched craftsmanship. This piston-engine powerhouse is designed and built to be certified in the rugged utility category. With first-class technology and comfort and world-class quality, your Bonanza G36 is ready for any adventure.
Passengers are treated to the most comfortable ride found in any piston-engine aircraft without sacrificing hauling convenience. The spacious interior can quickly be reconfigured into four different layouts, making it simple to accommodate passengers or special cargo.
Beginning in 2018, avionics were upgraded to the latest technology in integrated cockpit avionics, the Garmin G1000 NXi. With an improved graphical interface, more powerful hardware, higher resolution displays, added functionality to improve situational awareness, and optional wireless technology, managing the flight deck has never been easier. (courtesy Beechcraft)