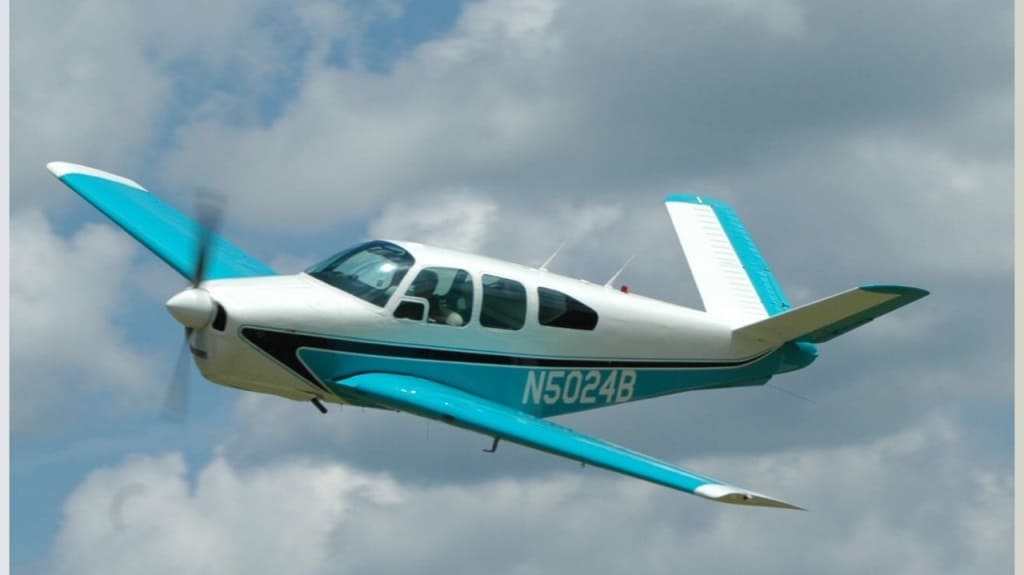 Beech F35 Bonanza
The Beech F35 Bonanza was manufactured in 1955, serial number D3999 through D4375, except D4376. It is a single-engine, piston aircraft configured as a cantilever low-wing aircraft with a V-tail. Distinguishing features are: retractable landing gear,  electric pitch propeller. Model F35 Bonanza seats up to 3 passengers and 1 pilot.
Specifications
Exterior Dimensions
Wing span: 32 ft 10 in
Length: 25 ft 2 in
Height: 7 ft 7 in
Weights
Max TO weight: 2,750 lb
Empty Weight:  1,722 lbs
Maximum Payload: 1,053
Fuel capacity: 40 U.S. gallons (34 usable)
Engine
Manufacturer: Continental Motors
Model: E-185-11 or E-225-8
Horsepower: 205 hp or 225 hp
Overhaul (HT): 1500hr TBO or 12 years
Standard Avionics
Digital Nav/Coms
ADS-B In/Out
Performance with the E-225-8 engine
Horsepower: 225.00
Gross Weight: 2,775
Top Speed: 169
Empty Weight: 1,722
Cruise Speed: 156 kts
Fuel Capacity: 39
Stall Speed (dirty): 48
Range: 775 no reserve
 
Rate of Climb: 1,300
Rate of Climb (One Engine):
Service Ceiling: 19,000
Ceiling (One Engine):
 
Takeoff
Landing
Ground Roll: 1,060
Ground Roll 680
Takeoff Roll Over 50 ft: 1,270
Landing Roll Over 50 ft: 1,025
History
Beech added a third cabin window to the 1955 Model F35 Bonanza along with heavier aluminum skin thickness on the wing leading edges and strengthening of the V-tail spar cap. F35 was available with E- 185-11 or E-225-8 engine and most customers preferred the higher horsepower E-225-8. 392 Model F35 were built and cost $19,990 with the 225 hp Continental.
Small rear window
Long-chord stabilators
Optional in-wing auxiliary tanks (20 gal. total)
Aileron trim
Reclining front seats; rear bench seats with headrests and two-position adjustable seat backs
Single, throw-over control yoke
Push-pull engine controls
Electric propeller pitch change mechanism
Gear handle on right, flap on left
"Sight and touch" gear and flap controls
Flap and ruddervator rivets in place of welds
Accidents
On March 19, 1982, Ozzy Osbourne's guitarist Randy Rhoads was killed when the wing of the Bonanza F35 in which he was riding hit the band's tour bus then crashed into a tree and a nearby residence. The pilot and another passenger were also killed. The NTSB cited the causes of the crash as poor judgement, buzzing, and misjudged clearance, as well as indicating that the use of the aircraft was not authorized by the aircraft's owner.