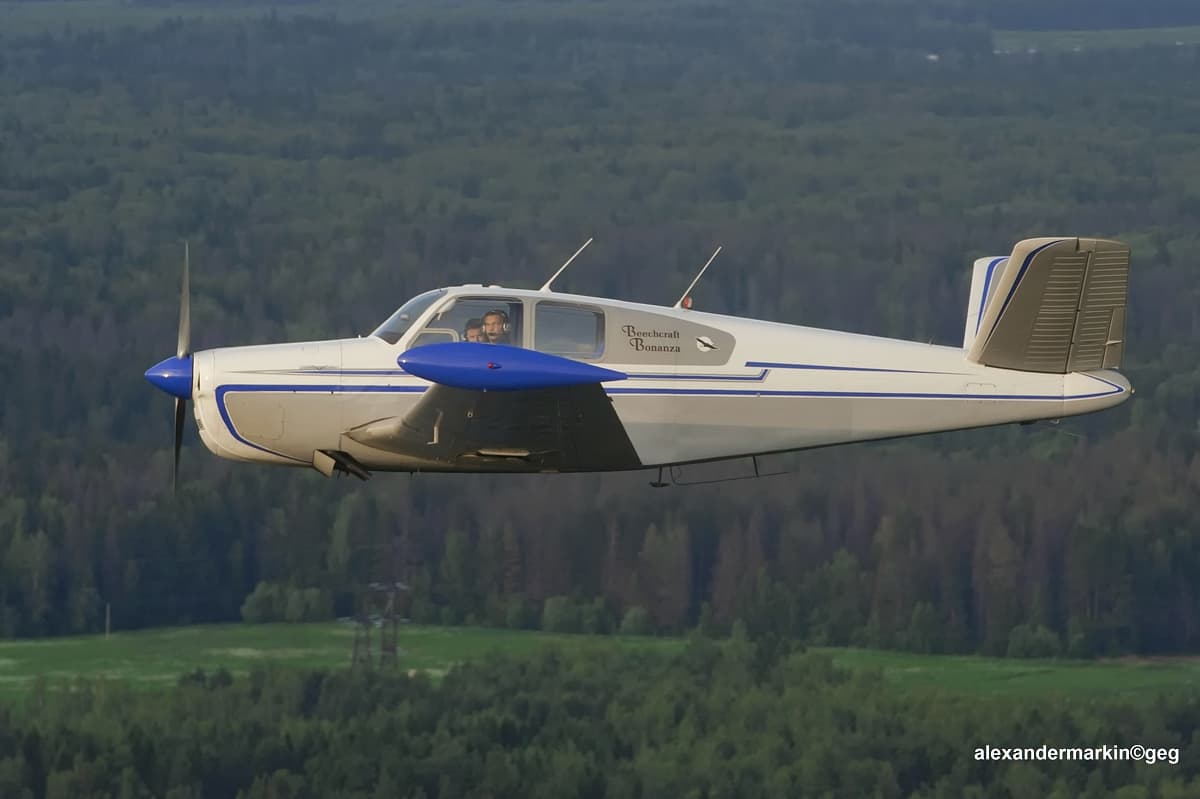 Beech Bonanza C35
The Beech Bonanza C35 was manufactured from 1951 until 1952, serial number D2681 through D3400. It is a single-engine, piston aircraft configured as a cantilever low-wing aircraft with a V-tail. Distinguishing features are: retractable landing gear, constant-speed propeller. Model C35 Bonanza seats up to 3 passengers and 1 pilot.
Specifications
Exterior Dimensions
Wing span: 32 ft 10 in
Length: 25 ft 2 in
Height: 7 ft 1 in
Weights
Max TO weight: 2,700 lb
Empty Weight:  1,650 lbs
Maximum Payload: 1,053
Fuel capacity: 40 US gallons (34 usable)
Engine
Manufacturer: Continental Motors
Model: E-185-11
Horsepower: 205 hp
Overhaul (HT): 1500hr TBO
Standard Avionics
Digital Nav/Coms
ADS-B In/Out
Performance
Horsepower: 205.00
Gross Weight: 2,700
Top Speed: 165
Empty Weight: 1,650
Cruise Speed: 152
Fuel Capacity: 39
Stall Speed (dirty): 48
Range: 510
 
Rate of Climb: 1,100
Rate of Climb (One Engine):
Service Ceiling: 18,000
Ceiling (One Engine):
 
Takeoff
Landing
Ground Roll: 1,250
Ground Roll 625
Takeoff Roll Over 50 ft: 1,500
Landing Roll Over 50 ft: 975
History
B35 with a 185hp Continental E-185-11 engine, metal propeller, larger tail surfaces, and higher takeoff weight, approved for the Lycoming GO-435-D1 engine. The Model C35 Bonanza was built from late 1950 through the 1952 sales year. Significant changes included a more powerful Continental E-185-11 developing 185 hp continuous and 205 hp at takeoff for one minute. Chord of the V-tail was increased 20% and the V-angle increased to 33 degrees. Gross weight was increased to 2700 lbs and cruise speed 178 mph. 719 C35 were manufactured.
Distinguishing Features
No window behind rear seats
Long-chord stabilators
Wing root fillets
Separate fuel tank selector and wobble pump
Rear bench seats with headrests and two-position adjustable seat backs
Single, throw-over control yoke
Push-pull engine controls
Electric propeller pitch change mechanism
Gear handle on right, flap on left
Stall warning horn in addition to light