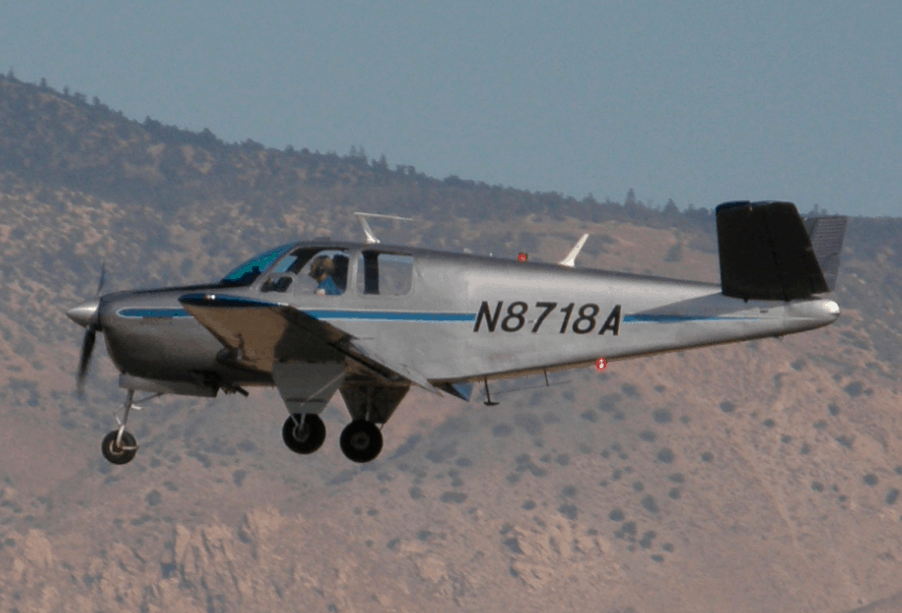 Beech Bonanza B35
The Beech Bonanza B35 was manufactured in 1950, serial number D2201 through D2680. It is a single-engine, piston aircraft configured as a cantilever low-wing aircraft with a V-tail. Distinguishing features are: retractable landing gear, variable pitch propeller. Model B35 Bonanza seats up to 3 passengers and 1 pilot.
Specifications
Exterior Dimensions
Wing span: 32 ft 10 in
Length: 25 ft 2 in
Height: 7 ft 1 in
Weights
Max TO weight: 2,650 lb
Empty Weight:  1,575 lbs
Maximum Payload: 1,070
Fuel capacity: 40 US gallons (34 usable)
Engine
Manufacturer: Continental Motors
Model: E-185-8
Horsepower: 196 hp
Overhaul (HT): 1500hr TBO
Standard Avionics
Digital Nav/Coms
ADS-B In/Out
Performance
Horsepower: 196.00
Gross Weight: 2,650
Top Speed: 168
Empty Weight: 1,575
Cruise Speed: 148
Fuel Capacity: 39
Stall Speed (dirty): 49
Range: 470
 
Rate of Climb: 890
Rate of Climb (One Engine):
Service Ceiling: 17,100
Ceiling (One Engine):
 
Takeoff
Landing
Ground Roll: 1,275
Ground Roll 625
Takeoff Roll Over 50 ft: 1,515
Landing Roll Over 50 ft: 950
History
The Model B35 Bonanza had all the improvements found in the A35 but featured the Continental E-185-8 engine that developed 196 hp for one minute at 2450 rpm. Flap extension increased from 20 to 30 degrees, front and rear cabin armrests and chart pockets were minor improvements found on the Model B35. B35 illustrated has standard exterior paint scheme. Note baggage door located on right side. 480 B35 were produced during the 1950 sales year.
Distinguishing Features
No window behind rear seats
Small-chord stabilators
Front and rear bench seats
Single, throw-over control yoke
Push-pull engine controls
Electric propeller pitch change mechanism
Gear handle on right, flap on left