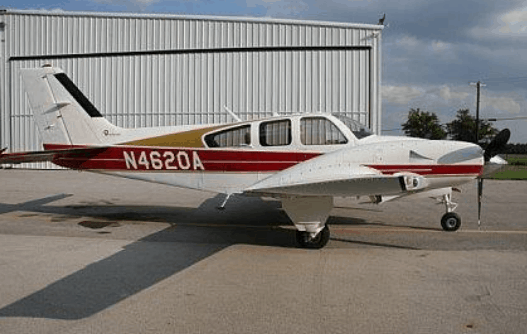 Beech Baron A56TC
The Beech Baron A56TC was manufactured from 1970 to 1971, serial numbers TG84 through TGTG94, therefore, producing 11 aircraft.
It is a twin-engine, piston turbocharged aircraft configured as a cantilever low-wing aircraft with a conventional tail. Distinguishing features are: retractable landing gear, variable pitch propellers. Model A56TC Baron seats up to 5 passengers and 1 pilot.
Specifications
Exterior Dimensions
Wing span: 37 ft 10 in
Length: 29 ft 10 in
Height: 9 ft 4 in
Interior Dimensions
Cabin length: 11 ft 9 in
Max width: 3 ft 6 in
Max height: 4 ft 2 in
Baggage: 35 cu.ft.
Weights
Max TO weight: 5,990 lb
Empty Weight:  3,350 lbs
Maximum Payload: 2,340 lbs
Fuel capacity: 142 gallons standard 204 long range optional
Engine
Manufacturer: Lycoming
Model: TIO-541-E1B4/E1A4
Horsepower: 380 hp
Overhaul (HT): 1600 TBO or 12 years
Standard Avionics
Digital nav/coms
3 axis autopilot
GS, DME, ADF
ADS-B In/Out
Performance
Horsepower: 380.00
Gross Weight: 5,990
Top Speed: 252
Empty Weight: 3,650
Cruise Speed: 247
Fuel Capacity: 142
Stall Speed (dirty): 73
Range: 737
 
Rate of Climb: 2,020
Rate of Climb (One Engine): 410
Service Ceiling: 32,200
Ceiling (One Engine): 18,600
 
Takeoff
Landing
Ground Roll: 1,005
Ground Roll 1,285
Takeoff Roll Over 50 ft: 1,420
Landing Roll Over 50 ft: 2,080
History
Although sales of the 56TC were slow, the mighty Beechcraft did fill a gap between the Model E55 Baron and the much larger (but slower) Model A65 Queen Air. Beech engineers upgraded the airplane for the 1970-1971 model years as the Model A56TC. As with the 56TC, the A56TC could carry up to 300 pounds of baggage in the spacious nose compartment or a buyer could opt to install remote-mount avionics components, which often reduced baggage capacity (varied with the amount of avionics installed).
The only technical change was in response to customer feedback calling for more fuel, and Beech Aircraft responded by increasing capacity to 207 gallons of useable fuel. In addition, the 56TC's wing-mounted pitot tube was relocated to the nose of the A56TC. The Lycoming engines were unchanged, and as with the 56TC, the turbocharger system was fully automatic and required little pilot workload to manage. Maximum gross weight remained at 5,990 pounds. Service ceiling with one engine inoperative was 18,600 feet at gross weight, increasing to 23,000 feet at a weight of 5,000 pounds. The factory rolled out only nine A56TCs during the 1970 model year followed by a mere two airplanes in 1971 when production was terminated in favor of the popular Model 60 Duke and the advent of the new Model 58 Baron. (King Air Magazine)