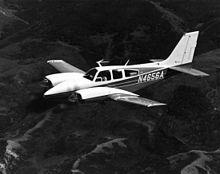 Beech Baron 56TC
The Beech Baron 56TC was manufactured from 1967 to 1969, serial numbers TG2 through TGTG83, therefore, producing 82 aircraft.
It is a twin-engine, piston turbocharged aircraft configured as a cantilever low-wing aircraft with a conventional tail. Distinguishing features are: retractable landing gear, variable pitch propellers. Model 56TC Baron seats up to 5 passengers and 1 pilot.
Specifications
Exterior Dimensions
Wing span: 37 ft 10 in
Length: 29 ft 10 in
Height: 9 ft 2 in
Interior Dimensions
Cabin length: 11 ft 9 in
Max width: 3 ft 6 in
Max height: 4 ft 2 in
Baggage: 35 cu.ft.
Weights
Max TO weight: 5,990 lb
Empty Weight:  3,350 lbs
Maximum Payload: 2,340 lbs
Fuel capacity: 142 gallons standard 204 long range optional
Engine
Manufacturer: Lycoming
Model: TIO-541-E1B4/E1A4
Horsepower: 380 hp
Overhaul (HT): 1600 TBO or 12 years
Standard Avionics
Digital nav/coms
3 axis autopilot
GS, DME, ADF
ADS-B In/Out
Performance
Horsepower: 380.00
Gross Weight: 5,990
Top Speed: 252
Empty Weight: 3,650
Cruise Speed: 247
Fuel Capacity: 142
Stall Speed (dirty): 73
Range: 737
 
Rate of Climb: 2,020
Rate of Climb (One Engine): 410
Service Ceiling: 32,200
Ceiling (One Engine): 18,600
 
Takeoff
Landing
Ground Roll: 1,005
Ground Roll 1,285
Takeoff Roll Over 50 ft: 1,420
Landing Roll Over 50 ft: 2,080
History
The Beech Baron 56TC TURBO CHARGED was based on the Model 95-D55 Baron airframe and a pre-production prototype, designated constructor (serial) number TG-1, made its first flight on May 25, 1966, with company engineering test pilot Bob Hagan at the controls. What gave the new Baron its muscle were two of Lycoming's most powerful piston powerplants – the turbocharged, fuel-injected, opposed six-cylinder TIO-541-E1B4, each rated at 380 horsepower at 2,900 RPM and 41.5 inches of Hg (mercury) manifold pressure.
In 1967 Beechcraft salesmen were told that two new airplanes would be entering the general aviation/business flying segment of the industry in only a few months. These were the Model 60 Duke (undergoing final development and flight testing) and the Turbo Baron 56TC that was entering production for the 1967 model year.
Further Development
The Duke was to go head-to-head with Cessna's 320 Skyknight. The Duke was to use two turbocharged 380-hp Lycoming TIO-541-E1A4 engines, therefore, Beech wanted experience working with, and flying the new engine. The engine was fitted to a modified Baron C55, becoming the 56TC (that prototype, EG-1, was later retired after certification). The results of the 56TC were as planned, it proved a good testbed and experience building model for the Duke's development. However, it was a noticeably loud airplane, especially so for a Beechcraft. Along with its increased noise, the 56TC had an increase in structural strength and thus empty weight to compensate for the higher power. When introduced in 1967, it was the fastest Beech aircraft, rivaling even the early King Airs sold at the time. 93 Baron 56TC aircraft were built between 1967 and 1971 and all use the ICAO type designator BE56.
The Turbo Baron's Lycoming powerplants were housed in large, streamlined cowlings featuring nacelles that swept across the top of the wing and extended all the way aft to the wing trailing edge. Development of the Lycoming O-540-series engines had begun in 1959, and by the mid-1960s had evolved into the 380-horsepower TIO-541 and 450-horsepower TIGO-541. The engines were equipped with three-blade, constant-speed, full-feathering propellers manufactured by Hartzell. To satisfy the thirst of the Lycoming engines, Beech engineers increased the D55's total fuel capacity to 182 gallons in bladder-type cells. In addition, maximum gross weight grew significantly to 5,990 pounds.
Dimensions and Equipment
General dimensions of the 56TC remained the same as for the Model D55, with a wingspan of 37 feet 10 inches and the larger horizontal stabilizer/elevator of the Model 95-C55 that spanned 15 feet 11.25 inches.
The 56TC's cabin essentially was unchanged from that of the D55 Baron and featured six seats, but the turbocharged Barons were among the first (if not the first) to have an (optional) Freon-based air conditioning system in a lightweight, twin-engine airplane. The installation was rated at 16,500 BTU and proved to be more than adequate to cool the cabin on hot days during taxi and climb to altitude.
Performance
The Model 56TC's chief claim to fame, however, was not keeping its occupants cool, but was all about performance. At an altitude of 20,000 feet, the new Baron was restricted to 262 mph but was easily capable of achieving 300 mph (TAS) at 24,000 feet (full throttle). By the standards of 1967, that made the 56TC one of the fastest piston-powered, lightweight multi-engine airplanes in the world. Service ceiling was an impressive 32,200 feet.
Further flight tests revealed a two-engine rate of climb exceeding 2,000 feet per minute, although rate of climb with one engine inoperative plummeted to only 412 feet per minute (at maximum gross weight). To take full advantage of the airplane's all-weather capabilities, Beech Aircraft offered the high-flying 56TC with a supplemental 66 cubic-foot oxygen system but also offered a 114 cubic-foot system as an option. The airplane was equipped with wing, empennage and propeller deicing and the majority left the factory so equipped. The FAA certified the Model 56TC on May 19, 1967. The powerful Baron was produced from 1967 through the 1969 model year and 82 were built. Yearly production numbers included 50 in 1967, 20 in 1968 and 12 in 1969.
Beech Baron A56TC
Although sales of the 56TC were slow, the mighty Beechcraft did fill a gap between the Model E55 Baron and the much larger (but slower) Model A65 Queen Air. Beech engineers upgraded the airplane for the 1970-1971 model years as the Model A56TC. As with the 56TC, the A56TC could carry up to 300 pounds of baggage in the spacious nose compartment or a buyer could opt to install remote-mount avionics components, which often reduced baggage capacity (varied with the amount of avionics installed).
The only technical change was in response to customer feedback calling for more fuel, and Beech Aircraft responded by increasing capacity to 207 gallons of useable fuel. In addition, the 56TC's wing-mounted pitot tube was relocated to the nose of the A56TC. The Lycoming engines were unchanged, and as with the 56TC, the turbocharger system was fully automatic and required little pilot workload to manage. Maximum gross weight remained at 5,990 pounds. Service ceiling with one engine inoperative was 18,600 feet at gross weight, increasing to 23,000 feet at a weight of 5,000 pounds. The factory rolled out only nine A56TCs during the 1970 model year followed by a mere two airplanes in 1971 when production was terminated in favor of the popular Model 60 Duke and the advent of the new Model 58 Baron. (King Air Magazine)
VARIATIONS
Beech Baron 56TC
Introduced in 1967, built until the 1969 model year. Four to six seats. Power came from two 380-hp (283-kW) Lycoming TIO-540-E1B4 turbocharged piston engines. Priced at $89,950 in 1967. 82 aircraft sold.
Beech Baron A56TC
Introduced 1970, built until 1971. Only model change throughout the 56 production. Featured new exterior paint scheme and interior design, new instrument panel, smooth rotating beacon and navigation lights, nose wheel light. Priced at $101,750 in 1970. 11 manufactured.