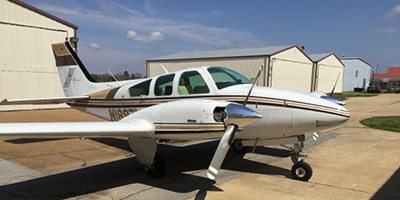 Beechcraft B55 Baron
The Beech B55 Baron was manufactured from 1964 to 1982, serial numbers TC371, TC502 through TC2456, therefore, producing 1954 B55's.
It is a twin-engine, piston aircraft configured as a cantilever low-wing aircraft with a conventional tail. Distinguishing features are: retractable landing gear, variable pitch propellers. Model B55 Baron seats up to 5 passengers and 1 pilot.
Specifications
Exterior Dimensions
Wing span: 37 ft 10 in
Length: 28 ft
Height: 9 ft 7 in
Interior Dimensions
Cabin length: 11 ft 9 in
Max width: 3 ft 6 in
Max height: 4 ft 2 in
Baggage: 35 cu.ft.
Weights
Max TO weight: 5,000 lb (1964-1965) 5,100 (1966 and up)
Empty Weight:  3,075 lbs
Maximum Payload: 2,005 (1964-1965) 2,205 (1966 and up)
Fuel capacity: 142 gallons standard
Engine
Manufacturer: Continental Motors
Model: IO-470L
Horsepower: 260 hp
Overhaul (HT): 1500hr TBO or 12 years
Standard Avionics
Digital Nav/Coms
3 axis autopilot
GS, DME, ADF
ADS-B In/Out
History
The Model 55 was Beech's first Baron. It came out in 1961 as a replacement for the Model 95 Travel Air, which was a bit long in the tooth to meet competition from Cessna's 310 and Piper's Aztec.
Like the Travel Air, the 55 comprised a Bonanza fuselage fitted with a conventional tail, not the V-tail. In place of the Travel Air's somewhat anemic 180-HP Lycomings, the original Baron had 260-HP Continental IO-470L engines.
After building 190 Barons that first year, Beech came out with the A55, which has a 10-inch longer fuselage and could be ordered with a second fold-down rear seat, bringing potential seating capacity to six (more on that later). A total of 309 A55s were built in 1962 and 1963. The airplane's nose was then extended seven inches for more baggage and avionics equipment, and gross weight was bumped from 4880 to 5000 pounds. The airplane was redesignated B55.
The B55 was fitted with 260 hp (194 kW) Continental IO-470 engines and had a gross weight of 5100 lb (2,300 kg). It had a typical cruise speed of 196 knots at 7000 ft, and came with 136 US gallon (useable) fuel tanks.
This version remained in production the longest, until 1983, when all 55s were dropped from the line, along with the 58TC and V-tail Bonanza. Browsing the for-sale ads, expect to see more B55s than any other model because there are simply more of them. Beech built 1954 of the "long nose" B55s from 1964 through 1982, not including about 70 T-42A versions for the U.S. Army. Among a number of minor refinements during this time was an increase in gross weight to 5100 pounds, starting with S/N TC-955 in mid-1965. Earlier B55s were eligible for the higher gross through a Beech STC kit.
Further refinements of the B55
Model years 1974 and up, they have a single fueling point in each wing. In 1977 corrosion proofing was improved. Beginning in 1978 the B55 would be produced with outboard fuel selectors.
The big-engine version arrived two years after the B55. The C55 Baron appeared in 1966 with a 12-inch longer fuselage and 285-HP Continental IO-520C engines. The "little Baron with the big engines" also was certified with a gross weight of 5300 pounds. The airplane was redesignated the D55 in 1968 and the E55 in 1970. It, too, was dropped from production in 1983, after 1201 were built, 451 Cs, 316 Ds and 434 Es.
1964-1965 B55 Baron Performance specifications
Horsepower: 2 x 260 HP
Best Cruise Speed: 196 KIAS
Best Range (i): 763 NM
Fuel Burn @ 75%: 27.3 GPH
Stall Speed: 68 KIAS
Rate of climb: 1,670 FPM
Rate of climb (1 engine out): 320 FPM
Ceiling: 19,700 FT
Ceiling (1 engine out): 7,000 FT
Takeoff distance: 910 FT
Landing distance: 840 FT
Takeoff distance over 50ft obstacle: 1,225 FT
Landing distance over 50ft obstacle: 1,370 FT
Weights
Gross Weight: 5,100 LBS
Empty Weight: 3,075 LBS
Fuel capacity: 112 GAL
1965-1977 B55 Baron Performance specifications
Horsepower: 2 x 260 HP
Best Cruise Speed: 196 KIAS
Best Range (i): 763 NM
Fuel Burn @ 75%: 27.3 GPH
Stall Speed: 68 KIAS
Rate of climb: 1,670 FPM
Rate of climb (1 engine out): 320 FPM
Ceiling: 19,700 FT
Ceiling (1 engine out): 7,000 FT
Takeoff distance: 910 FT
Landing distance: 840 FT
Takeoff distance over 50ft obstacle: 1,225 FT
Landing distance over 50ft obstacle: 1,370 FT
Weights
Gross Weight: 5,000 LBS
Empty Weight: 3,075 LBS
Fuel capacity: 112 GAL
1978-1982 B55 Baron Performance specifications
Horsepower: 2 x 260 HP
Best Cruise Speed: 184 KIAS
Best Range (i): 739 NM
Fuel Burn @ 75%: 27.3 GPH
Stall Speed: 73 KIAS
Rate of climb: 1,693 FPM
Rate of climb (1 engine out): 397 FPM
Ceiling: 19,300 FT
Ceiling (1 engine out): 6,400 FT
Takeoff distance: 1,400 FT
Landing distance: 1,467 FT
Takeoff distance over 50ft obstacle: 2,154 FT
Landing distance over 50ft obstacle: 2,148 FT
Weights
Gross Weight: 5,100 LBS
Empty Weight: 3,236 LBS
Fuel capacity: 100 GAL