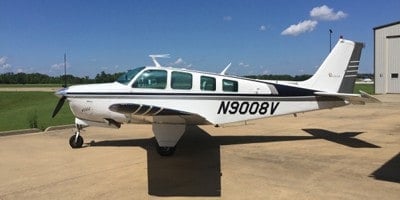 Beech Bonanza A36
The Beech A36 Bonanza was produced from 1970 through 2005. Model A36 is a single-engine, piston aircraft and is configured as a cantilever low-wing aircraft with a conventional tail. It features retractable landing gear and a constant-speed propeller. The A36 seats four to five passengers in a club seating arrangement and 1 pilot.
Specifications
Exterior Dimensions
Wing span: 33 ft 6 in
Length: 27 ft 6 in
Height: 8 ft 7 in
Interior Dimensions
Cabin Height: 4 ft 2 In
Cabin Width: 3 ft 6 in
Cabin Length: 12 ft 7 in
Baggage capacity: 70 lbs / 10 cu. ft.
Weights
Max TO weight: 3,600 lbs (1970-83) 3,650 lbs (1984-2005)
Empty Weight:  2,195 lbs
Maximum Payload: 1,620 lbs (1970-83) 1,397 lbs (1984-2005)
Fuel capacity: 74 gal / 629 lbs
Engine
Manufacturer: Continental Motors
Model: IO-520IO (1970-1984) IO-550B (1984 sn E2111 – 2005)
Horsepower: 285/300 hp
Overhaul (HT): 1700/1900hr TBO
Standard Avionics
King Silver Crown or Collins Microline avionics transitioning to Garmin GNS530W/430W WAAS
3 axis Autopilot
ADS-B In/Out
Performance
Horsepower: 300.00
Gross Weight: 3,650
Top Speed: 184
Empty Weight: 2,247
Cruise Speed: 169
Fuel Capacity: 74
Stall Speed (dirty): 59
Range: 720
 
Rate of Climb: 1,210
Rate of Climb (One Engine):
Service Ceiling: 18,500
Ceiling (One Engine):
 
Takeoff
Landing
Ground Roll: 971
Ground Roll 913
Takeoff Roll Over 50 ft: 1,913
Landing Roll Over 50 ft: 1,473
History
The single-engine Beech Bonanza 36 was introduced in 1968 to compete with Piper's Cherokee Six and the 200-series from Cessna. The Beech Bonanza A36 was developed by lengthening (0.25m) the fuselage of the Model 33, and using the same wing, landing gear and Continental engine of the Baron family, and the tail unit of the Model 33. Six seats were available, and with club-seating arrangements and a foldout table, it became a flying office.
In 1975, the A36 outsold all other Bonanza models for the first time. With a longer cabin and wide double doors, the Bonanza A36 offers greater utility and convenience without sacrificing performance and economy. In 1977 the A36 was offered with factory-installed electric trim, formerly available only on aircraft equipped with an autopilot. The A36 accounted for 50% of the total Bonanza production in 1977, and that percentage increased in 1978.
Further production
Standard features on late models are an extended rear compartment for up to 70 pounds of baggage, bringing the baggage total to 470 pounds with four seats occupied; 15-degree approach flap setting; and optional propeller anti-icing.
Brief mention must be made of two military versions of the A36 Bonanza. Designated QU-22B, a number were provided with special avionics equipment under the USAF's 'Pave Eagle' program. They were deployed in Vietnam to pick up and relay to a ground station the data transmitted from acoustic sensors. Intended to keep track of enemy movements in the dense jungle, the sensors were air-dropped along known or suspected transport routes.
To meet the requirements of the USAF's 'Pave Coin' competition, Beech developed a close-support two-seat armed version of the A36. Designated Model PD 249, this prototype was evaluated with a wide variety of weapons, carried on underwing racks that could accommodate loads of up to 535kg, but no production examples were built. (courtesy All-Aero)
Beech 36 Bonanza (1968-1969) Serial Numbers E-1 through E-184
E33A with a ten-inch fuselage stretch, four cabin windows each side, starboard rear double doors, rounded tail cone and wingtips, optional 80 gal. long range fuel, single throw over yoke, and seats for six, one 285 hp Continental IO-520-B engine, 184 built
SPECIFICATIONS
Wingspan:32 ft 10 in
Length:27 ft 6 in
Height:8 ft 7 in
Maximum TO weight:3,600 lbs
Useful load:1,620 lbs*
*Varies widely by year and individual aircraft
PERFORMANCE (ISA)
Max cruise speed:169 kt
Max range (45 minute reserve)530 miles
Fuel capacity (standard)50 gallons
Beech A36 Bonanza (1970-2005) Serial Numbers E-185 through E-3269, E-3631 through E-3635
Model 36 with improved deluxe interior, a new fuel system, higher takeoff weight, from 1984 fitted with a Continental IO-550-BB engine and redesigned instrument panel and controls, 2128 built
1970 – 1983 (E-1 through E-2110 except E-1946 and E-2104)
Optional long-range tanks (80 gal. total)
Single, throw-over control yoke
Vernier engine and mixture controls
Gear handle on right, flap on left
Additional 70-pound capacity aft baggage bin (1979 – 1983)
1984 – 2005 (E-1946, E-2104, E-2111 through E-3629, E-3631 through E-3635)
Dual flight controls
Quadrant-style engine controls
Small "turbine-style" engine gauges
Gear handle on the left, flap on the right
Two-speed electric auxiliary fuel pump
Leading edge vortex generators ahead of ailerons
SPECIFICATIONS
Wingspan:33 ft 6 in
Length:27 ft 6 in
Height:8 ft 7 in
Maximum TO weight:(1970 – 1983) – 3,600 lbs; (1984 – 2005) – 3,650 lbs
Useful load:(1970 – 1983) – 1,620 lbs*; (1984 – 2005) – 1,397 lbs*
*Varies widely by year and individual aircraft
PERFORMANCE (ISA)
Max cruise speed:(1970 – 1983) – 169 kt; (1984 – 2005) – 175 kt
Max range (45 minute reserve)(1970 – 1983) – 530 miles; (1984 – 2005) – 861 miles
Fuel capacity (standard)(1970 – 1979) – 50 gallons; (1980 – 2005) – 80 gallons
(Courtesy American Bonanza Society)