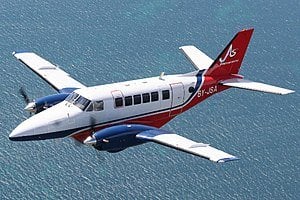 Beechcraft 99 Airliner
The Beechcraft Model 99 is a civilian aircraft produced by Beechcraft. It is also known as the Beech 99 Airliner and the Commuter 99. The 99 is a twin-engine, unpressurized, 15 to 17 passenger seat turboprop aircraft, derived from the earlier Beechcraft King Air and Queen Air. It uses the wings of the Queen Air, the engines and nacelles of the King Air, and sub-systems from both, with a specifically-designed nose structure and a significantly lengthened cabin with greater seating capacity. The Beechcraft 99 Airliner was the first turbine powered retractable-landing-gear aircraft to meet FAA approval for commuter air carrier service.
Design and development
Design of the 99 began in the late 1960s, in part to find a replacement for the venerable Beech 18. In December 1965 a stretched fuselage Queen Air was flown for the first time, while the Pratt & Whitney Canada PT6 powered prototype model 99 made its first flight in July 1966. 
It received type certification on May 2, 1968, and the first customer aircraft was delivered in May 1968. 62 aircraft were delivered by the end of the year. The series then known as the Commuter 99 was powered by twin 550- shp Pratt & Whitney turboprops driving reversible propellers. The Beechcraft 99 cruises at more than 250 mph and pulls a gross load of 10,200 pounds or more. At the time the 99 was Beech's largest aircraft yet and Beech was optimistically forecasting a production rate of 100 per year.
Introduced in 1969, the A99 Airliner housed 680-shp Pratt & Whitney free-shaft turbines flat rated at 550- shp. Except for the engines, the 99A is identical to the original 99.
The 99B, announced in 1972, featured engineering improvements for increased reliability, maintainability, and passenger comfort. The ship has an air-conditioning unit as an option with its high-pressure continuous-flow oxygen system. Also, an optional cargo door and a cargo pod—the pod is installed beneath the fuselage—increase its cargo capability. Seating can be varied to suit specific needs. The B99 was available in two variants, the B99 Airliner and the B99 Executive, a corporate transport version with seating for between eight and 17 passengers.
Production of early models was halted in 1975, and it was not until 1979 that the improved C99 Commuter (plus the larger 1900, described separately) was announced as part of Beech's return to the commuter airliner market. A converted B99 fitted with P&WC PT6A34 engines served as the C99 prototype, and flew in this form for the first time on June 20 1980. Production aircraft featured PT6A36 engines, and deliveries recommenced following certification, both in July 1981. Shortly afterwards it became known as the C99 Airliner. C99 production ceased in 1986.
Total production of the Beech 99 fell just shy of 700 aircraft, many of which are still operating throughout the world. In 1984, the Beechcraft 1900, a pressurized 19-passenger airplane, was introduced as the follow-on aircraft. Nearly half the Beech 99s in airline service are now operated as freighters by Ameriflight.
Variants
99 Airliner: Twin-engined Commuter and cargo transport aircraft, 10,400 lb max takeoff weight, accommodation for a crew of two and up to 15 passengers. powered by two 550-hp (410-kW) Pratt & Whitney Canada PT6A-20 turboprop engines.
99 Executive: Executive transport version of the 99 Airliner.
99A Airliner: Same as the 99 Airliner, but powered by two Pratt & Whitney PT6A-27 engines flat-rated at 550 hp.
A99A Airliner: One of a kind, 99A Airliner without wing center section tanks; this aircraft has been scrapped.
B99 Airliner: Improved version, 10,900 lb max takeoff weight, powered by two 680-hp (507-kW) Pratt & Whitney PT6A-27/28 engines.
B99 Executive: Executive transport version of the B99 Airliner.
C99 Commuter: Improved version, 11,300 lb (5,100 kg) max takeoff weight, Pratt & Whitney PT6A-36 (engines flat rated at 715 hp)
Specifications
Beech Model 99
Engines: 2 x Pratt & Whitney (UACL) PT6A-20 turboprop, 550 shp.
Props: 6 ft 7in (2.02 m) dia 3-blade.
Wing span: 45 ft 10.5in.
Length: 44 ft 6.75in (13.58m).
Wing area: 279.7 sq ft (25.88 sq.m).
Gross Wt. 10,400 lbs (4,717 kg).
Empty Wt. 5675 lbs.
Fuel capacity 374 USG.
Max cruising speed: 254 mph (409 kph) at 10,000 ft (3,050 m).
Range: 1,100 miles (1,770 km) with 1,800 lb (816 kg) payload.
Crew: 2.
Pax cap: 15.
Stall 75 mph.
Initial climb rate 1910 fpm.
Ceiling 25,000 ft.
Takeoff distance (50') 3200 ft.
Landing distance (50') 2470 ft.
Beech Model 99A
Crew: One
Capacity: Normally 15 passengers (8-seat 'Business Executive' model available)
Length: 44 ft 6¾ in (13.58 m)
Wingspan: 45 ft 10½ in (13.98 m)
Height: 14 ft 4? in (4.37 m)
Wing area: 279.7 ft² (25.99 m²)
Empty weight: 5,533 lb (varies depending upon equipment and configuration) (2,515 kg)
Loaded weight: <!10400 lb (99 and 99A) l 10900 lb (B99 and aircraft modified with Beech Kit 99-5014); 11300 lb (C99)> ()
Max. takeoff weight: 10,400, 10,900, or 11,300 lb – see above (4,727 kg)
Powerplant: 2 × Pratt & Whitney PT6A-20, -27. or -36 turboprop Hartzell constant speed, feathering, and reversing, 550, 680, or 715 eshp depending upon model/mod status () each
Performance
Cruise speed: 205 knots (380 km/h) at 10,000 ft (3,050 m)
Range: 910 nm (1,048 mi, 1,686 km) at 216 mph (347 km/h) at 8,000 ft (2,440 m)
Service ceiling: 26,200 ft (7,988 m)
Rate of climb: 1,700 ft/min (8.63 m/s)
Beech Model B99
Seats 15-17.
Gross wt. 10,955.
Empty wt. 5,777.
Fuel capacity 368.
Engines two 688-shp Pratt & Whitney reverse-flow freespool turbines.
PERFORMANCE:
Cruise mph 285.
Stall mph 87.
Initial climb rate 2,090.
Ceiling 26,313.
Range 1,035.
Takeoff distance (50′) 2,480.
Landing distance (50) 1,810.
BE-C99 Airliner
First built: 1981.
Engines: 2 x P&W PT6A-36, 715 shp.
Props: Hartzell 3-blade, 93-in.
Seats: 17.
Length: 44.6 ft.
Height: 14.4 ft.
Wingspan: 45.9 ft.
Wing area: 279.8 sq.ft.
Wing aspect ratio: 7.5.
Maximum ramp weight: 11,380 lbs.
Maximum takeoff weight: 11,300 lbs.
Standard empty weight: 6124 lbs.
Maximum useful load: 5256 lbs.
Maximum landing weight: 11,300 lbs.
Wing loading: 40.4 lbs/sq.ft.
Power loading: 7.9 lbs/hp.
Maximum usable fuel: 2466 lbs.
Best rate of climb: 2221 fpm
Service ceiling: 28,080 ft.
Maximum single-engine rate of climb: 539 fpm @ 119 kts.
Single-engine climb gradient: 270 ft/nm.
Single-engine ceiling: 14,360 ft.
Maximum speed: 226 kts.
Normal cruise @ 8,500 ft: 249 kts.
Fuel flow @ normal cruise: 740 pph.
Endurance at normal cruise: 2.8 hrs:
Stalling speed clean: 94 kts.
Stalling speed gear/flaps down: 83 kts.
Turbulent-air penetration speed: 169 kts.