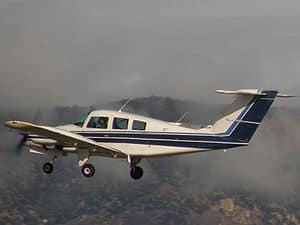 Beech 76 Duchess (1978-1982) ME-1 through ME-437
The Beechcraft 76 Duchess is an American twin-engine aircraft with retractable landing gear built by Beechcraft intended partly as a low cost introduction to twin-engine aircraft. The 76 Duchess seats up to 3 passengers plus 1 pilot.
Engine Manufacturer: Lycoming O-360-A1G6D 180 hp
Overhaul (HT): 2,000 Hrs
Years before overhaul: 12
Development
Developed as Model PD289 (Preliminary Design 289), the prototype was unveiled on November 4th, 1974, although it had first flown in September 1974. The design used components and the bonded wing construction from Beechcraft's single-engined Musketeer line.
The first production version flew on 24 May 1977, and the name "Duchess" was chosen through a company competition. Construction of the Duchess was set for a new factory built at the Liberal Division, with deliveries beginning early in 1978.
Production of the Duchess continued until 1982, with no significant changes. A single example was tested with turbocharged engines in 1979, but did not proceed to production.
Design
The Model 76 was designed as an economical twin-engine trainer for the Beech Aero Centers and to compete with the similar Gulfstream Cougar as well as the Cessna 310. The Duchess is an all-metal low-wing monoplane with retractable tricycle landing gear and a T-tail. It seats four.
The Model 76 incorporates right and left "handed" (counter-rotating) Lycoming O-360 engines that turn in different directions to eliminate the critical engine during single engine operation.
In 1979, a single example was converted to test the turbocharged versions of the engine. The cowlings were reshaped and the exhaust moved to accommodate the aft-mounted turbochargers.
The Duchess wing is of aluminum honeycomb construction fastened by bonding, rather than rivets, to reduce cost and produce a smoother aerodynamic surface.
T-tail
The use of a T-tail on the Model 76 met with mixed critical reception when the aircraft was introduced. Plane & Pilot pronounced: "Outstanding design characteristics of the new Duchess include an aerodynamically advantageous T-tail, which places the horizontal surfaces above the propeller slipstream for better stability and handling.", while Gerald Foster said: "[Beechcraft's] interest in T-tails was perhaps an affectation triggered by their wide use on jet airliners". The later Piper Seminole also adopted a T-tail.
Variants
Model 76 Duchess
Four-seat, twin-engine (Lycoming O-360), low-winged trainer with bonded aluminum construction.
Performance specifications (provided by Planephd.com)
Horsepower: 2 x 180 HP
Best Cruise Speed: 158 KIAS
Best Range (i): 843 NM
Fuel Burn @ 75%: 19.7 GPH
Stall Speed: 60 KIAS
Rate of climb: 1,248 FPM
Rate of climb (1 engine out): 235 FPM
Ceiling: 19,650 FT
Ceiling (1 engine out): 6,170 FT
Takeoff distance: 1,017 FT
Landing distance: 1,000 FT
Takeoff distance over 50ft obstacle: 2,119 FT
Landing distance over 50ft obstacle: 1,881 FT
Weights (provided by Planephd.com)
Gross Weight: 3,900 LBS
Empty Weight: 2,460 LBS
Fuel capacity: 100 GAL
Model 76TC Duchess
Unofficial designation for single test aircraft using turbocharged Lycoming O-360.