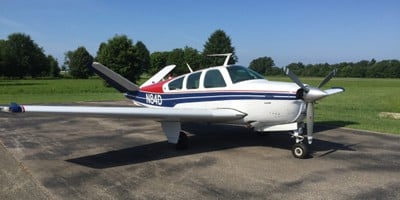 Beech Bonanza 35
The Beech 35 Bonanza was manufactured between 1947 and 1948, serial number D1 through D1500. It is a single-engine, piston aircraft configured as a cantilever low-wing aircraft with a V-tail. Distinguishing features are: retractable landing gear, wood propeller with controllable pitch propeller. Model 35 Bonanza seats up to 3 passengers and 1 pilot.
Specifications
Exterior Dimensions
Wing span: 32 ft 10 in
Length: 25 ft 2 in
Height: 7 ft 1 in
Weights
Max TO weight: 2,550 lb
Empty Weight:  1,458 lbs
Maximum Payload: 985
Fuel capacity: 40 US gallons (34 usable)
Engine
Manufacturer: Continental Motors
Model: E-185-1
Horsepower: 185 hp
Overhaul (HT): 1500hr TBO
Standard Avionics
Digital Nav/Coms
ADS-B In/Out
Performance
Horsepower: 185.00
Gross Weight: 2,550
Top Speed: 175
Empty Weight: 1,458
Cruise Speed: 150
Fuel Capacity: 39
Stall Speed (dirty): 48
Range: 530
 
Rate of Climb: 950
Rate of Climb (One Engine):
Service Ceiling: 18,000
Ceiling (One Engine):
 
Takeoff
Landing
Ground Roll: 1,200
Ground Roll 580
Takeoff Roll Over 50 ft: 1,440
Landing Roll Over 50 ft: 925
History
A legend in its own right, the Beechcraft 35 Bonanza flew for the first time on December 22, 1945 with veteran Beech test pilot Vern L. Carstens at the wheel. The Model 35 Bonanza met Walter H. Beech´s demand for an airplane that would carry four people and their baggage in car-like comfort. Five engineers were assigned by Ted Wells to design the Model 35. Ralph Harmon led the team composed of Noel Naidenoff, Alex Odevseff, Jerry Gordon and Wilson Erhart (all but Erhart are known to have worked on the challenging XA-38 "Grizzly" project in 1944-1945). Certification was granted on March 25, 1947 and production of the first version, the Model 35, occurred in 1947-1948.
1,500 were built, more than any other Bonanza model. Powered by a 165 hp Continental E-165 opposed engine, the "straight had a range of 750 statute miles on of fuel. Famous V-tail was mounted at 30 degrees from horizontal. Tricycle gear was electrically operated and rugged enough for unimproved landing fields. The nose gear was not steerable on original Model 35 Bonanzas. Wood propeller featured controllable pitch but no governor device.
Beech 35 Bonanza (1947-1948) Serial Numbers D-1 through D-1500
D-1 through D-491 Continental E-165 165 hp Serial Numbers D-492 and after with a Continental E-185-1 185 hp engine, 1500 built
Distinguishing Features
No windows behind rear seats
Small-cord stabilators
Fabric covered flaps and rudervators D1-D40
Rear bench seats
Single throw-over yoke
Electric prop pitch change mechanism
Gear handle on right, flap on left
Non-steerable nose wheel