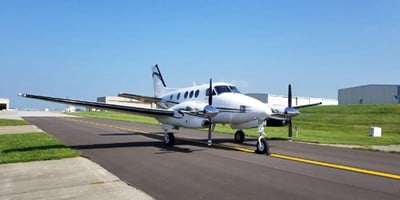 Beech King Air C90
The Beech King Air C90 is a pressurized, twin-engine turboprop business aircraft configured as a cantilever low-wing aircraft with a conventional tail. It has retractable landing gear and three-blade propellors. The Model C90 was produced by Beechcraft between the years 1971 and 1982 during which time 507 aircraft were manufactured, serial numbers LJ502 through LJ994, 995, 997-1010.
The King Air C90 is found in a variety of passenger configurations seating up to 5 passengers and 1 pilot. A typical executive configuration being a four-place club, a seat across from the airstair door, and a belted lavatory seat. The aft cabin/lavatory has a small baggage storage area.
Specifications
Exterior Dimensions
Wing span: 50 ft 3 in
Length: 35 ft 6 in
Height: 14 ft 3 in
Interior Dimensions
Cabin Height: 4 ft 8 In
Cabin Width: 4 ft 5 In
Cabin Length: 12 ft 7 In
Cabin Volume: 270.1 cu ft
Internal Baggage: up to 7.7 bags and 54 cu ft
Weights
Max TO weight 9,650 lbs
Empty Weight:  5,765 lbs
Fuel capacity: 384 gal
Engine
Manufacturer: Pratt & Whitney
Model: PT6A-20 (1975 sn LJ668 and up came with PT6A-21)
Horsepower: 550 hp
Overhaul (HT): 3600hr TBO
Standard Avionics
Dual Comms and Navs
Terrain Awareness System B
Autopilot and Radar
ADS-B
Performance specifications on Beech C90
Horsepower: 550.00
Gross Weight: 9,650
Top Speed: 223
Empty Weight: 5,765
Cruise Speed: 217
Fuel Capacity: 384
Stall Speed (dirty): 76
Range: 1,120
 
Rate of Climb: 1,955
Rate of Climb (One Engine): 539
Service Ceiling: 28,100
Ceiling (One Engine): 15,050
 
Takeoff
Landing
Ground Roll: 1,629
Ground Roll 737
Takeoff Roll Over 50 ft: 2,261
Landing Roll Over 50 ft: 1,672
History
A total of 184 B90 models were produced before the Model C90 was introduced in 1971, with wingspan increased over earlier models by 4 ft 11 in (1.50 m) to 50 ft 3 in (15.32 m), Maximum Take-Off Weight (MTOW) increased by 350 lb (160 kg) to 9,650 lb (4,378 kg), and PT6A-20A engines.
The big change over the B90 was the elimination of the single engine-driven supercharger pressurization system, and introduction of the dual engine bleed air environmental system. This system came from the King Air 100. In 1975, serial number LJ-668 was offered with the improved PT6A-21 engines.
Model C90-1 entered production in 1982 after 507 C90s had been built. It was the same as the C90 except it incorporated a stronger horizontal stabilizer similar to the E90. It included improvements to the pressurization system. 54 were built. The C90-1 had the same PT6A-21 engines as the earlier C90 models, but bumped up the engine ITT from 635° to 680°, increasing cruise speeds by more than 15 knots to 237 KTAS. It featured a stronger King Air 200 type air-stair cabin door and double-pane side windows were added to accommodate an increased cabin pressure differential of 5.0 PSID.